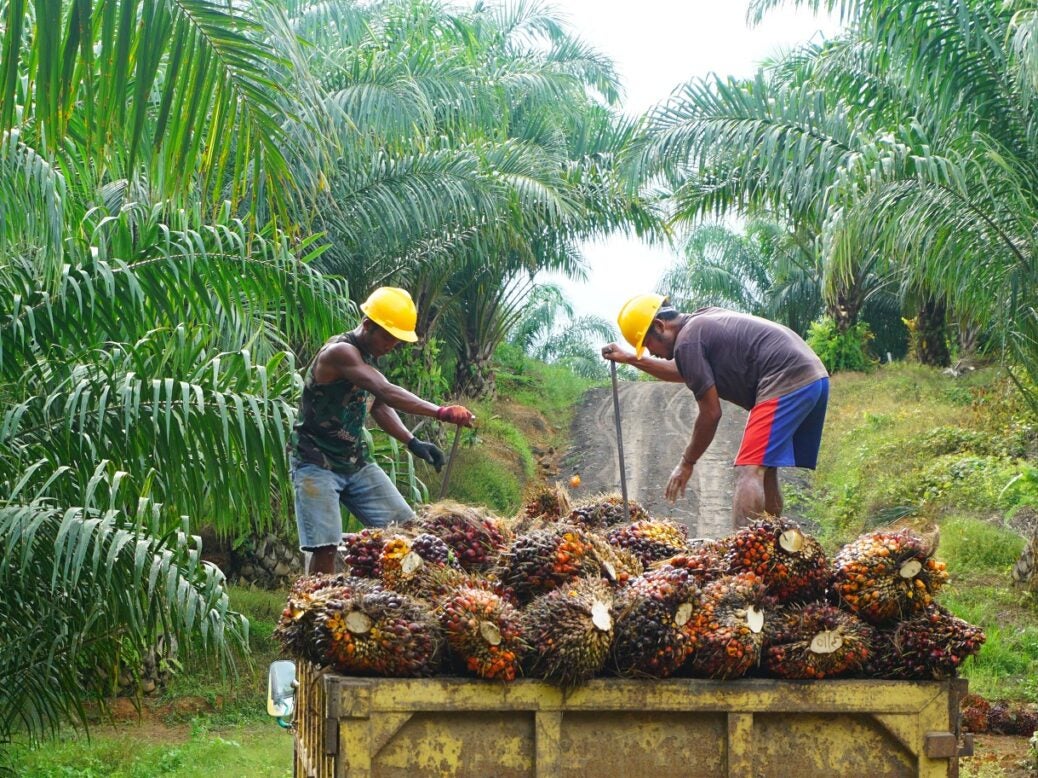 Confusion has reigned over the last week with regards to the nature of Indonesia's ban on exports of palm oil, announced last week. However, it has started today (28 April) and food manufacturers face more questions about commodity prices, sourcing and product recipes.
The embargo, announced at the end of last week by the world's largest palm-oil producer, was initially thought to include refined oil and crude palm oil. Within a day, reports suggested the ban, drawn up to protect domestic supplies as the war in Ukraine roils commodity markets, would in fact not cover crude palm oil.
However, in a statement issued on Wednesday (27 April), Indonesia's Coordinating Ministry for Economic Affairs said the ban would cover refined palm oil, RBD palm olein, used cooking oil products, palm oil mill effluent – and crude palm oil. The whole lot, basically.
This latest announcement appears to have caught some large food manufacturers – which are big users of palm oil in their products – on the hop.
This morning UK time, after the Indonesian government's latest announcement, Unilever, a major user of palm oil throughout is food and non-food products, announced its first-quarter sales. In a call to discuss thge numbers with analysts, CEO Alan Jope said there was "a lot of false information out there".
Jope said the company was "largely unaffected by the Indonesian exports ban" and it is "not a material issue for us" because it uses a "lot of palm oil kernel derivatives" rather than refined oil.
"Oleins, which are used in cooking oil, are the subject of the ban," Jope said.
Just Food asked Unilever if it wanted to update its position given the Indonesian government's latest announcement of a complete ban on palm oil but the company said: "Our statement is still valid and nothing further to add."
Unilever CFO Graeme Pitkethly told analysts Unilever spends EUR2.5bn (US$2.62bn) annually on palm oil. "It is one of our biggest cost items," he said.
On Tuesday afternoon local time, US snacks giant Mondelez International also published its first-quarter results. Speaking to analysts that evening, CFO Luca Zaramella also suggested the ban was not a large concern.
He said: "You might have heard about the palm oil issue in Indonesia. That one for us is not a material issue at this point in time. We are clearly monitoring the situation very closely."
Just Food has contacted Mondelez to see if it wants to update its position following the news that the ban is now total.
The ban comes as the Ukraine war continues to have a massive impact on commodity markets.
Indonesia palm-oil ban set to fuel commodity markets
Given the world's edible oil supply is already facing a sharp reduction due to Russia's invasion of Ukraine – the world's largest producer of sunflower oil – the Jakarta government's action was greeted with dismay in many quarters.
Food manufacturers and industry watchers are weighing up the impact on heavy users and the market in general.
Earlier this month, the United Nations Food and Agriculture Organization reported world commodity prices reached new record heights in March, with cooking oils from sunflower to palm, soy and rapeseed all rising.
The FAO said palm, soy and rapeseed oil prices were buoyed by rising global import demand in the wake of the disruption to sunflower oil supplies. World palm oil prices were also pushed upwards by "lingering supply tightness in major producing countries".
Such supply tightness can be expected to accelerate following Indonesia's move.
No end date for the ban has been given. The Indonesian government says the embargo will stay in place until the domestic price of cooking oil hits IDR14,000 (US$0.97) a litre.
How individual food groups are impacted by the ban will rest on how much they depend on Indonesia for their supply of the commodity – a key ingredient in products such as cakes, peanut butter and chocolate.
Interestingly, the inroads companies have made to ensure they source palm oil sustainably could come to their aid here.
Concerns about the palm oil industry's links to deforestation and its impact on the future of tree-living orangutans have been linked to the island of Borneo – three-quarters of which is controlled by Indonesia.
While not suggesting Indonesia is the world's bad guy when it comes to these issues, there is no denying big users have widened their supply base in recent years to seek out sustainable sources of palm oil.
Unilever, for example, now sources the commodity from a wide range of countries including Colombia, Guatemala, Turkey and Brazil.
In a statement sent to Just Food earlier this week, it said: "We are already well placed to look at alternative materials due to our supply chain resilience programmes and currently have sufficient supplies to cover our needs. We do not foresee any immediate product shortages."
Nestlé, the world's largest food group, says on its website it buys from "processing companies that source palm oil in Malaysia, Indonesia, Latin America and west Africa".
When contacted by Just Food, before the most recent Indonesian government announcement of a total palm oil ban, Nestlé said: "We monitor this situation closely" but would not comment further.
Ban could be short-term, industry watchers say
It would be a mistake, though, to downplay the dominant role that Indonesia plays in this industry.
Andrew Csicsila, a Chicago-based managing director in the consumer products practice at management consultancy AlixPartners, said: "It's unlikely that other countries can pick up where Indonesia leaves off. It's the number one exporter of palm oil and the number two country, Malaysia, exports half of its amount."
Having said that, though, Csicsila is of the view the ban is likely to be short term.
"I'm hearing people say this will only be a temporary ban, of just a month or so," he says.
"If it [Indonesia] doesn't export the product, what will it do with it? It's not all going to be used by Indonesians.
"Also, you are not dealing just with the Indonesian government but with conglomerates and also processors selling it to [the likes of] Mondelez and Nestlé. People will be screaming for things to change.
"It is not sustainable as a long-term strategy. These types of export bans don't last months and years. History indicates it is likely to be short-term."
But, while Csicsila points out large food companies will have individuals dealing with commodities on a daily basis and may have locked prices in, he does see the ban adding to supply restriction-linked inflationary pressures which in turn will lead to pricing actions.
Products could also change. "Companies are trying to be creative around reformulation whilst staying true to the product," he says. "But it's a challenge because palm oil is such a common ingredient."
Food companies are expecting costs to go up.
George Weston, CEO of UK-based Associated British Foods, another reporting quarterly financials this week, told analysts: "We use very little palm oil. The lower number of tens of thousands of tonnes. But the costs of other oils will go up as a result of this ban and that affects us."
But if it's a headache for big food companies, it may be even more of a challenge for poorer countries facing the prospect of diminishing supplies of yet another core commodity and the linked price increases for other edible oils.
David Jackson, director of UK-based agri-business research group LMC International, says: "The decision from Indonesia represents only the latest tightening of the screw – albeit a very large one – for vegetable oils.
"After some conjecture, the confirmation that the export ban will apply to all vegetable oils, processed and crude, will be met with trepidation by many importing countries, as their options for sourcing cooking oils are now very narrow indeed.
"With the Ukraine invasion curtailing sunflower oil and the Canadian drought devastating their canola (rapeseed) crop last summer, there are few places left to turn other than soybean oil from the Americas.
"Vegetable oil prices will have to reflect that scarcity for some time to come, as most crops are in the ground and supply cannot respond until the next annual cycle.
"The only ways out in the longer term are a peaceful resolution in Ukraine, more plantings of oil crops in potentially ecologically sensitive regions of Brazil and south-east Asia, and/or a movement away from using food crops as fuel in biodiesel programmes in Europe, the US, Brazil, Argentina and, perhaps ironically, Indonesia."
But like Csicsila, Jackson does not expect the ban to be long-lasting.
"Perhaps a month from now we expect some salvation to come from a reversal of the Indonesian decision, as domestic storage fills to capacity and the loss of government revenues from export taxes begins to bite."