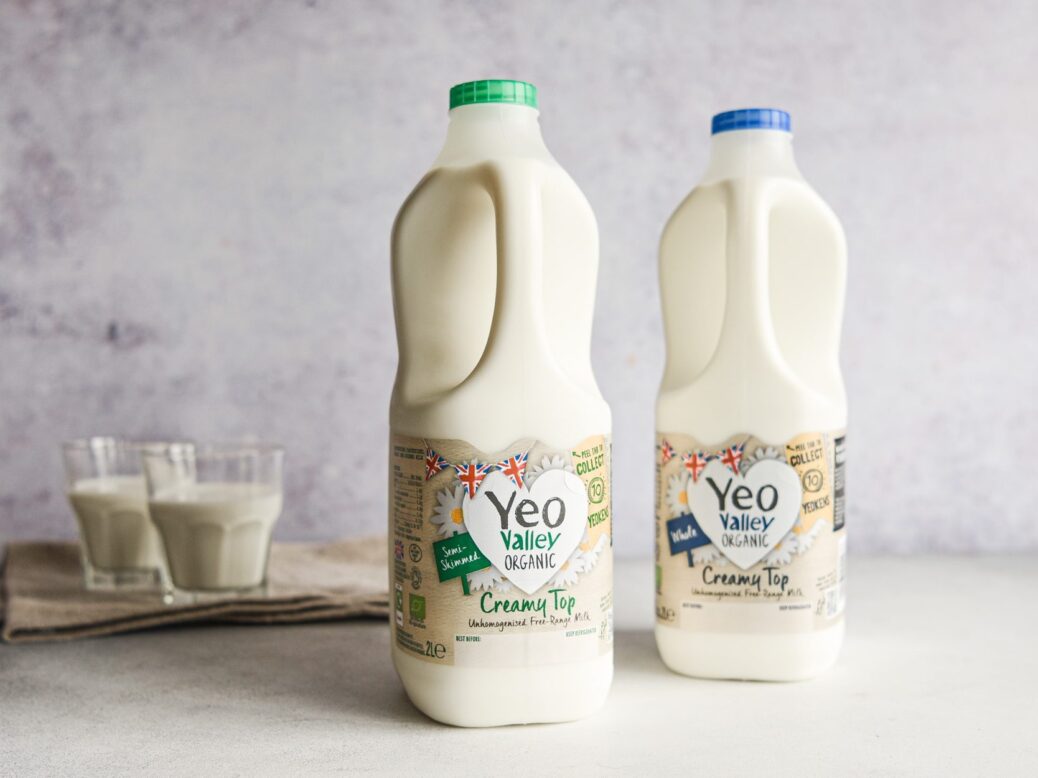 That there is potential for growth in the UK organic dairy market is widely predicted but premium-priced products are likely to face headwinds in an uncertain economic climate.
Denmark's Arla Foods is so confident about the outlook for the category in the UK it has set a target for its own organic dairy business to grow 50% by 2026.
Arla is the world's largest producer of organic milk. Its bullishness is not matched by all. One market watcher who works in this area describes organic dairy as a market that has "really struggled".
The wider UK organic market
It is true to say the UK has lagged behind some of its European peers when it comes to the development of the organic food market more generally and there is certainly a lot of room for growth for the dairy sub-category.
Almost half a billion litres of organic milk (493m litres) were produced by UK dairy herds during 2020-2021, new figures from the Agriculture and Horticulture Board (AHDB) reveal.
The data has been collated for the first time so cannot be compared to previous years, but we do know that that total represents just 4% of total production.
Research from The Soil Association, a UK charity campaigning for the organic triple-whammy of healthy and sustainable food, farming and land use, does suggest the wider category is on an upward trajectory.
Its Organic Market Report, published in February for 2020, showed the UK organic market grew by 12.6%, its biggest year-on-year increase in 15 years, with more than GBP50m (US$66m) a week spent on organic produce and the market worth GBP2.79bn.
Undoubtedly, the Covid factor played a part, with consumers seeking out what they perceived to be healthier options and that growth has continued. The latest data reported by The Soil Association reveals the organic market grew by 6.5% in the year to 25 September 2021.
Its most recent research found half of UK households buy organic. The top reasons given by consumers for doing so are to avoid pesticides, it being better for the environment and a perceived quality upgrade over non-organic.
Soil Association business development director Clare McDermott describes organic sales as showing "phenomenal resilience".
She says: "The latest surge in organic sales proves that the British public want food produced with more, not less, care for the environment and animal welfare. Insights show that shoppers are searching out higher welfare products that are produced with the environment in mind and want to support British farmers."
Speaking to Just Food, McDermott says: "It wasn't just people buying organic because it was the last thing on the shelf during Covid. They were thinking about health and wellness and where their food was coming from and also making the link between organic and biodiversity.
"What has been really important is people making that link between organic and sustainability."
Arla's push
It is a continuation of this trend post-Covid (or at least after its worst ravages) those operating in the UK organic market are banking on.
In the dairy category, Arla is leading the charge. In the UK, the Danish cooperative sells its organic dairy products to the foodservice sector under the Arla Organic brand, whereas in retail it sells its organic milk, butter and cheese products through the Yeo Valley brand. The company acquired this business from UK peer Yeo Valley in 2018. It also has private-label contracts
Arla has just launched new "organic 2.0 standards" intended to boost its sales of organic dairy products in the UK. Under the terms of the new deal, organic farmers will convert to 100% renewable energy to meet the new standards and commit to more ambitious targets for reducing CO2 emissions.
Arla's 50% growth target would see the size of its annual organic dairy business in the UK grow from 180 to 270 million litres.
But it knows there is a job of work to do, admitting "the UK continues to fall behind other European countries when it comes to the consumption of organic produce".
For example, in Denmark, 12% of the national diet is made up of organic food, compared to just 1.2% in the UK.
However, Arla points out the organic dairy category in the UK grew by 4% last year and that it has seen double-digit growth from its UK organic dairy business year-on-year for the last five years.
The sour notes for UK organic dairy
Despite such growth figures, one dairy industry consultant who spoke to Just Food did not paint a picture of a category in rude health.
Speaking on a non-attributable basis, he says: "I think organic has really struggled in dairy. It is over-supplied, has poor seasonality and produces milk that doesn't match the market. Also organic feed costs are going through the roof.
"Arla can make a long-term commitment to organic for strategic reasons and may well be cross-subsidising organic. I can't see how they are getting a return from it."
A spokesperson for Arla's UK business says he would not respond directly to anonymous comments but insists the company is optimistic about the potential for organic in UK dairy.
"We are seeing really strong growth in this area," he says. "In the Arla/Yeo Valley milk, butter and cheese organic categories we have seen 14% growth over the last 52 weeks.
"That upward trajectory will continue and we are looking at new products in this area. With more products on the shelves, we will bring in more customers."
The Arla spokesperson does not want to say too much about new product plans but mentioned flavoured milk as a line with growth potential.
More broadly, he is convinced that organic dairy and related improvements to farming practices does resonate with consumers.
"Driving new standards in farming is something that consumers care about. The pandemic has affected the focus of most consumers in terms of what they eat and there's also an increased focus on sustainability and animal welfare," he says.
"The 2.0 standards are intended to appeal to consumers who are looking at this. Consumers who buy organic tend to really focus on these topics and we want the Arla brand to stand for that.
"We want to raise the bar of what value organic from Arla offers to consumers. There has to be clear and unique value behind the premium."
The issue of price
Arla wants to make organic dairy products available to as many consumers as possible, the spokesperson says but admits there is a cost premium for such products.
"Some people are willing to pay more. Consumers will be tested on how much they care about certain things in their food," he says.
It is a point taken up by London-based organic champion Piccolo, the UK baby-food business which uses organic dairy in its products.
Founder Cat Gazzoli says: "We believe organic dairy produce is classified as mainstream regardless of the price point and it should be available for everyone.
"Although organic dairy to purchase comes at a premium price point due to its guarantee on animal welfare, antibiotics use etc., Piccolo often promotes products with retailers to allow an entry point into the brand, at which point the consumer can understand the quality of our product and continue to purchase.
"In baby food, organic produce is a fundamental credential parents widely recognise [when] giving their babies dairy they trust. For this reason and to educate consumers further, retailers will always stock organic dairy products and fully understand the impact we can make."
McDermott at The Soil Association says: "It [the price premium] has always a been concern but it potentially means that organic recognises the cost of producing the food.
"[Moving forward] non-organic producers may not be able to absorb [increasing] costs and so it becomes not so much of a differential.
"Overall, it is in a different place to the last recession in 2008-9. Supermarkets have recognised that they need to support the planet and farming and organic is an important part of that mix.
"People will still make organic choices even if everything they buy isn't organic and the traditional entry point for organic is dairy.
"If it's available people will buy it in supermarkets but also online. One in four items in organic are now sold online."
Comparisons with Europe
But why does organic in the UK lag behind its European neighbours in terms of its penetration?
The Arla spokesperson says: "It has taken a long time in other countries to build up to where they are today. It's not like they all started at the same time. In Scandinavian markets, there is government support for it and awareness about the value of organic.
"In the UK it is earlier in its growth but we are seeing that the growth is there.
"And it needs companies like Arla to take responsibility and do our job of communicating to consumers what they are getting but it takes time."
McDermott at The Soil Association agrees. She says: "European governments have been much more supportive of organic farming. The Danish and French governments have both supported and contributed to it.
"In some countries, organic is part of public procurement in schools and hospitals etc so that gives it scale and people get used to it.
"But it is becoming much more of a part of recognised shopping in the UK now."
While not suggesting organic dairy companies, or those with products made from organic dairy, are not interested in turning a profit, there is an altruistic aspect to what they do, partly to do with offering consumers a healthier option but, perhaps more so, because of the intrinsic like between organic and sustainability.
Gazzoli at Piccolo says: "With education on the importance of sustainability and organic dairy we're proud to be on the front foot with our strong values behind the brand. For this reason, we source dairy that has assured animal welfare, no antibiotic use, no GM feed with fewer additives and preservatives etc. It's not necessarily about sales, rather about providing the right offering to infants."
At the other end of the spectrum to Arla is UK organic dairy producer Hollis Mead.
Based in Dorset in southern England, the business operates on a small scale and makes decisions based on its organic principles.
In terms of future potential for the category, a company spokesperson says: "We definitely only see positives.
"There is a definite feeling that people want to support local and consume better, as well as an interest in nature and biodiversity.
"We don't sell to supermarkets. It's about quality not quantity. We only milk once a day which is a quarter of what industrial dairy does.
"We are trying to create a model for farming which shows that it is possible to farm completely sustainably and turn a profit."
And like its larger peers, Hollis Mead takes the view the message is getting through.
"It is important to make the case about planet, land, nature and people's health," Fisher says.
"Organic comes with an image of being more expensive but you have to pay a bit more. I think it's getting to the point where it [organic] is almost essential and people will realise that.
"Food, in general, is going to get more expensive. We produce fantastic food in this country but we are obsessed with low quality, cheap food."