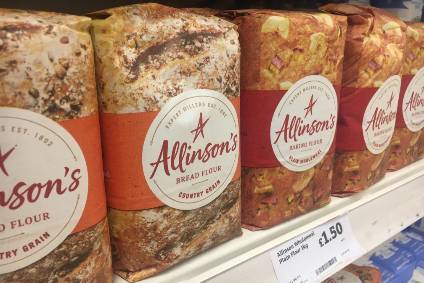 Associated British Foods increased the sales and profits from its grocery division in its last financial year but, while the UK food, ingredients and clothing giant is keen to build that side of its empire, it is, quite rightly, pragmatic in its thinking, for all the recent top-line growth driven by Covid-19. Dean Best reports.
If there's a major, listed business in our coverage that can be said to have had a mixed Covid-19 thus far, it's Associated British Foods.
As the owner of a series of household food brands, the UK-based group has seen sales across its grocery business rise, with the growth in demand for food for at-home consumption more than offsetting pressure on sales through foodservice.
However, ABF is also the owner of Primark, one of Europe's largest clothing retailers, a business that has suffered as lockdowns across its markets saw stores close and sales slump.
In recent years, ABF's grocery division, home to a clutch of food brands sold in markets including the UK, the US and Australia, has accounted for roughly a fifth to a quarter of the London-listed company's annual revenue and underlying operating profits. During ABF's 2018/19 financial year, for example, grocery generated 22% of the group's revenue and 27% of its adjusted operating profit.
However, the different impacts Covid-19 has had on ABF's various divisions – which also take in sugar, ingredients and agriculture – in recent months meant in 2019/20 the company's grocery arm saw its share of both revenue and adjusted operating profit rise.
In the year as a whole, ABF's grocery division, which includes brands such as Kingsmill bread, Mazzetti balsamic vinegar and Don ham, reported revenue of GBP3.53bn (US$4.58bn), up 1% on 12 months earlier and up by 2% on a constant-currency basis, according to company figures released yesterday (3 November). Growth was dented by lower foodservice sales due to the pandemic and to the end of an own-label UK bread contract. Nevertheless, grocery's share of ABF's total revenue rose from that 22% a year earlier to 25%.
As a whole, ABF's annual revenue fell 12% and adjusted operating profit 28%, driven by the loss in sales from the closures of Primark's stores. The results meant no dividend.
Covid demand
Nevertheless, reflecting on the results from ABF's grocery business during the year, CEO George Weston said the division had put in "a very strong both financial and operational performance".
ACH, the group's US business, saw increases in sales of home-baking products and of Mazola corn oil, which Weston described as "largely Covid-inspired". Speaking to analysts yesterday, Weston said ABF "sold out of every bottle of Mazola we could produce", while the company saw "extraordinary increases demand for bakery ingredients". He added: "We think the underlying demand for our home-baking yeast probably went up 500% and we managed to supply a 243% sales increase, which was pretty good going."
The group's AB World Foods unit, which focuses on international cuisines, "sold out again of all the capacity for all the products we made including poppadoms and naan bread", Weston said. "Patak's and Blue Dragon growth internationally was good, held back by capacity constraints, which will address in the years to come up but the internationalisation of that business is progressing really well."
Weston, meanwhile, described ABF's Silver Spoon business unit, which markets products including sugar and flour in the UK, as "the star in terms of volume uplift across all our [grocery retail] businesses".
In Australia, ABF saw sales of Tip Top bread rise but, in a sign of the pressure the closure of swathes of the foodservice channel did put on parts of the business, Weston said its local meats unit Don saw sales "impacted". Don, he added, supplies bacon to McDonald's.
Many packaged-food manufacturers selling into grocery have reported – and still are reporting – higher sales due to the way Covid-19 has reshaped demand but market watchers will be keen to know if companies are managing, amid sector growth, to increase their own category shares.
Speaking to just-food, ABF finance director John Bason said: "Well, I don't know about share but maybe share of stomach, if I can describe as that." He pointed to how the increase in popularity of home-baking had given a boost to ABF's brands in that area. "We sell packet sachets of yeast for bakers, a massive increase in the UK, a really big increase in the United States.
"In the US we've got a brand called Fleischmann's. Now, I wouldn't say that we've increased our share of the market but the market I think is double to triple what it was. The other thing for home baking is where probably the cohort was, shall I say, getting more senior, there's another new cohort that's coming in, is twenty/thirty-somethings. It's interesting times."
ABF expects the recent elevated sales volumes it's enjoyed in grocery to continue in the first half of its new financial year. "The fourth quarter of the year surprised us in how persistent was that higher level of grocery [volumes] – 5-10% above where it was. That's really been really quite strong," Bason said. "My view is it will carry on for the first half of our new financial year, so September to March."
Capacity in place
Crucially, ABF insists it now has the capacity to drive the likely need for higher production volumes. In March, as lockdowns were imposed around the world to try to tackle the emergence of Covid-19, ABF decided to reduce its spending plans for its food businesses. "We asked the food companies to cut back on capex where they could. That was back in March. We probably took about GBP50m of spend out of that [financial] year, which will go back largely this year," Weston told analysts. "As we go into this series of shutdowns, we have not asked the food companies to delay capex at this stage."
Bason said ABF has the capacity to meet the demand the company could see as a number of its markets impose fresh lockdown measures to again attempt to curb the spread of the virus. "In terms of consumer use, we have certainly been able to do that, as well as bakery ingredients, so, yes, we've responded to that," he told just-food.
The ABF finance chief brushed off an assertion the company's moves to cut capex spending on its food business in the spring had hindered its ability to meet demand. "I don't think it did. We are a well-invested food business. Being a well-invested food business has paid it off. When you're pushing lines absolutely to their capacity, the fact you're not dependent on things that are very old, that really has come through very well. I would say we've benefited from well-invested plants," he insisted.
While Bason expects ABF's grocery sales to rise over the year as a whole, he's more cautious about the prospect for divisional profits. "I would expect sales to increase. I would say a small margin decline for the grocery segment, as a whole, and, you know, don't have any profit growth in there as a placeholder for the moment I say it's a placeholder because we'll see how it goes. That's my caution is you see how these trends work through," he said.
Weston noted how moves to make the supply chain for the company's tea brand Twinings more efficient had helped grocery profits last year. "The Twinings supply chain changes had a nice effect on the margin of the entire grocery group and that won't repeat. We don't have an equivalent project anywhere else in grocery, so I think it is all commercial mix this year."
Investing against "old trends", not Covid
During the year under review, ABF acquired Al'Fez, a UK-based brand inspired by north African and Middle Eastern foods, from Elondale Ltd, trading as First Quality Foods. Weston described Al' Fez as "the leading brand of north African and Middle Eastern cuisine in Britain", adding: "We will roll that into our supply chain production and into our supply chain and give it sales reach in the UK and outside."
Given the bumper sales ABF has recently enjoyed in food and the struggles in clothing retail due to the pandemic, the company's management was asked on the analyst call the strategic question about whether it would divert more of its capital into its food business.
Weston replied: "There are lots of uncertainties in food and in Primark. I think it's too early to be saying we should be investing more in this and less than that. We have to see Covid unwind and see what the longer-term consequences of it are.
"It is said – and I believe it – the trends that were in place before Covid, so the move towards sustainability in both food consumption and also clothing will accelerate. Perhaps the move towards meat-free diets will accelerate. I think we're pretty well-placed to take advantage of all those."
Weston gave the example of ABF wanting to increase "our ability" to supply ingredients to meat-free manufacturers through yeast-extracts business Ohly. "That's something that's of interest to us – but early days and it's based on old trends, which we think will accelerate, not how the world has changed because of Covid."
Speaking to just-food, Bason added: "Al' Fez currently is a small business but I think it's us spotting a big increase and we think it will be a very big increase in the appeal of north African and Middle Eastern cuisine. It's Moroccan and Lebanese cuisine, basically. We think it will have a big resonance as you go around the world."
The acquisition of Al'Fez, struck last December, followed other recent bolt-on transactions, such as the purchases of Anthony's Goods, a fledgling US supplier of bakery products from almond flour to coconut oil in September last year and of Australian hummus (and now veggie products) maker Yumi's Quality Foods in September 2018 – both of which ABF's management called out as seeing growth in the year under review.
Covid-19 has given ABF's grocery division a shot in the arm, although Bason was keen to stress how demand for the company's products "was improving anyway". Nevertheless, given the division's growth over the last financial year and during Covid, questions about ABF's strategic plans for grocery, including M&A, are to be expected.
Bason said: "The thing we won't do is because [grocery] retail's got big is try and bulk up food. That's a miserable road to go down because, if you're not careful, you start allocating capital for the wrong reasons. Having said that, we're very interested in the grocery category. You are absolutely right to group Anthony's Goods, Yumi's and Al' Fez together. You can see where we are. I think we're a sure touch on where people are going. It goes back to the Jordans cereals of all those years ago. People want variety but they want provenance, they want flavour and I think this is the way forward."
The company, meanwhile, indicated yesterday its existing grocery businesses continue to look to deepen their presence in their current markets. "[AB] World Foods has set up its own routes to market, its own distribution and selling capability and marketing capabilities in the United States, where we think Indian cuisine in particular has growing relevance, as indeed it has in the southern part of Europe," Weston said, by way of an example.
ABF, then, remains watchful for opportunities to grow its grocery business organically and inorganically, including being likely to be on the look-out for further small acquisitions. Bolt-on purchases, rather than large transactions, have long been ABF's modus operandi for inorganic expansion in grocery.
The division it is clear, remains a core part of ABF's plans and strategy but the company does not want to chase the recent growth it has seen and, rightly so, given the degree of uncertainty about how the market may take shape in the longer term once the dust settles on Covid-19.
Free Whitepaper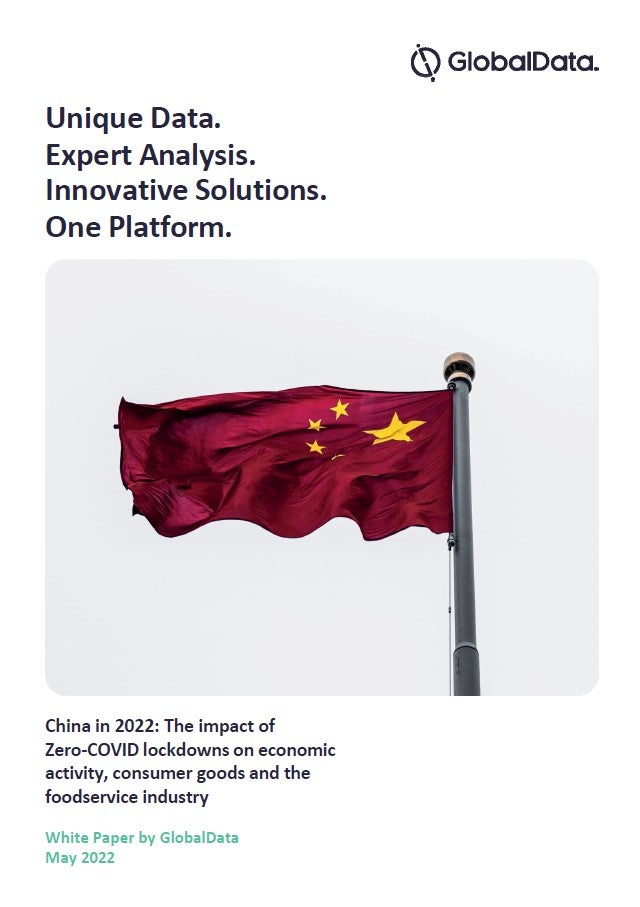 What is the impact of China's Zero-COVID lockdowns on economic activity, consumer goods and the foodservice industry?
While wanting to protect the country from being overwhelmed by Omicron, China's adherence to a Zero-COVID policy is resulting in a significant economic downturn. COVID outbreaks in Shanghai, Beijing and many other Chinese cities will impact 2022's economic growth as consumers and businesses experience rolling lockdowns, leading to a slowdown in domestic and international supply chains. China's Zero-COVID policy is having a demonstrable impact on consumer-facing industries. Access GlobalData's new whitepaper, 
China in 2022: the impact of China's Zero-COVID lockdowns on economic activity, consumer goods and the foodservice industry
, to examine the current situation in Shanghai and other cities in China, to better understand the worst-affected industry sectors, foodservice in particular, and to explore potential growth opportunities as China recovers. The white paper covers:
Which multinational companies have been affected?
What is the effect of lockdowns on foodservice?
What is the effect of lockdowns on Chinese ports?
Spotlight on Shanghai: what is the situation there?
How have Chinese consumers reacted?
How might the Chinese government react?
What are the potential growth opportunities?
by GlobalData