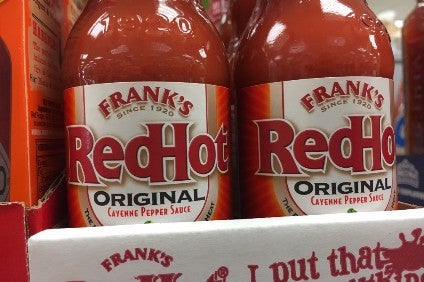 In the second part of our feature on the US hot sauce category, Andy Coyne looks for signs of an uptick in M&A activity and at growth opportunities through cross-category fertilisation.
When US hot sauce business Cholula was acquired by local private-equity firm L Catterton last December, it was the first large-scale deal in the category for more than 12 months.
The previous headline-making deal was McCormick buying the well-known Frank's RedHot sauce brand as part of a US$4.2bn acquisition of condiments assets from Reckitt Benckiser back in 2017.
Given that, as we saw in part one of this feature yesterday, the category is growing at pace – outstripping all other condiment categories – and there are lots of small or mid-size businesses offering new and exciting products that appeal to younger consumers, it is surprising investment firms and Big Food have been so reluctant to get their chequebooks out.
Perhaps the answer lies in the diverse nature of the category. Hot sauces encompass lots of different international tastes and flavours and every now and again a new kid on the block – at least on the US block – such as Thailand's sriracha takes the category by storm.
Susie Fogelson, a New York-based food marketing strategist who runs her own consultancy, F&Co., says: "Big Food is trying to find relevance in today's food culture. Someone said recently that they didn't want their iconic brands to become antiques.
"The likes of [crisp brand] Pringles are doing a myriad of new flavours but sometimes it may be a case of trying to bring a smaller brand into a portfolio to remain relevant.
"But how do you pick which one? Mexican, Thai, Chinese, southern US? It's very challenging for Big Food. There are hundreds of brands out there and picking the right one is not easy. Everyone wants the next sriracha."
Fellow market watcher Andrew Csicsila, managing director at consultancy firm AlixPartners, says when it comes to the success of a food category, "the barometer" is how interested private equity is in the sector. But he does expect to see more activity in the hot sauce area.
"Eventually there will be consolidation. There can't be 500 or 600 players in this space," he says. "I see acquisitions happening. Some of the big CPG companies don't have brands in this segment."
Cholula, having itself been acquired, also believes more such deals will follow.
"Hot sauce is a burgeoning but highly fragmented category. Its characteristics are similar to what made the craft beer category ripe for M&A 15 years ago – tremendous growth, a plethora of offerings, with a few stand-out players who will redefine the category," CEO Maura Mottolese says. "I'm confident you will see some significant acquisitions in this space over the next three to five years."
Mottolese suggests gaining an owner such as L Catterton will aid Cholula's growth plans.
"L Catterton has an outstanding track-record of investing in high potential consumer-focused brands and partnering with the management teams to identify core strategic initiatives that will unlock latent growth," she says. "Since the Cholula acquisition [which completed] in April, L Catterton has laid the foundation for growth by investing in the team, the product, our partnerships and of course the brand."
What may also appeal to would-be acquirers of US hot-sauce businesses is the ability to take brands into other categories.
McCormick's Frank's RedHot is probably the role model here. The sauce has been branded on products including Buffalo wings, sides, dips and spices.
As Cisicsila at AlixPartners says: "Ketchup category expansion is basically potato chips, but if you look at Frank's RedHot there is buffalo wings, chips, salsa and links to recipes."
Fogelson at F&Co. adds: "More generally hot sauce is finding its way into other categories. This is very much a Big Food move. It's not easy for the smaller brands."
Mottolese at Cholula suggests the strategy of branching out of the hot-sauce category is a potential growth area for the business and the wider industry. She says the company has "a number of initiatives in development".
"As we look to the future we have some exciting ideas in development that will fuel category growth by attracting new users and occasions by tapping into different consumer need states," Mottolese says.
"The Cholula brand is highly expandable. For consumers Cholula stands for savoury flavours and spice as well as authentic Mexican cuisine, which gives us license to expand into a broad range of high-growth categories."
And while it is still early days for its new hot sauce product – based on its Rotel tomatoes brand – which is not even being distributed nationally yet, Conagra Brands has an eye on cross-category fertilisation, too.
Jill Dexter, vice president and general manager for condiments and enhancers at the company, says: "There is a lot of equity in the Rotel brand and it is synonymous with delivering a bold, zesty flavour. What that might mean for the brand at a later date remains to be seen, but we do see the potential for broader offerings, with hot sauce being the first step in that evolution."
What will also be attractive to potential buyers in this category is that hot-sauce businesses and market watchers see few barriers to future growth.
Mottolese at Cholula says: "I don't see any impediments to growth. In fact, the trends that are driving the category are primarily fuelled by younger and increasingly mobile consumers. Our retail partners who are always on the lookout for changing consumer dynamics have already begun to identify this long-term shift and adjust accordingly, allocating more space to hot sauce because it is accelerating their condiment aisle growth."
Dexter at Conagra believes the amount of competition in the category is also a positive contributor to overall growth.
"Competition in the category definitely forces everyone to raise their game. Obviously that creates a challenging environment, but the overall awareness levels for the category as a whole are a positive," she says.
Mottolese agrees. "Increasing competition in the hot sauce category is outstanding because it will heighten top of mind awareness for consumers and retailers alike. It will also force everybody to bring their 'A-game' which will result in better innovation, promotions and merchandising which will create an even stronger category that will continue to outpace centre-of-store growth," she says.
That innovation she mentions is almost a given in a category constantly re-inventing itself in terms of ingredients and flavour-mix. And also, as Mottolese points out, in terms of heat profile.
"When this category started it was mostly about heat and which was the spiciest hot sauce," she says. "Today's consumers have a more sophisticated palate and want to relish the complexity of flavours in their food versus overwhelming it with heat.
"As a result we see the category moving more toward flavours with interesting varietal peppers and seasonings versus just a pure heat play. One of the most interesting changes we see is today hot sauce is more than just an ingredient, but is becoming a staple condiment, with people keeping it on their table tops and using it just like salt and pepper."