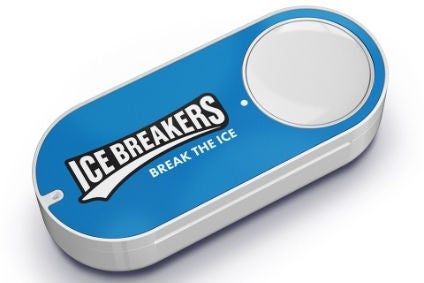 March was a month in which Tesco and Woolworths announced notable moves on private label, in part, analysts said, driven by the rise of discount retail in the UK and Australia. The sector also saw Metro Group set out plans to split in two and heard Amazon touted as a significant player in US food and beverage by the turn of the next decade.
Amazon "one to watch in US food and beverage"
"Amazon will be a top ten player in the US$789bn US food and beverage grocery market by 2019," analysts at US investment bank Cowen & Co. forecast last month, catching the eye with an in-depth report on the inroads the online giant could make into the sector.
The online behemoth is already a significant customer for a number of FMCG manufacturers in the US. Hain Celestial, for example, revealed in January Amazon is its largest customer for baby products. On a more tactical level, growing numbers of brands are joining the Amazon Dash order-at-the-touch-of-a-button service in the country.
At the moment, US grocery shoppers prefer traditional stores. Furthermore, bricks-and-mortar grocers enjoy competitive advantages over Amazon, including long-standing relationships with suppliers, they have extensive and embedded supply chains and they enjoy the margin boost from own label. However, while online is at present only a small piece of the US grocery pie, it is growing rapidly and the major physical retailers are not standing still, recognising its potential – and, perhaps, the possible threat posed by Amazon.
In its report, the team at Cowen said Amazon's expansion would be driven by two factors – one external and one external. The analysts said there was going to be a "generational shift" in the US towards buying groceries online. They cited data from a survey they had conducted that showed 21% of those aged 25 to 34 are already online grocery shoppers. "Our data suggests that millennials are, one, the biggest online F&B users and, two, are entering peak grocery spend years. Currently, age 35-54 households account for 43% of US food and bev grocery spending," they wrote.
What gave the Cowen & Co. analysts further encouragement about Amazon's prospects was Amazon Prime, the retailer's annual membership programme. "We believe Amazon's Prime multi-platform approach enables Amazon's share gains in the US food and beverage market given it addresses multiple consumer use cases, which include speed to market and selection," they argued. "Prime Now services the hyperlocal community with food and beverage items delivered within one to two hours. Prime Same Day and Fresh delivers the same day or next day. Prime/Pantry delivers within several days."
Amazon will have a gross merchandise value from food and drinks in the US of US$8.7bn in 2016, the analysts estimated. By 2021, they forecast that will rise to US$23.2bn, putting them in the top ten food and beverage retailers in the US.
In February, e-commerce consultantcy Profitero, in their regular column on just-food, set out why it believes Amazon is pivotal to e-commerce growth in US. Cowen & Co.'s report last month underlined why industry watchers believe the online giant will be central to the development of the sector in the country and, as a consequence, be an important customer to more manufacturers as we move into the next decade.
Woolworths ditches Homebrand in face of Aldi inroads
Australia's top food retailers, Woolworths Ltd and Coles, have seen Aldi make notable inroads into the country's grocery market.
The hard discounter is now Australia's third-largest food retailer by market share and, even though a glance at the share data will show Woolworths and Coles are still far ahead, the German chain has won customers in eastern states, where it first set out its stall. And this year Aldi has already this year outlined its ambitions for Australia, with plans to open outlets in Western Australia and its first stores opening in South Australia in February.
Looking at the most recent financial results of Woolworths and Coles, the former is under some pressure, while the latter has seen some growth. In the 27 weeks to 3 January, Woolworths said comparable sales from its Australian food and liquor business dipped 0.8%. Coles reported a 4.7% rise in comparable food sales in the period to 31 December.
Nevertheless, both retailers have been touting the investment they are putting into price. Woolworths said it had invested A$350m in prices since the first half of its 2014/2015 financial year. Coles talked about price cuts on chicken, eggs and produce and pointed to a "6.5% cumulative deflation" at its stores since its 2009 fiscal year. Woolworths said in the first half of its current financial year it was "better than parity to our major competitor" on over 17,000 items. Its sales momentum, the retailer insisted, had improved as it went through the six-month period.
However, Woolworths acknowledged it is in the middle of a turnaround, with a focus on its supermarkets. Alongside the results came news Brad Banducci, the head of that side of the business, had been named group CEO. The Woolworths brand is being repositioned with the launch of a 'Low Price Always' campaign. The retailer is also trying to improve "the value proposition" of its private-label ranges through a combination of price, investment, product redesign and brand refreshes.
And late in March came news Woolworths is binning its 33-year own-label range Homebrand and "consolidating" it into another, Essentials. The new line, a Woolworths spokesperson tells just-food, will be "one improved value range", adding: "When customers see each product move to the new Essentials packaging they can be assured the product will offer market leading value for money for our customers."
For Steve Spencer, director of Australian FMCG analyst firm Freshagenda, says the move is just one facet of a "serious reinvention" needed at Woolworths as its performance falters against nearest rival Coles and as Aldi cranks up the pressure. "Performance has been poor in comparison to Coles for some time on the like-for-like benchmark, but Aldi has caused much greater impact as it expands its store network in luring an increasing share of the value shoppers who represent a much bigger portion of the shopper market these days," Spencer says. "The Homebrand range appears to have little role in future given the pressure that the supermarkets business is under from Aldi on the value lines across categories. If anything, Woolworths has a confusing offer in the private-label space with four active brands in play before this announcement – Gold, Select, Essentials and Homebrand. They will be forced to clean this up and present a range where the private-label brands each have a distinct value proposition."
New private-label range from Tesco
One other notable private-label story last month came in the UK, where Tesco announced plans to launch seven, value-oriented, own-label ranges in the UK.
Tesco said the lines will either match or beat its competitors on price, as well as delivering a "new level" of quality in fresh. The brands will be sourced from a "range of trusted suppliers", Tesco added.
A spokesperson told just-food: "These seven new brands, which are exclusive to Tesco, address our customers' needs for quality fresh food, at very competitive prices in a single shop."
The move is Tesco's latest significant initiative to gain an edge in the intensely competitive UK grocery market. In recent quarters, Tesco has cut the number of SKUs it carries and altered its promotional strategy to deliver consistently lower prices. Price remains a critical weapon in the UK. In February, Morrisons, itself looking to turn around its performance, announced a wave of price cuts on "fresh food and everyday essentials".
However, of anywhere in the grocery store, the value equation in produce is perhaps one of the toughest for a retailer to solve. Having the cheapest pear or parsnip is only recommended if a retailer can deliver on quality. Consumers can very quickly look elsewhere if product quality does not meet their demands.
Here the true meaning of value – as a definition of price and quality – is perhaps the most pertinent. Tesco is touting the "very competitive" prices of its new ranges, insisting these seven lines will at worst match the prices of competitors. However, by slapping "brand" names on its produce, meat and poultry, Tesco appears to be trying to convince shoppers the products are of a higher quality than competitors, too. It is a balancing act and it will be interesting to see if it works.
"Tesco's move signifies that the grocery battleground is more about value for money than it is just about price. Consumers do want low prices, but they also want quality and food provenance. Tesco has attempted to deliver both with its new brands. In doing so it is responding to the recent focus the discounters have placed on delivering great products at highly competitive prices," Neil Saunders, MD at retail consultants Conlumino, says.
Metro Group to split in two. Could Real be sold?
For Metro Group, the Germany-based retailer, its 2014/2015 fiscal period was said to be a good year, with progress at its cash-and-carry business and consumer electronics business Media Saturn.
Metro's hypermarket chain Real reported a dip in annual sales on a like-for-like basis but the group was starting to put more attention to improve the performance of that side of the business.
In February, when Metro reported the results for the first quarter of its new financial year, its cash-and-carry business saw like-for-like sales inch up year-on-year and its operating profitability ahead of some analyst estimates. However, at Real, like-for-like sales fell again, down 1.6% year-on-year, which would have been frustrating after a decline in the fourth quarter of the previous fiscal period.
Last month came a surprising move from Metro's Dusseldorf headquarters. The company announced plans to split into two listed companies, creating a consumer electronics business and a food-focused retailer focusing on Metro, Makro and Real.
There in reality few synergies between the two businesses. A split should allow for greater focus on the two sectors, with Metro CEO Olaf Koch becoming the chief executive of the food retail company.
Metro set a date for the split to occur in the middle of next year. Before then, however, there could be another strategic move. "Real to be sold in the interim?" Sanford Bernstein analyst Bruno Monteyne wondered in a note to clients. "There have been reports that Real might be sold to private equity. The food business is mainly described as a "wholesale group", potentially implying that Metro may look to sell Real before the merger."