Deal or no deal: Analysts divided on Dorset Cereals sale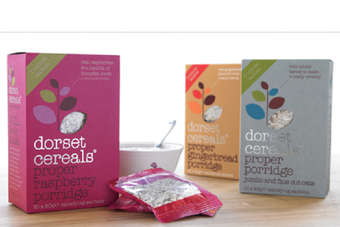 Dorset Cereals is reportedly up for sale with ABF, Weetabix and Kellogg all said to be interested
Toward the end of last week Kellogg, Weetabix and Associated British Foods were all named as potential suitors looking to buy UK cereal brand Dorset Cereals from Wellness Foods.
It is an attractive brand. According to January data from Kantar Worldpanel, Dorset Cereals has seen the fastest growth in the number of buyers of any major brand in the cereal category. In the past two years, over two million households have bought the brand.
While parent firm Wellness Foods did not confirm the brand was up for sale, it did reveal that it had had "interest from a number of companies".
Wellness Foods has a tight portfolio of just a few products including Stream Foods and Orchard House and Paradise Foods.
The firm, backed by horseracing tycoons John Magnier and J.P. McManus, recently sold its Rowse Honey brand to Irish group Valeo Foods. Rowse Honey has a turnover of approximately GBP90m (US$150m); why could Dorset Cereals be the next to leave the stable?
"The model Wellness uses is to buy good brands that are relatively unexploited and invest in growing the brand through extensions, pack sizes, variants in flavours, advertising etc. Then, when the sales and profit growth look strong, sell them to a bigger buyer who can take them to the next level. The capital can then be reinvested in another asset and hopefully repeat the process," says David Murray, partner, transaction advisory services at Ernst & Young.
"This sale should allow [Dorset Cereals] access to additional capital and distribution channels to grow further - potentially access to better R&D and marketing spend and skill. It should also benefit from better purchasing synergies and production effectiveness," he adds.
The three firms linked with the sale are all heavyweights in the food industry. Weetabix is majority-owned by Chinese state-backed group Bright Food and carries brands including Ready Brek, Weetos and Alpen.
Special K and Pringles maker Kellogg has outlined its commitment to focusing on increasing the importance of cereal as a breakfast activity.
Associated British Foods' significant interests lie in sugar and its retail Primark business. However, its grocery brands include Allied Bakeries and Jordans Ryvita Company.
The three companies are reported to have made offers for Dorset Cereals, although none confirmed that when approached by just-food.
When just-food approached Kellogg and Weetabix, neither admitted nor denied their interest in the brand.
Kellogg said: "As part of our strategy, we are always looking for strategic acquisitions or joint ventures that can strengthen our business."
Weetabix said it was "aware of the market speculation but would not be offering a comment to confirm or deny" the reports.
Officials at ABF did not respond to requests for comment.
In Murray's mind, any of the three could end up buying Dorset Cereals. He insisted it was "difficult to call" between them. "All operate in this space and have their own manufacturing, distribution, marketing and R&D. All will get synergistic benefits from buying the asset."
Euromonitor analyst Ildiko Szalai believes Weetabix is the obvious choice.
"They have a very niche profile in terms of products - Dorset Cereals would sit within it very well. There are good synergies in terms of product development, supply chain, marketing, and Weetabix is looking to build the whole wellness and healthy-eating credentials as part of its portfolio. I wouldn't be surprised if they purchase it."
Szalai says an acquisition by Kellogg is still feasible but not as likely as by Weetabix. "The only one reason I rank it less likely than Weetabix is their current strategy of going into the snacking arena. I think what they are building now is a stronger snack portfolio rather than breakfast cereals but then breakfast cereals is their core operation so I wouldn't say its impossible that Kellogg would make a move for it."
Szalai believes ABF was the least likely of the three to swoop for it, primarily because of its lack of its activity regarding M&A in the food industry recently.
"They havent been very active in the food arena in terms of M&A in recent years. That might change with this one - again it's not absolutely unimaginable, but recently I haven't seen this would be their focus. I also don't believe the brand would fit in as well in ABF's portfolio as it would the others."
However, ABF was touted by other industry watchers. "I can understand why all the parties mentioned could be a bidder for Dorset albeit I think Kellogg would most prefer a global brand not a local one," one industry insider, who wished to remain anonymous, said. "In the case of Weetabix, it might seem a bit odd buying Dorset when they owned Alpen. I guess that could put ABF in the lead."
Phil Gorham, an industry analyst at Morningstar, echoed the sentiments that all three companies were likely to be interested in the business. "Both stratgically and financially, any of those three could do it. Being more vertically-integrated, it would be attractive to ABF, who could derive both input cost and distribution synergies from it. On the other hand, as a pure play, Kellogg might be willing to pay up for more exposure to the health category."
This week, Weetabix indicated it is looking to manage costs in the UK, announcing cuts in staff pay and hours. The moves are believed to have been prompted by increasing pressure from supermarket own brands and discount food retailers, although Weetabix refused to be drawn on the factors behind the plans.
Szalai says the two - acquistions and streamlining business costs - are linked. "They want to invest more in expansion and acqusistions, and they want to cut costs wherever they can in existing operations. With bigger food companies, it goes hand in hand - they cut costs in underperforming assets or some operational or double functions and wherever they save money, they invest into expansion of scale and new brands and new focus for the company."
If anything, the purchase could bolster Weetabix's international business. The brand is trying to gain a foothold in China and was last month reported as trying to crack the market by introducing a green-tea flavoured Weetabix.
Dorset Cereals also has a presence in China, although it remains early days for cereal with milk as a breakfast option in that market.
Nevertheless, Szalai argues there could be an "international angle" to a Weetabix move for Dorset Cereals.
"When I first saw that Bright Food had acquired Weetabix, I was sure it was not for their own domestic market. But then I picked up a few stories that they are thinking of making the Chinese population eat cereal as we know it in the western world. Again, muesli and hot cereals are probably a good product for that target market as well. My money is riding on Weetabix."
In any case, Bright Food could look at Dorset Cereals as another Western company with brand-building and food quality expertise to apply to its other businesses.
Additional reporting by Dean Best.
Oops! This article is copy protected.
Why can't I copy the text on this page?
The ability to copy articles is specially reserved for people who are part of a group membership.
How do I become a group member?
To find out how you and your team can copy and share articles and save money as part of a group membership call Sean Clinton on
+44 (0)1527 573 736 or complete this form..