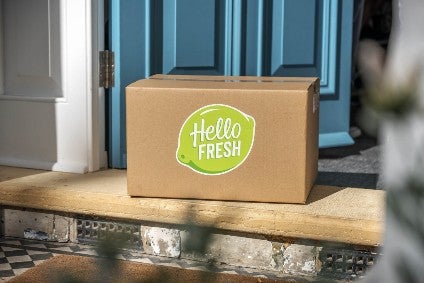 Andy Coyne looks at the success enjoyed by meal-kit firms during the lockdown period and assesses their future prospects.
It would be crass to describe a category as having had a good coronavirus but what is inescapable is there have been beneficiaries of an environment that has seen millions of us locked down at home.
One has been the meal-kit home-delivery market, boosted in recent months by shoppers' reluctance to visit the supermarket too often, as well as by locked-down consumers having more time to cook and not being able to visit restaurants.
However, there are question marks about the extent to which those gains will be maintained once the worst of the crisis is over and we enter a 'new normal'.
There are now estimated to be 150 meal-kit providers operating in the US alone, ranging from listed businesses such as Blue Apron to global players active in the market, such as Berlin-headquartered HelloFresh, and specialist businesses such as vegan meal-kit business Purple Carrot.
Competition is fierce – and has only intensified during lockdown as some foodservice chains, in a bid to recover some lost sales, started offering meal-kit-type products.
Research from data and analytics company GlobalData doesn't forecast stellar growth for the meal-kit market in the US. GlobalData says the market is expected to expand at a CAGR of 2.49% between 2018 and 2023, reaching a sales value of US$233.7m in 2023. The 2018 sales figure was $206.7m.
The organisation, meanwhile, suggests in the UK the market will achieve a CAGR of 3.84% between the same years, reaching a sales value of GBP149.8m (US$187.4m) in 2023. The 2018 sales figure was GBP124.1m.
Of course, these figures don't take into account the growth seen during the Covid-19 lockdown period.
In the UK, Cardlytics, a company that analyses consumer purchases, said expenditure on meal kits and grocery boxes more than doubled in April year-on-year.
For a flavour of how the US meal-kit market got a boost in the early weeks of the country's lockdown, BlueApron said it saw its "meal-kit demand – the number of meal kits ordered multiplied by the average order value – jump 27% in the first three weeks of April, compared to the first three weeks of March. The company said that demand led to its "meal-kit net revenue – orders actually fulfilled by multiplied by the average order value – grow 22%.
German competitor HelloFresh saw its group revenue jump 64.5% in the first quarter – a period that would have seen limited impact from consumers under lockdown. However, the company said in May when it announced its first-quarter results that it expects its second-quarter growth to be "higher" than the first quarter, when measured year-on-year, with growth "similar" in its two operating segments – International and the US.
Unsurprisingly, HelloFresh is in buoyant mood about its recent performance.
A company spokesperson told just-food: "Our value proposition has been resonating extremely well with consumers for a long time, resulting in a very strong start to the year and then a further acceleration as families increasingly looked to our service amid the Covid-19 pandemic."
Timo Boldt, founder and CEO of UK meal-kit firm Gousto, which delivers to 380,000 households monthly, has seen a similar "acceleration" in its business as a result of the circumstances created by Covid-19.
"We have seen an enormous spike in orders," he says. "Gousto was profitable before the crisis and it's profitable now. We are growing way over 100% year-on-year in sales terms."
It is a trend that has not gone unnoticed by market watchers. Food business entrepreneur John Stapleton, who built up and sold UK brands New Covent Garden Soup Co. and Little Dish, says: "It's an interesting category. It's a combination of a traditional food business and a tech business. People during the lockdown have been stuck at home and found this to be a short-cut from having to cook."
Bill Bishop, co-founder of US grocery sector analysis firm Brick Meets Click, says: "What has been evident is that a significant number of people have been ordering online and working that into a regular part of their shopping pattern.
"That change has taken place at two levels – those who went from doing [buying] nothing to something have adopted the online option and those who have increased their use."
The HelloFresh spokesperson notes that the company has seen a change in buying habits during the recent period. "Interestingly, it usually takes a new customer a few weeks to fully 'adapt' to HelloFresh and integrate our service into their everyday lives. Because of the pandemic, however, people have had to adjust to eating more meals at home, and many have quickly adopted new eating habits."
Boldt at Gousto says growth has come from old and new customers. "Order frequency has increased from our old customers and they are also buying more so the basket price goes up. But there has been seismic demand from new customers as well," he says.
"It makes sense. People are at home and have been cooking more and some supermarket shelves were empty at the start [of the lockdown period]."
The question, of course, is whether this surge in business can be maintained post-Covid-19.
Unsurprisingly, the meal kit-firms themselves are convinced they will remain on an upward trajectory when the 'new normal' arrives.
The HelloFresh spokesperson says: "People already cooked meals at home pre-pandemic, and they will continue to do so going forward. Meal kits offer a more convenient, sustainable and affordable dinner solution for home-cooked meals than a supermarket can, and we expect meal kits to continue filling this need for fresh ingredients delivered to your doorstep.
"We expect many consumer habits formed during the pandemic, like cooking more at home, will continue post-pandemic. Meal kits will fit that unique consumer need and are well-positioned to serve that increased demand."
Boldt at Gousto takes a similar view. "We have hired 400 people in the last few weeks to meet demand and will hire another 200 in the next few weeks," he says.
"We will continue to see seismic growth. If people have had a positive experience this helps them to form a habit very fast and this will be 'sticky'. There will be some reversal in consumer behaviour but that will still leave a lot of space for us."
Market watchers believe that some of the growth seen by meal-kit firms during lockdown may be retained but suggest there may be a slowdown.
Stapleton says: "We won't see the dramatic growth of the last 11 weeks but if they understand why consumers have gone the way they have and can slightly amend their offering they can hold onto some of them. With everyone being stuck at home they will want to go back to their favourites but they will have experienced new things."
Focusing on the US market, Bishop says: "What needs to happen is the kits themselves need to be further fine-tuned to fit in with the normal eating routines of certain segments of households. They wouldn't necessarily require a fancy meal every week.
"There needs to be a change to popularise the offer in terms of content and price point, but probably more in content. There is a desire for greater convenience and not spending time to assemble it, cook it and clean up. That's likely to work to its disadvantage.
"But there is an opportunity linked to the healthfulness of the food and also the family thing, the societal experience, taking time to eat together. That's something we had forgotten about.
"At the end of the day the thing that will uncork the growth of the meal-kit market is a cost-effective, last-mile solution. It might be an online delivery operation or micro-fulfilment from local stores. Options can be disproportionately expensive but progress is being made in thought processes around the last mile."
Maria Castroviejo, a senior food sector analyst at Dutch investment bank Rabobank, says: "Nobody really knows what will happen. It is a unique situation. Things can be compared to previous crises but there are socio-economic factors at play as well such as the recession.
"In 2021 and perhaps the beginning of 2022, when we don't have the same health concerns and the economy is getting better, the situation for meal kits then is they will probably not be as huge as they are now. The growth rate will not be sustained. They are coming from a situation of need when everyone is locked up and can't go to restaurants."
However, Castroviejo adds: "We will work from home more in 2021 and 2022 than we did in 2019 and many people will no longer work for five days a week. So people will still make some use of meal kits. And they are interesting so there will be demand.
And with such a crowded market meal-kit firms will need a competitive advantage.
Boldt at Gousto, which raised GBP33m (US$41.2m) in a funding round in April, points to recent product development, including a tie-up with UK fitness guru Joe Wicks, who is also an investor in the business.
"We offer over 50 recipes, whereas with most of our competitors it is ten or 12. That has benefited us during the crisis. We launched the Joe Wicks Lean in 15 range and that has been hugely popular."
Other providers have looked to diversify their distribution model, a move that, ironically, could take them into the very stores they are competing against.
US vegan meal-kit firm Purple Carrot, for example, has teamed up with packaged food business Conagra Brands to launch a range of ready meals in the frozen aisle at Whole Foods Market stores.
The discussion about whether supermarkets are friends or foe to meal-kit firms has raged in recent years, with other firms making similar moves to Purple Carrot, and the debate is ongoing.
Bishop says: "Supermarket meal kits are one area of competition but so could be first class retail provision of recipes integrated into shopping lists."
Gousto is not convinced about the ability of supermarkets to muscle in. "[UK supermarkets] Morrisons and Waitrose have both failed to get meaningful traction [with their meal kit offer]," Boldt says.
But, for meal-kit firms focusing on home delivery, analysts point out the same issues they faced pre-Covid-19 will be there when the dust settles – specifically high marketing costs and excessive packaging that seems contrary to the prevailing push for sustainability.
Castroviejo at Rabobank says: "One of the things that has happened is marketing costs have gone down a lot [during lockdown] because they didn't need to attract consumers. So they will need to escalate marketing costs [post-Covid]."
With regards to packaging, she says: "Pre-Covid this was one of the main criticisms, the huge amount of packaging these companies huge. During the crisis, people haven't cared about plastic as much – it was more about hygiene – but when things return to normal those concerns will be there. There is increasing legislation. Regulators are behind their backs and they need to find new solutions."
The companies argue that they are on the case.
Gousto has said it plans to make all its packaging reusable, recyclable or compostable by the end of 2022. CEO Boldt points how the company has reduced the plastic in its boxes by 50% in the last year and is "working on some new initiatives in this area".
Similarly, HelloFresh says it is "innovating on packaging and materials throughout our supply chain to become more sustainable".
Tackling sustainability issues is, arguably, an easier task than retaining customers after the Covid-19 threat diminishes and we can return to a more normal existence.
As Castroviejo at Rabobank says: "The rate of growth is not sustainable because people will not be at home 100%. They will be less available for delivery and also they will go out more, eat at restaurants or grab something on the way home."
But Boldt at Gousto, for one, remains positive that customers gained during the lockdown will stick with them. "I'm more optimistic about the future than ever before."