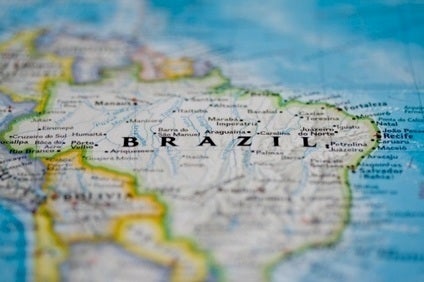 Brazil's economy slowed sharply in 2014 and is forecast to fall into recession this year. What impact could this have on dairy consumption in the country? Paula Krizanovic investigates.
After years of solid growth – notwithstanding 2009 when the global downturn led to recession in Brazil – the country's economy has slowed sharply and it is expected to fall into recession in 2015.
Throughout much of the 1990s and 2000s, Brazil's economic growth drove up the purchasing power of swathes of the country's population, making the market more attractive for more FMCG producers. Brazil's middle class grew and was able to afford products that were typical for the richest consumers in the country.
In dairy, for example, per capita consumption of yoghurt doubled in the last decade, up to 8kg in 2014, statistics from Euromonitor show. As a further sign of the category's development in Brazil, Greek yoghurt entered the market in 2012 and now all of the major players in yoghurt have entered the niche, launching a variety of flavours and formats. The innovation continues. This month, local company Vigor launched a sour Greek yoghurt, a market first.
However, the Brazilian economy is in the doldrums. The country's GDP inched up 0.1% in 2014. And there is consensus the economy will retract in 2015. A group of 100 Brazilian economists consulted weekly by Banco Central do Brasil – the monetary authority – expect the country's GDP to drop 1.18% in 2015. In the last 12 months, despite hikes in the country's interest rate, consumer prices increased by more than 8%. Inflation has been lower in the food and beverage sector but prices have been rising; between March and April, food and beverage prices rose by 1.04%.
After winning re-election in October, the second term of President Dilma Rousseff has seen the Brazilian government focus on improving the country's public finances. Economy Minister Joaquim Levy was instructed to implement a fiscal austerity programme.
And there are signs Brazil's problems have had an impact on the dairy sector, which has flourished as the country's economy boomed.
"Demand has been somewhat weaker with volumes growing modestly so far in 2015. High inflation coupled with a loss of real income is limiting the consumer's ability to continue increasing its purchasing of food and drinks and, in particular, dairy products. Higher pricing in some categories will help to generate value growth this year. However, real volume growth will be limited," Andrés Padilla, an analyst at Rabobank, tells just-food.
That said, volumes are not expected to fall. "More fiscal discipline is likely to be reflected in less money available for expanding income transfer It will affect potential growth in lower-income regions but it won't mean declining volumes," Padilla says.
Dairy's position as a staple food will, industry watchers believe, mean the sector will be relatively protected from the worst affects of the economic slowdown in Brazil. However, manufacturers will have to adapt to changes in how consumers shop.
"What we will see is modest growth for dairy categories. Perhaps there might be cuts in some imported products that become more expensive due to currency devaluation or reduction in packaging sizes," Padilla says.
Renata Benites Martins, an analyst at Euromonitor in São Paulo, says poorer consumers will be the most affected by the weaker Brazilian economy. "They were trying to purchase added-value food but that now would see this reality more distant," she says.
However, more affluent consumers are also likely to alter their habits, she argues. Middle-class Brazilian consumers will want to continue buying added-value dairy products but will perhaps purchase them less often "if the item is not related to a specific health issue such as lactose intolerance or a certain type of allergy", Martins says.
One international dairy manufacturer operating in an added-value and niche category is Japan-based probiotic group Yakult.
Eishin Shimada, the president of Yakult's business in Brazil, issues a note of caution about the impact of the slowdown on the sector but is broadly upbeat. "Whilst projections are positive, health and wellness players will face challenges over the coming years due to rising consumer price sensitivity as a result of the economic downturn," Shimada tells just-food.
However, he adds: "Brazilian consumers are enthusiastic about novelties and are not willing to go without goods they have become used to purchasing. We think that health and wellness trends continues to expand in the country, especially in dairy categories, and Yakult products still have competitive prices."
As a sign of Yakult's confidence in the prospects for its business in Brazil, the company is looking to expand its business in the country. At present, Yakult's operations are concentrated in the south west of Brazil but Shimada says the company is looking to cities like "Rio de Janeiro, Minas Gerais, Salvador and Recife in the near future".
He adds: "Multinational companies dominate health and wellness sales and continue to invest in the fastest-growing areas such as functional dairy products. Brazil is still a big country with many business opportunities."
Vigor, one of Brazil's five largest dairy companies, is a broader business operating in more categories. Announcing its results for the first quarter of 2015 last week, Vigor posted an 18.4% rise in EBITDA to BRL50.8m (US$16.7m) and a 14% increase in net revenue to BRL487.4m. "In spite of the more challenging economic scenario, 2015 began with growth in the main product categories and an improvement in the company's profitability," Vigor CEO Gilberto Xando said.
Despite the slowdown, companies are looking to invest in product and packaging innovation to try to attract consumers.
"Dairy, especially yoghurt, keeps investing in innovation, especially when it comes to packaging where some companies have already invested in glass for premium yoghurt, as well as shelf-stable aseptic packaging and PET formats for on-the-go consumption," Martins says. "The same goes with shelf-stable milk, with the recent introduction of aseptic plastic bottles, aiming to differentiate the products on the shelves and give them a more sophisticated image."
Vigor plans to continue its product development. "We have shown interest in emphasising … more functional yoghurts as we have done in the past. So we are going to put a lot of effort and energy in this category in Brazil," CFO Victor Hugo Machado said last week as the company announced its first-quarter results.
The company's new yoghurt plant in Rio de Janeiro state, currently under construction, is expected to be finished by the third or fourth quarter of this year. From there, Machado said, the company plans to increase sales in Rio de Janeiro and Minas Gerais.
The company, in which Arla Foods owns an 8% stake, is also expanding its product portfolio, and is in the process of renewing all the packaging for its cheese brands.
At Yakult, Shimada is hoping the Brazilian economy will show signs of stability in the second half of the year "and comes back to growth again at the end of the year". "The prospect is for the company to grow 5% this year compared to 2014," he says.
Although there will be some impact, Brazil's dairy industry will continue to grow despite the downturn. Dairy companies do not believe the slowdown will have a deep impact on their business and are continuing to invest in both production and products.