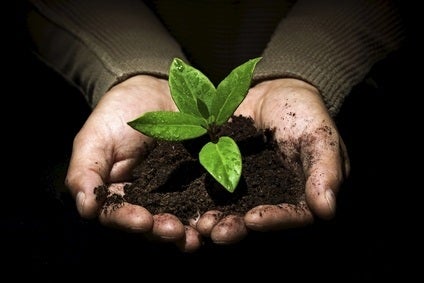 The demand for organic food in the Middle East and North Africa is increasing, in part, prompted by ex-pat consumers. However, at present, the sector is only valued at US$110.1m compared to mature markets like the US, where organic food is worth billions. However, there is also a reliance on imports, pointing to some opinion that there is a big opportunity for international organic food manufacturers. Hannah Abdulla explores.
Organic food is becoming an area of increasing interest in the Middle East and North Africa. In 2014, the organic sector in the region was valued at US$110.1m compared with $72.4m in 2009, according to Euromonitor International.
Compared to a mature market like the US, where sales of organic food and beverages were – according to Packaged Facts – forecast to reach $53.5bn in 2014, the organic food movement in MENA's is in its early stages. Growth varies from country to country too. Israel has remained top of the MENA organic food leader board with a sector valued at $67.1m in sales in 2014 compared with $46m in 2009. The UAE follows at $18.1m versus with $11.9m in 2009 and in Egypt, the market was worth $9.5m last year, up from $5.3m in 2009.
Liron Kriaf, contributing analyst for Euromonitor International, explains in Israel a range of factors have led to the growth of the market. Kriaf points to the greater awareness of the organic movement and its purported benefits, broader media coverage and government-imposed regulations ensuring organic products "are actually organic" for resulting in a higher uptake among Israeli consumers. There is also a much wider distribution of organic products in sales channels across the country.
In the UAE, the region's second-largest market for organic food, the demographics of the population have a lot to do with influencing the sector's growth. Joby Mathew Muricken, head of exhibitions at the Middle East Natural & Organic Product Expo, which specialises in showcasing organic and natural foods, says the UAE's population is quite young and "keen to embrace a healthy lifestyle". In addition, he says the rising number of professionals, with a growing interest in healthy eating habits and chemical-free foodstuffs is a further reason for the segment's popularity.
There's also a high foreign expatriate population. In the UAE alone, around 80% of residents are foreign ex-pats. For western ex-pats – who have likely had greater exposure to organic offerings – organic is something they are on the look out for, particularly when it comes to feeding their children.
"Organic baby food is the largest category within organic packaged food in the UAE with a market size of US$8.2m…Western expatriates with the financial means, the willingness and the brand knowledge to purchase costly organic products [do so] for their children," says Natalia Gorzawski, research analyst at Euromonitor International.
There is also a growing interest in organic fresh produce across the region. But unlike other markets that are able to grow their own produce, the climate causes a big problem. Being an arid dessert region, growing fresh produce can often prove difficult.
Ripe Middle East is an organic grower in the UAE and works with a number of organic certified farms. It was established in 2011. Miriam Finerty, the company's marketing and PR manager, says demand for fresh organic produce has grown.
"When we first launched we were delivering to a handful of customers a week and now it's hundreds. Of course there are some limitations and because of that we have developed strong relationships with regional organic certified farms also to ensure we can keep our supply as consistent as possible."
But such challenges for local growers only serve to create opportunities for international firms looking to export. Muricken explains a majority of the organic food market in the MENA region is dominated by imported foods and only a fraction of the market is locally made produce. There is also the fact international brands are generally more trusted by consumers in the MENA region and this is particularly true of those western residents who have an affiliation towards brands from their home countries.
Rice and pulses manufacturer Amira Nature Foods earlier this year announced the launch of an organic food range in the UAE. Speaking to just-food at the Gulfood Trade show in Dubai, chairman Karan Chanana said he believed awareness of organic food would catch on like "rapid fire".
"When people are getting into a fitness programme and after a certain age when a lot of the population gets to about fifty-ish, they realise they need to go back to nature – that means work out, eat healthier. I think the Middle East is there now and I think it could be a tremendous market. All the food is imported here, and I think that presents an amazing opportunity."
Euromonitor's Kriaf acknowledges there are "good opportunities" for international organic food makers but insists at present it is limited to the UAE and Israel. In Israel, organic has made a name for itself within the aisles of supermarkets, discounters and convenience stores, and in the UAE it is increasingly available through supermarkets and hypermarkets. However, across the wider region, this is not the case, asserts Gorzawski. Region-wide, organic "remains a niche" and this is likely to be the case over the next five years.
"It is currently highly unlikely that organic food will become mainstream in the region and especially in countries like Egypt, Morocco or Tunisia, organic products will mainly be sold through upscale supermarkets or hypermarkets and not traditional groceries, which account for the bulk of sales in these countries."
"Most consumers in countries like Egypt, Morocco or Tunisia are currently not aware of the concept and the benefits of organic food and large parts of the population in these countries are unable to afford these premium products. Unit prices for organic products are significantly higher than prices for regular products and as average disposable incomes remain low and many countries are still suffering under economic instabilities after the Arab Spring movements, most consumers are looking for economically-priced products, rather than "quality".
Much of this stems from a weaker understanding of "organic" and what it entails. Despite organic products having "doubled or tripled" across Gulf retail shelves in the last couple of years, Muricken says there is still a long way to go when it comes to consumers in this region really understanding organic.
"The great challenge of introducing organic food into the market is largely over and there is wide awareness on the advantages of this category. We would say that the organic food market is still growing and no level of maturity has been achieved yet, pointing to higher potential for growth."