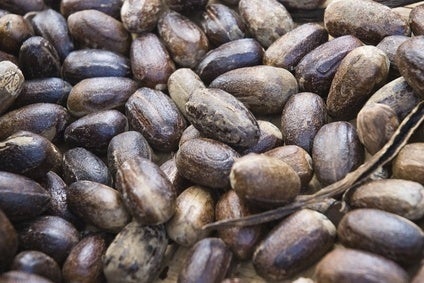 The first section of our management briefing examining how the food industry is working to make agricultural supply chains more sustainable looks at cocoa, a commodity facing grave challenges but now receiving substantially increased and concerted attention from food companies following the launch of the CocoaAction collective initiative a year ago. Ben Cooper reports.
Tipping points, sea changes and seminal moments are more common in the sustainability field than the definitions of these terms would suggest should be possible. One explanation is 'false dawn' is also a term found fairly frequently in the sustainability canon.
So, when industry advocates talk in terms of the launch of the CocoaAction programme last year marking a step change in how food companies are engaging to build a sustainable cocoa sector, there will naturally be scepticism in some quarters.
That scepticism is not only borne out of the fact the major cocoa supply chains in Côte d'Ivoire and Ghana are universally recognised to be in a very parlous state but also that industry has been talking about tackling the problems – in particular the child labour issue – for many years, perhaps even talking up the level of engagement at times.
Arguably, calling the initiative, launched under the auspices of cocoa industry organisation the World Cocoa Foundation (WCF), CocoaAction underlines a prevailing feeling the time has come for increased, decisive and concerted action.
To a significant degree, the greater emphasis food companies are now placing on agricultural supply chains overall stems from the increased risks to their supply represented by climate change and other issues. Risk is certainly a key driving factor behind corporate engagement in cocoa. There is widespread concern that, with current levels of productivity and with the serious challenges represented by the ageing tree stock and farmer migration away from agriculture, Côte d'Ivoire and Ghana will not be able to meet the increased demand anticipated over the coming five years and beyond.
Time for action
Just over a year on from the launch of CocoaAction, there is already considerable evidence to suggest what is now being seen from industry in cocoa is measurably different from what has come before. And the term 'measurably' is in itself significant.
The CocoaAction partners – namely Archer Daniels Midland, Barry Callebaut, Blommer, Cargill, ECOM Agrotrade Limited, Ferrero, Hershey, Mars Inc, Mondelez International, Nestlé and Olam International – agreed last October on six key performance indicators for the programme, three relating to productivity and three to community investment, that will underpin all CocoaAction activities in Côte d'Ivoire and Ghana.
Regarding productivity, the three KPIs are: the number of farmers applying a minimum number of good agricultural practices; the number of farmers adopting recommended planting materials to rehabilitate a minimum percentage of their old or non-productive cocoa trees; and the number of farmers adopting recommended fertilizer and soil fertility practices on their farms.
In relation to community investment, the three CocoaAction KPIs are the number of children participating in child labour as defined by the International Labour Organization Convention 182; the number of women in leadership positions – such as trainers, lead farmers and extension workers – in farmer organisations; and the percentage of school-age children regularly attending school.
Significantly, the KPIs were developed with input from the Ghanaian and Ivorian governments, and in consultation with experts in measurement systems. The partners also committed to reporting regularly on the progress of the initiative and the first such report was published in March.
World Cocoa Foundation chairman Barry Parkin believes CocoaAction "has already made a significant difference" for three primary reasons.
"First of all, the industry has pooled its knowledge. So, there's been a very high level of collaboration of our knowledge on the underlying science and implementation techniques which has informed everybody's programmes," Parkin tells just-food, stressing the knowledge has been pooled "with no holds barred" which "has allowed us to develop a much stronger blueprint of how to drive change. Everybody's programmes have increased in quality as a result".
Parkin, who is also chief sustainability officer and health & wellness officer at Mars, maintains also the "scale of ambition of the collective industry has increased". While some companies had stated ambitions to "reach hundreds of thousands of farmers", others did not, Parkin points out. "So through this process every company has a significant scale of ambition in terms of the numbers of farmers they want to reach in their supply chains. So that's a significant change and that means more investment, more effort, more activity on the ground is happening."
Thirdly, Parkin believes CocoaAction has given industry actors a "much more unified voice in discussions with others, whether they be NGOs, and I include in that the certifying bodies, or with the origin governments in seeking to develop strong public-private partnerships, or with donor agencies and development agencies that are seeking to support the sector".
As an example of cooperation, he cites the recently launched TRECC (Transforming Education in Cocoa Communities) initiative in partnership with the Jacobs Foundation which will see a US$52m investment in education programmes in Côte d'Ivoire.
However, Parkin warns that while the industry collaboration and "serious intent" is "fantastic to see", this is going to be "a long haul" for the sector. "We have put in place a lot of the right foundations here but I'm not celebrating success. Success will come ten or 20 years down the line. We've got a lot of work to do."
Meanwhile, Jean-Philippe Ake, director of responsible sourcing at Hershey, says that while there has been "a commitment from industry to have a greater impact in the farming communities, we have come to a point where aligning our various initiatives, we strongly believe, will yield a better impact".
Speaking to just-food, Erinch Sahan, private sector policy advisor at Oxfam, welcomed what he sees as "a huge step up" in terms of industry engagement in agricultural supply chains including cocoa, though he warns that companies are still not giving sufficient priority to farmer incomes specifically and what they are being paid for their product. While welcoming the greater attention companies are paying to cocoa supply chains and the help that is providing to smallholder farming communities, Sahan says allowing farmers to retain a greater share of the value of the cocoa market is a fundamental requirement.
Meanwhile, Nick Weatherill, executive director of the International Cocoa Initiative (ICI), welcomes CocoaAction as a "very ambitious plan" and "an opportunity to get certain best practices embedded in a broader corporate strategy". Echoing Parkin's caution, he says "the proof of the pudding will be in the delivery of it" but he believes "all the potential is there".
Positive signs on child labour
Parkin also warns solving the key issue of child labour will be a long process, conceding progress to date has been "disappointingly slow". However, he says "one of the prime reasons" behind the launch of CocoaAction was "the recognition that we had to work in a different way, to work more closely together, more intensively and at greater scale if we're going to solve child labour and other issues".
Weatherill also sees CocoaAction as a key moment in the battle to eradicate child labour from the cocoa supply chain. Generally optimistic about where the industry now stands in this challenge, Weatherill says the level of understanding about what causes child labour in rural communities in Africa "has evolved massively" since the early days after the Harkin-Engel Protocol was signed in 2001.
Crucially, he points out the personnel engaged at a corporate level have changed, with sustainability managers and responsible procurement managers working directly on the issue rather than just corporate affairs staff. "We have got a very different set of actors around the table talking about this stuff," Weatherill says. "That's what's different."
With companies now directing specialised personnel to the challenge and having a "better sense of what works and what doesn't work", Weatherill sees CocoaAction as the "trigger" for the "action moving to another level".
In terms of how cocoa and chocolate companies are now setting about the task of addressing overall sustainability challenges in their supply chains, Weatherill goes as far as to say that the sector is "ahead of the pack in many respects" in comparison with some other commodities.
Comparisons and, more crucially perhaps, cross-learning between different agricultural commodities are highly significant, not least with regard to the critical role of smallholder farming in so many commodity sectors. The dominance of smallholder farmers in the cocoa sector not only presents specific and stern challenges but also makes the way food companies are now aiming to assist cocoa growing communities highly relevant in a broader context.
Numerous reports from agencies such as the UN's Food and Agriculture Organization (FAO) have stressed how critical raising productivity and living standards in smallholder farming is to the global food security challenge.
The most recent prominent organisation to stress the same was the G20 in its Food Security and Nutrition Framework, launched at the Brisbane summit last November. Smallholder farming is described as an "important cross-cutting element" in all three of the framework's principal objectives.
The progress of CocoaAction will be watched closely by many organisations not specifically or uniquely associated with the cocoa supply chain, and in that context the emphasis the programme has placed on regularly reporting progress will be particularly useful and welcomed.
This article is part of just-food's management briefing on the latest developments in the sustainability of supply chains for four key commodities: palm oil, cocoa, soy and sugar.
To read why some in the industry believe the drive on sustainable palm oil has been to slow, click here.
Is the debate over genetic modification (GM) plays in the soy sector a distraction from more important sustainability issues around deforestation and its consequences? Click here to read our analysis.