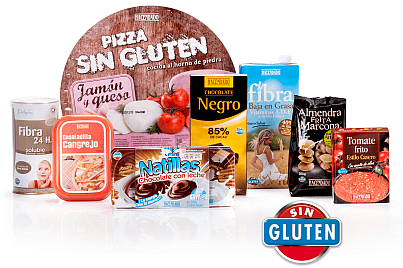 Gluten free has gained a foothold in Spain but the market is not as developed as in other countries in western Europe. Spain's recent economic travails have not helped the category, while the country's culinary traditions have also held back the sector's development. However, gluten-free sales are gathering pace, presenting another opportunity for manufacturers, although the market presents some stiff challenges. Dean Best reports.
The growth of the gluten-free market in Spain has been solid but not quite at the rates of some of its neighbours in western Europe.
According to Euromonitor, Spain had the sixth-largest gluten-free market in 2014, with sales of GBP37.8m, far behind Italy, the UK and Germany – the three countries to see sales of over GBP100m – but also lagging France and Sweden, all markets where not just increasing diagnosis rates of coeliac disease have boosted sales but also growing interest from mainstream consumers.
For industry watchers, there are two factors for the – so far – slower growth of the category in Spain: the economy and also the country's underlying food traditions.
"Growth has been slow in recent years. This is very likely to be due to Spain's struggling economy. With unemployment rates reaching as high as around 27% in 2013, With unemployment rates reaching as high as around 27% in 2013, consumer willingness to pay extra for food where benefits are not wholly necessary is limited," Hamish Renton, MD of free-from consultants HRA Marketing, says. "With free-from foods commanding a clear premium, appeal to the so-called lifestyler category of consumers is constrained compared to other EU states where consumers can afford this premium."
Euromonitor contributing analyst Simone Baroke suggests traditional eating habits are perhaps more entrenched in Spain than in markets like the UK and Germany. "Although anti-gluten awareness is growing, Spanish consumers are essentially staunch traditionalists who are very attached to their regional and local cuisines," she explains. "Ham is considered a health food here, and that's no exaggeration. With regards to gluten-containing foods, white, baguette-like bread is served with every meal. It's not only hard for people to let that habit go, but most will simply not accept that this could be in any way bad, because people have eaten like this for generations, and it's not done them any harm. In my experience, Spanish consumers are much more protective of their dietary traditions than their counterparts in the UK and Germany."
But the category is starting to pick up pace. Growth is forecast to accelerate and Euromonitor predicts Spain will usurp Sweden by 2019, with sales of GBP48.2m.
"I would say the gluten free market is exploding now, it's growing double digits – but not double digits like 10% or 15% – it's growing 35% and 40% and it's keeping up," Eva Sobrepere, marketing manager at Spanish gluten-free baker Proceli, among the top five gluten-free brands in the country, says. "There is a huge opportunity."
Similar to what has been seen in other markets, a rise in coeliac diagnosis is helping the category and growing demand for gluten-free products is having an impact on supply and on the wider market. "Because diagnosis is growing, some products that usually contain gluten are changing into gluten-free products, Lujan Soler, manager at the Federación de Asociaciones de Celíacos de España, says. "There is a healthy perception of gluten-free products. Prices are still real expensive but they are decreasing."
Specialists like Proceli are seeing sales rise and the growth of the category has, as in other European markets, attracted some conventional manufacturers. Spain is one of the countries in which Cereal Partners Worldwide, the venture between Nestle and General Mills, launched its gluten-free cornflakes last year.
However, analysts point to the interest in the sector from retailers like Mercadona and Eroski as central to the development of gluten-free in the category in Spain, where prices of gluten-free products remain high and where consumers, despite economic conditions slowly improving, are still sensitive to price.
"When a retailer like Mercadona takes it seriously, the whole market starts to pick up," Bob Trice, the former MD of Dr Schär's UK arm and now a gluten-free food industry consultant, says.
Mercadona is Spain's largest grocer and has been steadily expanding its range of gluten-free products. "They want to achieve 1,000 SKUs by the end of this year," Miguel Flavian, a food industry analyst, says.
Such investment will benefit the rising number of diagnosed coeliacs in Spain, through a wider range of products from which to choose and through the potential for more attractive prices. There is, of course, obvious opportunities for private-label manufacturers.
Proceli produces own label alongside its branded range, with private label accounting for around a third of its sales. Sobrepere refuses to be drawn on the identity of Proceli's private-label customers but she does disclose the company manufactures for "some retailers in Spain".
However, Proceli's largest own-label customer is in fact Rewe, the German retailer. Sobrepere says Proceli's ambition is to expand its branded sales – "Right now, [private label] is good but it's not something we are looking to reinforce – and she sees Mercadona's interest in gluten free as a double-edged sword. The retailer, she says, only sells own-label gluten-free lines, bar some branded pasta products.
"They have 1,500 points of sale and the weird part for a brand like me is they have own label and nothing else," Sobrepere says. "It's true they are pushing the category so it's helping everyone but on the other hand it's a point of sale that I will never be able to have."
Nevertheless, the opportunity for branded manufacturers lies in innovation, industry watchers say. "Price is a big barrier but the taste of gluten-free products has not been so good, and improving the taste of the products could give more reasons for customers to purchase," Flavian says. "Consumers always welcome innovations if they are relevant to their needs."
At FACE, Soler says there are a number of categories that could present opportunities for innovation. "I will answer as if I am representing the consumers," she says. "They would like to buy fresh bread – like in-store bakery – ready-to-eat/heat pasta, salads with pasta and also meat and fish coated in breadcrumbs."