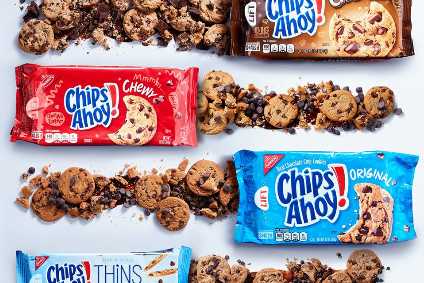 Mondelez International predicted its sales would come under pressure in the second quarter – and the company wasn't wrong. But the US snacks giant sees growth picking up in the third quarter and is set to make changes to its product ranges and innovation to aid sales and reduce costs. Dean Best reports.
Mondelez International's sales growth slowed in the second quarter, although that wasn't a surprise, given the US snacks major had predicted as much in April when it reported its numbers for the opening three months.
Back then, the Cadbury owner highlighted how Covid-19 had only started to make its presence felt in emerging markets and it warned the virus and associated lockdowns would hit sales in countries in Asia and Latin America. India, for example, announced its first nationwide lockdown on 23 March.
Mondelez expects trading conditions to improve in the third quarter, boosting revenues, while the company believes consumers' renewed interest in big brands, as well as their continued increased at-home consumption, will further bolster sales. It is also looking to inject more growth into sales through initiatives including cutting SKUs, focusing on fewer innovation projects and upping marketing spend.
Sales growth slow but share gains made
In the first three months of 2020, Mondelez's net revenues rose 6.4% on an organic basis, boosted by pantry-loading, particularly in North America. In the second quarter, growth slowed to 0.7%. Sales in North America remained strong but fell in Europe, Latin America and in Mondelez's division that groups together Asia, the Middle East and Africa.
Speaking to analysts on a conference call to discuss Mondelez's results, chairman and CEO Dirk Van de Put said the business had also seen other parts of its markets "slow down significantly", including the gum category and, unsurprisingly, travel retail.
Gum accounts for around 7% of Mondelez's revenue and sales were down around 35-40% in the second quarter depending on the market. Revenue for Mondelez's travel-retail business comes in annually at around $250m. In the second quarter, Mondelez CFO Luca Zaramella said, "it was nearly zero".
Over the half, Mondelez net revenues were up 3.7%.
Operating income and net earnings fell in the second quarter and across the half on a reported basis due to items including costs related to Mondelez's ownership of a stake in hot beverages group JDE Peet, as well as the group lapping a benefit last year from pension changes and currency/commodity hedges.
On an adjusted basis and at a constant exchange rates, Mondelez eked out an increase in operating income in the first half of 2020 and saw its earnings per share rise. Nevertheless, in its commentary on operating income, Mondelez did cite the impact of "unfavourable volume/mix", which it said was "partially offset by lower advertising and promotion costs".
Reflecting on Q2, Van de Put said he was "pleased" with the performance "given the challenging environment".
Zaramella said the Milka maker had "held or gained share in 85% of our revenue base, and our overall share is as high as it has ever been".
Green shoots in some emerging markets
Van de Put said the Oreo owner's performance in its emerging markets (which, of course, is part of the longer-term investment thesis for the business) had improved throughout the second quarter "as store closures eased and consumers in many markets were increasingly able to access our products".
Mondelez saw the biggest impact on its emerging markets in April. Zaramella said the company saw "double-digit top-line declines" that month but added: "As we moved into May, things began to improve. And, in June, our emerging markets turned positive and posted low single-digit growth."
An example of the volatility in Mondelez's sales would be India, a key emerging market, where it leads the country's chocolate category. In April and May, sales in India fell at a double-digit rate, before turning to "mid-single-digit growth in June", Zaramella said.
In Latin America, Mondelez saw growth in Argentina but that was due to pricing from inflation. Excluding that market, revenue in Latin America dropped 15% amid declines in countries including Brazil and Mexico.
The near term doesn't sound too positive for the region. "We expect the environment in Latin America to remain challenging in the second half given the restrictions in place in most markets and the impact that those restrictions are having on economic growth. We remain focused on what we can control, which is executing our plans and driving better share performance," Zaramella said.
For emerging markets overall, he added: "We expect this trend of improving growth to continue into July as the majority of these markets are on better footing."
Developed markets divide
Mondelez had another strong quarter in North America, where biscuit-munchers drove up the company's local sales by 11%.
"Of course, in the beginning, at the start of the crisis, there was a little bit of pantry loading, but that is out of the equation now, so what we are seeing now is continued consumption, I would say," Van de Put said. By contrast, he added, gum – which "skews out-of-home" – had seen sales fall.
Overall, Zaramella forecast Mondelez's growth in North America to be "above the historical rates" in the rest of 2020 but not at the same level as in Q2.
In Europe, revenue slipped 1.2%, hit by the near-closure of the travel-retail channel, as well as pressure on gum sales.
The Wispa maker did point to "significant share gains" in the chocolate categories of the UK, France, Russia and the Benelux markets.
"We expect [Europe] to return to growth in Q3, unless there is a material Covid relapse," Zaramella said. Like the rest of us, Mondelez will be watching the virus data in the region carefully, not least due to the fact the company's travel-retail business has an impact on the revenues of its business in Europe. In the second quarter, the collapse of sales from travel retail weighed on Mondelez's business in Europe to the tune of "two-and-a-half, three points", Zaramella said.
He added: "We expect [travel retail] to improve, particularly towards Q4," Zaramella added.
Van de Put underlined how Mondelez's European arm "was already growing" in the second quarter, achieving a "low single-digit" rate of growth. He said the foodservice and convenience channels had also weighed on the company in Europe in the second quarter. Those two segments, plus, travel retail, account for 20% of Mondelez's European sales.
"Europe is going back to normal, better than what we're seeing in North America, so we are seeing gradually those two channels coming back," Van de Put said. "We're even expecting world travel retail to start showing a little bit of sales in Q3. That's really the effect we're talking about and why we feel that Europe will show positive numbers, including world travel retail, going forward."
Simpler portfolio central to strategy
To support growth in the second half of 2020, Mondelez is upping its investment in marketing, Van de Put said, helped by decreasing costs linked to Covid-19, wider savings elsewhere in the supply chain and the improved market share it has seen so far this year.
"We are planning a significant increase in investments behind working media in the second half, capitalising on the strength and demand for our brands and built on our increased market share," he told analysts.
But Mondelez is looking at other levers it believes will grow sales, with its product range and innovation strategy also under review.
"It is an ideal moment to simplify our portfolio, as well as our innovation pipeline"
"Seeing the fact that the consumer is driven more to our core offerings, it is an ideal moment to simplify our portfolio, as well as our innovation pipeline to focus on our value-driving core," Van de Put explained.
He confirmed Mondelez is lining up plans to cut around a quarter of its SKUs, a move that would "simplify our supply chain, reduce our cost and inventories and increase our sales and our customer service".
However, Bank of America Merrill Lynch analyst Bryan Spillane asked if the plans on SKUs and innovation were more of a strategy centred on the near term – and how they squared with Mondelez's recent comments about expanding into new channels and adjacent categories.
"We have an opportunity to simplify our business," Van de Put said. The Mondelez chief said the pursuit of growth can lead CPG companies to have too many products in their portfolios and too many innovation projects on the go. Covid-19 had presented Mondelez with an opportunity to "re-accelerate" its efforts to have a "cleaner portfolio", he said.
"The stars have lined up. The clients want great customer service. They want a cleaner shelf. They want to make sure that they can serve their customers – and we have the same initiative."
He sought to underline how the 25% cut in Mondelez's SKUs is a "net" figure. The company, he said, would continue to look at launching more SKUs, particularly to help in other areas such as revenue management and its "price-pack architecture" (the science of getting product in the right format for different channels).
"I'm really looking forward to be at the other end of this because I think we will have a much cleaner SKU portfolio, a much cleaner innovation portfolio, and hopefully, we can also clean up a few brands, so that we're leaner company at the end of this."
Thoughts turn to 2021
Mondelez, wisely, is still not providing analysts and investors formal guidance on sales and earnings for 2020 amid the uncertainty over how Covid-19 could affect trading.
But the company gave some broad-brush commentary, with Zaramella noting how it expects "in-home consumption … to be at elevated levels, which is helpful in developed markets such as North America" but noting: "We expect the negative impact to continue in some emerging markets, mostly in Latin America. World travel retail is expected to continue its negative trend.
"And although there is no way to know exactly how the pandemic will evolve, there will always be a potential for a second wave of shutdowns. In aggregate, we expect positive revenue and the sequential improvement in the third quarter based on what we see through month one of Q3."
Van de Put said the company's sales had, in part, benefited this year from consumers looking for "brands they know and trust" contributing to the share gains it had seen.
"I do think that this trend to go to bigger brands and more known brands is here to stay for a while. And then the mix with the in-home consumption, I think that's going to last for a while, too. We are now clearly talking about this change to our lives continuing well into 2021."
Interestingly, Mondelez was asked about the impact Covid-19 might be having on the company's ability to open up new business in emerging markets. Wells Fargo analyst John Baumgartner suggested Mondelez's "penetration rates across emerging markets are still low", meaning the "white-space opportunity can be still fairly impactful" in those countries, and he asked if Covid-19 had delayed the company's longer-term plans.
In response, Van de Put used India as an example. "We were planning to expand our distribution in India for the year in 100,000 stores or more. We probably had to slow that down a little bit during the Covid crisis but we are planning to pick it right up where we left it off and keep on growing.
"India is an example for what we see in other countries. For me at this stage, there is no reason to change our strategy. We might have, at this stage, maybe a quarter of delay, but we will try to catch up as much as we can. Certainly for 2021, we are planning to keep on going in the direction that we had set."
Mondelez issued its results after the closing bell in New York yesterday. At the time of writing today, the company's share price had risen slightly, up 1.88% at $56.76 at 11:47 ET.
Analysts at US investment bank Stifel Nicolaus maintained their 'buy' rating on the company's shares. "The company highlighted a sequentially improved performance throughout the quarter with sales down in April but up low single-digits across May and June – and we believe sales trends improved further in July suggesting a stronger Q3 ahead," Stifel Nicolaus' Chris Growe wrote in a note to clients. "While Covid-19 costs weighed on reported profit and margin, the company is realising cost savings and these programmes should only accelerate into Q420 and FY21. We are comfortable raising our estimates for FY20 and FY21, and we estimate 2.9% organic revenue growth, nearly back to the company's 3% target to start the year."