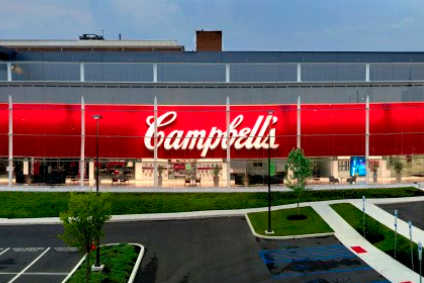 Friday (18 May) proved a notable day in the recent history of Campbell Soup Co., with the US giant reporting a third-quarter loss, a profit warning and the immediate departure of CEO Denise Morrison. Dean Best reports.
CEO Denise Morrison exits
Alongside the publication of Campbell Soup Co.'s dismal third-quarter figures, the soup-to-biscuits maker announced the immediate departure of president and CEO Denise Morrison.
The US group did not make a direct link between its results and Morrison's exit but, looking at the continued problems at the company, her stepping down was not much of a surprise.
Morrison took the top job in 2011 after eight years with the business. She took up the reins of a business where soup – and soup in the US – remained front-and-centre and was a business where growth was hard to come by.
Seven years on, Morrison has sought to reshape Campbell through acquisitions (and disposals), most recently and notably the purchase of US savoury-snacks business Snyder's-Lance. She had also been one of the more vocal of the Big Food group of chief executives in saying the largest manufacturers in the industry need to react swiftly to the changing demands of consumers and, under her tenure, the company was one of the major names to quit US trade body The Grocery Manufacturers Association.
However, not every one of those acquisitions has gone well. The company's third-quarter numbers included a hefty impairment charge on its Campbell Fresh division – a unit at the centre of which sits Bolthouse Farms, the US fresh produce-to-dressings supplier acquired for US$1.55bn in 2012 – while, under Morrison, the business' legacy, US soup division remains in the doldrums.
A review of the business is underway
Could further material news from Campbell be in the offing?
Campbell also revealed on Friday it is reviewing its portfolio, indicating significant action could be on the table.
CFO Anthony DiSilvestro insisted Campbell had "made some progress against our key priorities" in the third quarter, pointing to the completion of the Snyder's-Lance acquisition and headway in "stabilising sales in US soup".
However, he added: "We are not satisfied with our financial results. Our performance has been impacted by both execution-related and external challenges. We are addressing these challenges with renewed urgency. Looking ahead, we will be reviewing all aspects of our strategic plans and portfolio composition. We anticipate that our review, which will take several months to complete, will lead to changes designed to improve our operating performance and create long-term shareholder value."
Speaking to analysts after the publication of the third-quarter results and Morrison's departure, Keith McLoughlin, the former Electrolux CEO and current Campbell board member who has taken the soup maker's CEO role on an interim basis, said: "Beginning today, we will undertake a thorough and critical review of all aspects of our strategic and operating plans, including the composition of our entire portfolio. That work will inform our capital allocation and resource deployment priorities."
He added: "Everything is on the table. There are no sacred cows."
The outcome of that review will be made public when Campbell announces its full-year financial results in August.
Campbell's shares tumbled 12% on Friday in the wake of the third-quarter results, its profit warning and Morrison's departure. Given Campbell now has the job of finding a new CEO added to the not insignificant tasks of integrating Snyder's-Lance into the business and trying to eke out some growth from US soup, could the slump in the company's shares make it a takeover target?
Since Unilever rebuffed Kraft Heinz's takeover approach last year, speculation has swirled around the industry about where the ketchup maker could look next, given how important M&A is to 3G Capital's business case.
With Campbell remaining relatively a more US-centric business when compared to some of the other companies Kraft Heinz could target (Mondelez International), some could argue 3G's sights could be elsewhere but the fall in the Pepperidge Farm owner's share price, combined with the synergies that could possibly be extracted from a deal, do add grist to the rumour mill.
Campbell Fresh hit with impairment charge
Campbell set up Campbell Fresh in 2015 in a bid to tap into growing demand for fresh food in the US, with increasing numbers of consumers moving away from the centre of the store (home, of course, to the company's legacy soup business) to the perimeter.
Home to the Bolthouse Farms business acquired a couple of years earlier (as well as Campbell's chilled soups), the company wanted Campbell Fresh to build the group's "scale" and accelerate its growth "in the rapidly expanding packaged fresh segments and categories across the retail perimeter".
In the summer of 2015, Campbell added to the division with the acquisition of Garden Fresh Gourmet. Even at that point, some industry watchers were questioning Campbell's move into fresh food.
Campbell Fresh's performance has not matched the company's ambitions. In Campbell's 2016/17 financial year, its last full fiscal period, the division generated net sales of $967m, down 5% on 12 months earlier, which contributed to a segment operating loss of $9m.
The unit faced pressure on carrot costs, the need to invest to improve product quality and constraints on capacity.
That performance followed a 2015/16 financial year that saw profits tumble in the fourth quarter amid an increase in carrot costs and the impact of a recall of a Bolthouse Farms drinks line.
On Friday, Campbell announced an impairment charge of $619m, a significant sum, on its Campbell Fresh division. The company carried out impairment assessments on two units within the division – deli, which houses Garden Fresh Gourmet and refrigerated soup; and Bolthouse Farms chilled beverages and salad dressings.
Campbell revised its long-term outlook for the future earnings and cash flows for both units, pointing to the "potential loss of refrigerated soup business with certain customers, as well as the recent performance of the business". In addition, it said "the operating performance of the Bolthouse Farms refrigerated beverages and salad dressing reporting unit was below expectations".
The impairment charge led Campbell to report a third-quarter loss of $393m, against net earnings of $176m in the corresponding period a year earlier. Over the first nine months of the year, Campbell generated net earnings of $167m, compared to $569m the year before.
And based on the third-quarter numbers, as well as Campbell's outlook for the rest of its financial year, the company lowered its earnings guidance.
"We are updating our full-year guidance to reflect lower expectation for gross margin performance, with the two primary drivers being the performance of Campbell Fresh and the inflationary impact of higher transportation and logistics costs," DiSilvestro told analysts.
"We are all disappointed with the results of C-Fresh, and we acknowledge that they are unacceptable. We face significant challenges there, and the return to profitability has proven certainly more challenging than we anticipated."
Campbell is set to hold an investor day in October and plans to give more details then about its plans to improve the unit's performance.
Campbell's legacy US soup arm continues to struggle
In six of Campbell's last seven financial years, the company has seen its US soup sales fall.
And, in each of the first three quarters of Campbell's current fiscal year, sales have declined, although there was some sequential improvement in the third quarter announced on Friday, with sales down 1% year-on-year, versus 7% in the second quarter.
Campbell said it had expected to see some improvement in the third quarter, with promotions giving some support to the company's soup sales.
Nevertheless, there is no doubt Campbell will be wanting to see sales rise year-on-year and, while it reported higher sales in the third quarter of broth and ready-to-serve soups, it again saw sales of condensed soup fall.
In recent quarters, Campbell's US soup business had suffered amid some tough negotiations (said to be Walmart) and, while those issues have now been resolved, investors and analysts will be watching closely whether there could be similar problems with other customers.
"We are, as we speak, undertaking our joint business plans with our key customers for next fiscal year and so that will help inform kind of the outlook for next year," DiSilvestro said on Friday.
Campbell's long-standing issues with its US soup business were a factor in the diversification of the company's portfolio Morrison pursued through M&A.
However, the performance of a number of the assets acquired has been below expectations, meaning US soup remains a fundamental part of the company's basket of products, probably more fundamental than Morrison had expected it to be at the start of her tenure.
As well as the problems with Campbell Fresh (home to the acquired Bolthouse Farms and Garden Fresh Gourmet), there are some question marks over the near-term outlook for Snyder's-Lance. Campbell also said on Friday it expects the impact of Snyder's-Lance to be "modestly dilutive" in its new financial year; at the time of the deal, Campbell said the acquisition would boost earnings.