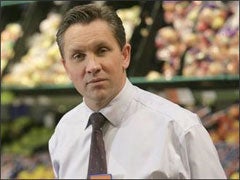 A series of upbeat trading statements from UK retailers has convinced some that a recovery is well on its way. However, despite the apparent Christmas cheer, 2010 is likely to be just as challenging as 2009. Mounting public sector debt and a tight credit market will strangle consumers, while demand for value and hardening commodity prices could squeeze suppliers. Dean Best reports.
Amid the coldest weather seen in the UK for 30 years, the Christmas trading figures of the country's largest retailers has warmed the hearts of many industry watchers.
The UK's largest grocers have all recorded positive like-for-like sales and even the weakest growth, posted by Marks and Spencer, came as the company enjoyed its first sales increase for two years.
Sales at Waitrose jumped, Sainsbury's continued to confound the experts and Tesco, after 12 months in which the UK's largest grocer has faced its strongest competitive set for many a year, reported its "strongest" Christmas sales for three years.
Industry analysts at the IGD said shoppers had "splashed out" on premium lines for Christmas, leading to a festive period that, according to the British Retail Consortium, was better than its members had "dared hope for".
So, is a quietly confident UK striding along the road to recovery? If we strip away the tinsel, we see that what some may have seen as a merry Christmas for retailers is by no means certain to lead to a happy new year.
This year's bumper Christmas numbers were lapping a very poor 2008, a festive period that was at the height of the banking crisis and when confidence on the High Street, amid the collapse of Woolworths plc, was on the floor. This year's figures were destined to beat those recorded a year ago.
UK shoppers, coming to the end of a year when they were forced to watch their wallets, were perhaps sick and tired of feeling sick and tired as they approached Christmas 2009. Asda has said sales of Champagne fizzed over the festive period, while Tesco said sales of its Finest range were "strong".
And UK consumers were more able to plump for premium as government measures designed to keep taxes down and household income – for instance, the VAT cut – put more pounds into people's pockets.
However, the signs suggest that Christmas 2009 will represent something of a false dawn for those who believe the UK is set for rapid recovery. A crisis in public sector debt makes tax hikes inevitable – which ever party wins the General Election this spring. The UK will also soon see an easing up in quantitative easing and the removal of last year's short-term GBP30bn fiscal boost to the economy.
The crisis in the UK's public finances will likely cause a freeze in public-sector pay, which, combined with a continued tight credit market and steeper taxes, will means consumers have less money to spend.
"The bill for the banking crisis has been passed from the private sector to the public sector i.e. taxpayers, a fact which managements and consumers are well aware of," says Keith Bowman of stockbrokers Hargreaves Lansdown.
What may seem a gloomy prognosis for the UK economy and its sizeable retail sector is supported by the recent comments from some of the leading lights within the country's largest food retailers.
"My view hasn't changed for a good while, which is that there is no reason to suppose that, for consumers, there is much good news in 2010," Sainsbury's chief executive Justin King (pictured below) said last week.
Marks and Spencer boss Sir Stuart Rose insisted that there will be some "tough medicine" on its way for the UK economy, while Peter Marks, head of The Co-operative Group believes the "economic pressures" could even last into the first half of 2011.
"Longer term, I don't think Christmas is representative of what we will see across the course of 2010," Verdict Research consulting director Neil Sanders tells just-food. "Taxes will inevitably rise, public spending will be cut and unemployment will continue to edge up. Taken together that's not a good recipe for retail success."
Of course, the grocery sector is relatively well protected from recession than those selling luxury goods. Some industry watchers have been quick to point out that the UK food retail landscape has changed significantly from the end of 2008 when hard discounters like Aldi and Lidl were gaining market share from the established grocers.
This week, industry analysts TNS issued its latest numbers on UK grocery sales. The data showed that Lidl had lost market share for the first time in five years, prompting TNS to claim that "recession buying behaviour is all but over".
"The recovery in the grocery market could be an indicator that shoppers have had enough of cutting their spending on food and see food as a way to treat themselves while they still cut back on everything else," TNS research director Ed Garner tells just-food.
Nevertheless, for all the apparent buoyancy in the Christmas numbers, there will be specific issues for the UK's largest grocers to address in 2010 – and all while the trading environment remains challenging.
Tesco chief executive Sir Terry Leahy may have been quick to say that the UK's largest grocer had had a "very strong performance over Christmas and the New Year" but sales were boosted by a decision to send out its February Clubcard points to shoppers ahead of the festive period. And, unlike its domestic rivals, Tesco has significant operations overseas that will demand management focus.
"There is no doubt that the competitive environment is far tougher for Tesco than it has been in recent years and the company is going to have to move significantly faster to attain the growth rates it achieved in the past," Sanders says. "The gap between Tesco and the rest will continue to close, albeit marginally, across the course of 2010."
Morrisons has been seen as one of the winners in the recession. Under the stewardship of Marc Bolland, the UK's fourth-largest grocer promoting its value position to consumers – alongside success in convincing shoppers of its commitment to the provenance of food. According to the latest TNS numbers, Morrisons sales jumped by more than 10% in the 12 weeks to 27 December.
However, the departure of Bolland to M&S will inevitably lead to some uncertainty at the very top of Morrisons and, while its strategy to open smaller stores look sound, its move into "convenient shopping" will present challenges so far not seen by the company.
"The departure of Mark Bolland is certainly an issue for Morrisons and it needs to be remedied quickly so the company doesn't lose momentum in 2010. The strategy employed by the company is certainly working and will continue to work for the majority of 2010, but it does need leadership and drive behind it in order to succeed," Sanders says.
Bolland is facing a challenging year at M&S, which saw its shares slide by almost 7% on the day it announced its latest numbers.
The upmarket retailer will likely need to continue to invest in margins to compete with the likes of Sainsbury's and Waitrose. According to Sanders, Waitrose boss Mark Price has "done an excellent job" in offering consumers more value "without sacrificing the quality positioning".
M&S suppliers, then, will face a tough 2010, especially in the face of signs that commodity prices are on the rise. And the hardening in prices of commodities like dairy, sugar and cocoa will prove a concern for food manufacturers who, this year, will still be selling into retail customers wary of consumers who, after an apparent bumper Christmas, are unlikely to take that festive cheer into the rest of the year.