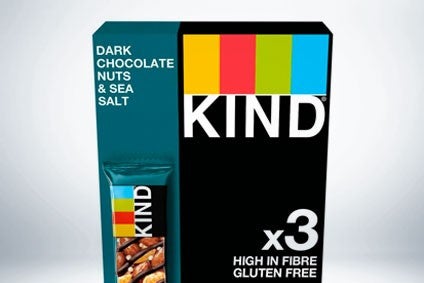 Andy Coyne takes a close look at the UK snack bar category and at how it has adapted to the unique trading conditions created by Covid lockdown restrictions.
When Italian confectionery giant Ferrero announced its acquisition of UK better-for you snack bar business Eat Natural in December, few eyes were raised.
After all, a tactical move from confectionery into healthier snacks would seem a sensible decision given the current direction of travel among consumers, who are increasingly considering their well-being when making purchases (an existing trend sped up by the Covid-19 pandemic).
Regulators are also increasingly focusing their attention on 'unhealthy' products, including those containing significant amounts of sugar.
Such deals are also testament to the long-term strength of a category with perceived short-term problems. But are those problems –linked to the Covid-19 lockdowns – as deep-seated as people think or have snack bar manufacturers managed to circumnavigate them?
Many people have assumed the UK snack-bar category would have come under significant pressure over the last year as the on-the-go market has been hammered by the slump in mobility wrought by Covid-19, with a huge chunk of the population working from home, emptying city centres with their express supermarkets and meal-deal outlets.
However, the stats suggest UK snack bar manufactures have adapted to change more successfully than was widely thought.
London-based data and analysis group GlobalData says: "The Covid-19 pandemic had little impact on snack-bar [retail] sales in the UK, seeing it report 10.3% year-on-year growth to reach GBP1.11bn (US$1.57bn) in 2020." That's the same annual growth rate GlobalData says the category showed during the 2015-2019 period when its value rose from GBP683.8m in 2015 to GBP1.01bn in 2019.
Similarly, although less dramatically, market-research company Kantar's data shows that the cereal bar part of the category was worth GBP365.4m as of 24 January this year, 2% higher than a year ago.
So how has this growth been achieved?
GlobalData suggests the category has been boosted by the "health halo effect, which allowed consumers to indulge in healthier and convenient treats or breakfast options while under lockdown".
Certainly that is part of it. There may be short-term pain for the category because of the closure of on-the-go outlets but its long-term future – especially at the healthier end of the category – appears solid and that's why brands continue to be snapped up by heavyweight manufacturers and why consumers continue to seek these products out.
Announcing the Eat Natural acquisition, Giovanni Ferrero, the executive chairman of Ferrero, said the deal will expand the confectioner's footprint in the "healthier snacking market", while the company's CEO Lapo Civiletti said the firm's new UK asset holds "a very strong market position" in the sector "fulfilling the evolving needs and trends of consumers".
Mars' piecemeal investments in US snack-bar business Kind, which counts the UK among its main overseas markets, shows the Snickers and Galaxy chocolate owner has been thinking along the same lines. Mars first invested in Kind in 2017, a transaction that also gave the Snickers maker ownership of the US firm's international business. In November, Mars acquired full ownership of Kind globally.
UK snack bar manufacturers and market-watchers are unsurprised to see such M&A activity taking place, nor that the category is continuing to prosper against the backdrop of Covid.
Eat Natural, based in Essex in south-east England, was founded in the late 1990s by Preet Grewal and Praveen Vijh and is present in all major UK retailers. The business generates annual sales of around GBP45m and exports to around 25 countries.
Vijh told just-food: "The category will continue to grow and there will be a shift away from high levels of sugar and being highly processed."
He is unsurprisingly enthusiastic about what Ferrero's ownership will mean for the brand. "The Ferrero deal will totally change things. It will bring a lot more energy into the business. We've been doing this for 20 years on our own. Ferrero is an exciting, innovative company which has got some great ideas," he says.
"I'm a great believer in fate and things happening at the right time. We wouldn't have sold this business to anyone else. We've talked to many potential partners in the last few years but we weren't interested in selling to them because they didn't share our ethos.
"Ferrero is a family-owned business and, for us, family is an important part of our ethos. We wanted to make sure our staff and brand were protected over the long-term and enhanced. It's easy to dilute the value of a brand."
Vijh can be forgiven for feeling his business was an outlier and the category has since caught up. "There was none of this [the health-and-wellness proposition] around when we launched. Our main purpose at the time with our product was to create something with purer ingredients. All the other products around contained preservatives and added flavourings," he says.
"I like to think we were among those brands to help transform things and to create a slightly better environment for everyone through something that was not highly processed. It sounds very arrogant but I don't see other brands as competition. We are very different. We make everything by hand in small batches with lots of love, care and attention. This gives it a very different texture and taste. The taste sets us apart. There are no compromises. You can give up a highly processed chocolate bar and take one of ours without losing anything."
In a category which bumps into confectionery at one end and sports nutrition at the other, via a journey encompassing cereal-based breakfast bars and fruit- and nut-heavy branded products, it is this combining of health and taste that seems to be the holy grail.
Theadora Alexander, co-founder of London-based SMEs network and consultancy Young Foodies and small brands 'supermarket' Mighty Small, says: "I think this is a category in transition. All our food-to-go offerings in recent years have been a bit more functional. The snacking market has evolved that way. It could be high-protein, Keto or one of your five a day. There's a lot of innovation in this market."
Ann Perkins, founder of snack bar challenger brand Perkier, agrees. She says: "You can have products that are indulgent but also do you good. That's the sweet spot."
Perkier, a former Kraft Heinz marketing executive, established the brand in 2015 because she has to avoid gluten and dairy in her diet and found little available in the snack bar category. "There were not really good tasting products with a strong nutritional footprint around," she says.
The brand is now stocked by major UK grocers including Sainsbury's and Morrisons and has expanded to include bars offering immunity properties, promoting benefits such as gut health. "Covid has accelerated consumer concern around immunity," she says.
Product innovation around consumer health concerns is one of the ways UK snack bar manufacturers have coped in the pandemic but no one is suggesting it has been an easy 12 months.
Hamish Renton, managing director at UK-based international food and drink consultancy HRA Global, says: "Companies have had to deal with the closure of on-the-go. The impulse-store stuff has pretty much died.
"Multi-packs has led to a reduction in price because, per gram, multi-packs are much cheaper than single bars"
"The volume is now going through retail and there has been a switch from single bars to multi-packs which has led to growth in the rate of purchase but has led to a reduction in price because, per gram, multi-packs are much cheaper than single bars."
Renton has also noticed a shift towards premium products. "More of the bars are being sold via Amazon and Ocado to more well-heeled shoppers. These are not the traditional buyers of these products," he says.
He also reflects on growing levels of competition and the similarity of products. "It is tough to get a new listing in this space," he says. "There are a lot of me-too products. A lot of it is quite bland. It is hard to come up with something someone hasn't done before."
And there have been casualties.
In December, US cereal giant Kellogg revealed it was planning to end the manufacturing and sales of its RXBar protein snack bar brand in the UK.
Kellogg did not provide a reason for the proposed withdrawal of the better-for-you snack bar from the UK market at the time, other than to say in a statement: "We remain committed to the snacks category and to launching future on-trend snacks innovation in the UK."
just-food asked Kellogg, which had brought RXBar to the UK in the autumn of 2018, to take part in this feature.
Renton says he is not surprised by RXBar's demise in the UK. "It was poor execution. I couldn't understand what it was doing with the brand. And it wasn't very nice," he says.
Alexander at Young Foodies says: "It's a very crowded category with low barriers to entry. RXBar leaving the UK market is testament to the size of the prize in the UK."
It's not just better-for-you claims and taste that has led to growth in the UK market in the last 12 months.
The question of how products get to the consumer and in what format have also been crucial.
"This [the category] has struggled in traditional convenience outlets but anyone with an online presence and a functional offer continues to do well," Alexander suggests. "And those with multi-packs selling on Amazon have seen a significant increase [in sales]. All impulse products have been looking at multi-packs and take-home propositions."
Kind has just launched a multipack format for three of its core bar variants via Sainsbury's. Each pack contains three x 30g bars and has a RRP of GBP3.00.
John McManus, Kind's UK marketing director said at launch: "We know that multipacks are seeing the most significant growth at present, selling at three times the rate of single bars and we're committed to growing our product portfolio in this area."
James Toy, a consumer data analyst at GlobalData, has also identified this take-home trend.
He says: "In December, 69% of consumers said they were still buying the same amount of on-the-go [products] as before the pandemic.
"During the lockdown conditions people have changed their habits. My view is that consumers are seeing snacks as less sinful. People are more aware of their diet. Also people [at home] don't want a significant lunch. Working from home they may be satisfied with a snack bar."
As founder of a relatively new entrant to the market – and a former Big Food marketing executive – Perkins is only too aware of the various trends driving the category on.
"It definitely comes down to products and doing something different," the Perkier founder says. "When we first launched products with quinoa nobody was doing it. It was everywhere within six months.
"After that, it is about staying on top of trends and providing good service. Buyers are very short of time and need things ahead of when they need them but they want to try new things.
"SMEs without a point of difference will find it hard to compete."
In part two of this feature, we look at where the UK snack-bar category could head.