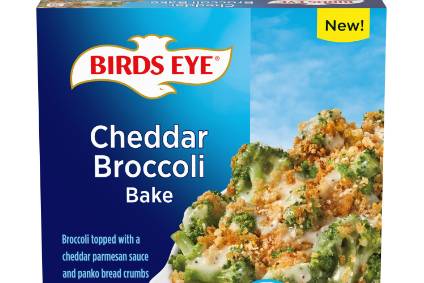 Positive undertones abound in Conagra Brands' latest annual results but much depends on the future course of the coronavirus pandemic, which provided a lift across all the US-based group's food categories in its final quarter when the virus first emerged. Simon Harvey reviews the key talking points.
Conagra Brands was well-positioned for the coronavirus lockdowns given its focus on staples, frozen foods and snacks, but the US firm expects the "unprecedented" retail demand seen in the US firm's fiscal fourth quarter to tail off somewhat going forward.
Conagra saw a decline in its business with foodservice customers as the out-of-home segment effectively shut down from March onward as the virus took hold, although the elevated level of purchases through retail, as well as Covid-19-inspired changes in consumer behaviour across those categories, were more than enough to offset the lost business, the company said yesterday (30 June) as it reported its annual results.
However, given the uncertainties of how the pandemic will pan out from here, and the fact the impact of coronavirus on Conagra's sales only emerged in the final three months of its fiscal year (which ended on 31 May), the company is restricting guidance to the first quarter of the new financial period, an outlook which envisages organic growth around half of what it was in the last quarter.
Conagra's annual net sales, which were supported by a 53rd week of contributions, rose almost 16% to US$11.1bn, with the fourth-quarter's contribution standing at $3.3bn, representing growth a tad under 26%. Across the divisions, grocery and snacks recorded an 18% increase in sales for the year to $4.6bn, refrigerated and frozen was up 22% at $4.6bn, and international climbed 7% to $925m. Foodservice was down 6% at $952m.
Of course, the fourth quarter was more reflective of the coronavirus-led demand, with grocery and snacks sales up 44% for the group, refrigerated and frozen up 23%, and international up 19%.
At the retail level, where Conagra recorded sales growth as a group of 32.6% in the final quarter, staples, which fall into the grocery category, frozen and snacks all put in a stellar performance, climbing 46%, 26% and 20%, respectively.
Finance chief Dave Marberger, addressing analysts on a post-earnings conference call yesterday, said Conagra expects the "elevated retail demand" to continue into the first quarter, although at "a lower rate" than the prior three months.
To that end, first-quarter organic growth is seen at 10-13%, compared to the just-reported final three-month print of almost 22%, but still enough to compensate for the additional costs associated with Covid-19, Conagra said.
Adjusted operating profit margins are envisaged at 17% to 17.5%, consistent with the 17.1% in the fourth quarter, and slightly above the latest annual result of 16.5%.
President and chief executive Sean Connolly described the outlook: "At this point, the degree to which demand will return to historical norms is still uncertain and the timing of the changes in consumer demand is also uncertain," he informed analysts. "However, we believe that demand will likely remain elevated in the near term, given both consumer perceptions about returning to work and eating outside the home, as well as the fact that consumers are discovering, and rediscovering the pleasures, conveniences and tremendous value proposition of dining at home.
"We believe that many of these activities have staying power and are likely to persist even after a post-Covid world, in whatever new normal we settle into."
E-commerce strides ahead
Conagra said it has attracted new customers during the pandemic, particularly in the early days of the crisis linked to pantry-loading, but it's also benefited from those customers returning for more, and on a frequent basis. The Birds Eye frozen brand performed particularly well, despite the drawback of temporarily closing a plant.
Conagra was forced to shut its Birds Eye facility in Darien, Wisconsin, in April due to an undisclosed number of Covid-19 infections, but Connolly said the plant is up and running again and operating "full out".
CFO Marberger said the company's frozen-foods segment has now seen positive organic sales in 11 of the last 12 fiscal quarters. "Frozen is an increasingly important domain for consumers, especially in today's environment," he added, noting how the fourth quarter witnessed "strong growth" in both single- and multi-serve meals, vegetables and plant-based meat alternatives, where Conagra has a presence through its Gardein brand.
Meat-free sales led the way in the frozen-food channel through retail during the final quarter, rising 52%, with multi-serve meals up 31% and vegetables 27%.
Connolly said Conagra will strive to retain the new business, despite the constraints on its production capabilities, by increasing investment to bolster capacity, innovation and e-commerce.
The e-commerce channel has benefited many global packaged food companies during the pandemic as consumers avoided going to supermarkets, with new online purchasing habits expected to stick to a certain degree going forward.
Conagra's sales through the channel, in dollar terms, have almost doubled in three years, to 90% in fiscal 2020 from 52% in 2018. It was 61% in 2019.
And as a percentage of retail sales for the company, e-commerce grew to 6.6% in the fourth quarter, from 5.2% in the third, and 4% in the first three months of its last financial year.
"The work we've done over the past several years to improve our e-commerce capabilities has certainly paid off," Connolly said. "As consumers increasingly adopt online grocery shopping, our share of e-commerce sales has steadily increased."
Opportunities in store
Meanwhile, Connolly suggested the fourth-quarter growth in snacks could have been even better had it not been for "softer traffic" through convenience stores, which have seen a drop in footfall due to more people working from home. And the postponement or cancellation of the baseball and softball seasons also impacted the seeds snacking category, providing "discrete headwinds" to the sector's growth, Connolly said.
That said, the staples category has become "more relevant than ever before", he added, with Conagra's Hunt's brand of sauces and tinned tomatoes, its Chef Boyardee range of meals, and PAM oil sprays the top category performers.
"While we're pleased with our results for the quarter and the year, we are particularly excited about what the quarter has taught us about the opportunity that lies ahead as consumers have shifted their behaviours and eating habits," Connolly told analysts.
Product innovation for Conagra is key to retaining and attracting new customers, as it is for other food manufacturers, but more importantly so given the changing consumer dynamics. Connolly said the company's "absolute sales" arising from new innovation rose 43% last year over 2019, beating a target of 15% set out three years ago. "I'm proud to say that we've consistently performed above that level," the CEO told analysts.
Conagra is also making progress on reducing debt and leverage, despite the difficult operating environment, albeit with a fillip from Covid-19, at least in the short term.
Net debt levels stood at $9.2bn in the fourth quarter, down from $10.4bn in the corresponding period last year, and $11.1bn in the second semester of its 2019 fiscal year.
Leverage, measured by net debt/EBITDA, came to rest at four times in fiscal 2020, lower than the 4.8 times registered in the third quarter.
And Connolly said Conagra remains on target to achieve a ratio of 3.5 to 3.6 times by the end of its 2021 financial year. CFO Marberger added Conagra has cut debt by almost $2bn since its acquisition of Pinnacle Foods in 2019.
Conagra also has longer-term financial goals, described as the 2022 algorithm, which seeks to achieve organic growth, based on a compound annual growth rate over the three years leading up to the end of that fiscal year, of 1-2%. And an adjusted operating profit margin of 18-19%.
"Dynamic" environment
Connolly is confident those targets will be met even amid the swings in demand related to Covid-19, and the uncertainty over consumer purchasing patterns going forward.
Still, given the shifting parameters, the CEO was questioned during the post-earnings Q&A session to explain his confidence.
"Clearly, since nobody can accurately predict what will happen with Covid and the range of outcomes is very wide, calling '21 with any accuracy is virtually impossible. But when you step back and you look at where we landed '20, if you look at the momentum of the business, the continued elevated demand, the new triers [consumers attracted], the very strong repeat and synergies remaining on track, our view is that it would be hard to argue that we're not on a path to the '22 targets," Connolly responded.
Nevertheless, it will be a test for Conagra to replicate the fourth-quarter and annual performances just seen given the additional 53rd week and the impact from coronavirus. CFO Marberger said the extra week added 810 basis points to top-line growth in the final quarter, which "was more of a net sales tailwind than we expected due to the elevated Covid-related demand at the end of the quarter".
And Connolly emphasised the challenges ahead, with much depending on the course of the pandemic over the next few months or so. He said he expects to be able to provide a more concrete picture when Conagra's first-quarter results are issued.
"Given the very dynamic nature of the external environment, forecasting the full-year right now is more difficult than normal," he explained to analysts. "While we don't expect the next few months to drive as much change as the past few, we expect to know a lot more by then."
That said, Connolly sees the current environment as a "unique window of opportunity" for a business with Conagra's product portfolio.
"Something is happening that is above and beyond what our normal marketing programs would do," he asserted. "Covid has introduced this dynamic where, as you saw on the slides earlier, consumers are legitimately rediscovering certain things in their house whether it's their kitchens, their freezers, being together and they like it. They're also discovering that some of the things that they thought existed actually have changed quite a bit.
"And given the tremendous value proposition of cooking at home and that we are in a recessionary environment, it's entirely plausible that these dynamics persist for some time, especially with the news changing hourly on Covid and what's happening with positive cases. And we believe that once people try our products, this data supports that we stand a very good chance they'll come back again and again and again."