Dairy Farmers of America deal for Dean Foods leaves questions unanswered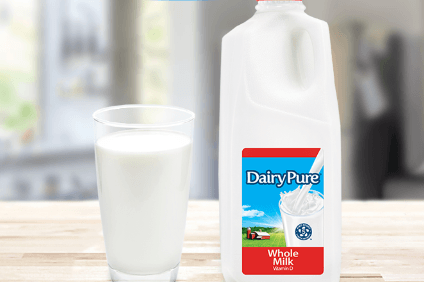 Dean Foods - still issues to be resolved
Dairy Farmers of America, the US-based cooperative, this week put in a bid for certain assets of loss-making milk processor Dean Foods, which has struggled to attract a buyer since filing for bankruptcy in November. Simon Harvey looks at the implications.
The planned purchase of a "substantial" part of Dean Foods' assets by Dairy Farmers of America leaves more questions unanswered than the current state of affairs addresses while any deal will undoubtedly require a significant financial outlay to turn the business around.
Competition authorities will surely scrutinise the proposed deal but it will be against a backdrop of jobs in the US needing to be protected and ensuring that local dairy farmers still have access to an outlet to process their fresh milk, without the added expense of travelling further afield.
Dean Foods, one of the largest fresh-milk processors in the US, has been struggling financially for years and posted its largest annual loss in 2018 in seven years before filing for bankruptcy last November. In the months since, no potential buyer had emerged, until an announcement on Monday (17 February) that Kansas-based cooperative Dairy Farmers of America (DFA) had bid US$425m for certain assets, including 44 plants.
DFA said its bid acts as the "stalking horse", leaving the door open for any counter offers, which seems unlikely for the assets in question given the time that has passed since the bankruptcy filing. Borden Dairy Company, another US milk processor, recently ruled out any interest.
Rick Smith, the chief executive of DFA, said on Monday: "As Dean is the largest dairy processor in the country and a significant customer of DFA, it is important to ensure continued secure markets for our members' milk and minimal disruption to the US dairy industry."
Preben Mikkelsen, a dairy industry analyst with his own firm, PM Food & Dairy Consulting, correctly predicted last year that Dean Foods would at some point end up in the hands of a new owner, but says the deal now on the table still leaves questions to address.
He tells just-food: "If they [DFA] get a monopoly, well okay. Dean Foods has about 10% of the milk intake from the farmers. It has a huge share of the fresh-milk market and then DFA supplies them with a substantial amount of that milk. So that's also the tricky thing, that DFA will now get a processor and supplier, and that's also what the competition authorities will be looking at. Will supply be more favoured than others when they take over some of the plants?
"I think the authorities will look quite critically on this as it means the end result could be a little bit more grey."
Challenge is to restructure
But even if DFA's bid is successful, what then for the other Dean Foods assets and will there be enough value left to make it worthwhile for any other party to take up the slack?
Many of Dean Foods' problems lay in the huge number of processing plants and the absence of a well recognised national milk brand, preferring instead to focus on localised brands, which recently numbered around 60 spread across 50 states.
However, the DairyPure milk owner had been making efforts to trim its milk-processing plants to cut costs, and at the last count had about 60, down from in the 100s around a decade ago. But that still leaves scores of facilities unaccounted for by the DFA bid. And DFA itself runs 42 plants across the US, so even an additional 44 would be a big chunk to manage.
Mikkelsen continues: "The challenge is they have to restructure and they have to concentrate the production significantly to make money. There will be more plant closures because that has been the Achilles heel for Dean Foods for decades. They have not made the restructuring and the concentration.
"Compare with Arla Foods for example. They have about four of five fresh dairy plants processing more than Dean Foods. If you want to make profits in the fresh-milk sector you really have to make big operations."
And then there's been no mention of the fate of the businesses acquired by Dean Foods over the past few years or so - a majority stake in Good Karma Foods, a flaxseed milk and alternative yogurt producer, and US-based Uncle Matt's, an organic juice manufacturer. There's also a joint venture with CROPP for Dean Foods Organic Valley dairy brand.
The DFA deal also calls into question the future of Dean Foods' other dairy categories outside of the dominant milk sector. In 2018, ice cream made up 15% of sales, fresh cream 6% and creamers 3%.
Would DFA be interested in keeping those given the fierce competition in the US ice-cream segment, from which another food major, Nestle, recently pulled out? And dairy isn't exactly free from its own challenges on price and gaining or keeping market share.
"I don't think Dean Foods has made all that much money in the ice-cream business," Mikkelsen notes. "I think you have to look straight at the core business of Dean Foods and that's processing drinking milk. And DFA has to make the investments to restructure and lower the cost and then try to launch some regional, nationwide brands, if DFA wants to invest in that.
"They [DFA] could also get into financial problems by financing the restructuring, so they have to focus on the core business and sell off some of the side businesses of Dean Foods."
Fresh milk a declining market
Mikkelsen again compares Dean Foods current scenario with Denmark's Arla Foods, which he says had many fresh milk brands some years ago but then consolidated those under one name, a process that took about five years. Should DFA choose to do that, it would obviously be a significant challenge too, he says.
Dairy-free could be an area for Dean Foods to get in on to provide added value for DFA outside of milk. But that would be a trip back in time given the company sold off its plant-based and organic business in a deal in 2016 with France's Danone for Dean Foods' WhiteWave Foods.
"They have tried to go into plant-based but they sold off some of the best assets to Danone (WhiteWave)," Mikkelsen says. "So that means they have to go back into plant-based, and plant-based has increased in price significantly in the last two years, so it will be difficult and very expensive to expand into that area."
However, it could be costly for DFA if it stays the course in milk alone without some sort of reshaping or restructuring at Dean Foods, although plant sales would generate income if buyers can be found.
In 2018, milk sales accounted for 67% of Dean Foods total revenue, down from 74% in 2011. And it's also very much reliant on private label, which is fast gaining prominence in the US and made up half of the company' sales that year.
"They have to do something because the way Dean Foods has been operating for the last four or five years has been terrible, they are losing money in a declining market," Mikkelsen says. "Demand for fresh milk in the US is declining by about 1% to 2% a year. It has done for the last ten years and it's not going to change.
"The benefit for DFA is that they will improve the value chain and secure processing for more of the milk, and marketing more of the milk. I think they supply 60% of the milk today so they only collect it and supply to processors."
The future of Dean Foods chief executive Eric Beringause also looks bleak. He only joined the TrueMoo flavoured milk brand owner last summer and Mikkelsen believes he will leave under mutual agreement with DFA. "He's done his job now and made it ready for this takeover and bankruptcy and all the formal things in the process."
There are some weeks to go until the outcome of DFA's bid for the Dean Foods assets is known, unless another potential buyer emerges before the Bankruptcy Court holds a hearing on 12 March. The deadline for any counter bids for the DFA proposition has been set for 31 March and 13 April for any other assets.
Mikkelsen says Canadian dairy giant Saputo could show an interest in the remaining parts of the business, and also Land O' Lakes, given they are linked one way or another with Dean Foods in the supply chain.
"I don't think the competition authorities will block it because DFA seems to be the obvious choice because they are so inter-linked with Dean Foods, but their requests could be rather strict. This could lead to a pretty messy picture where DFA could get some of what they want but not all of what they want, and then it's very difficult to make a business out of it. And then others will may be grab some of the fruits.
"The breakdown of Dean Foods will be a game changer but how it will change the game is rather unclear."
Oops! This article is copy protected.
Why can't I copy the text on this page?
The ability to copy articles is specially reserved for people who are part of a group membership.
How do I become a group member?
To find out how you and your team can copy and share articles and save money as part of a group membership call Sean Clinton on
+44 (0)1527 573 736 or complete this form..