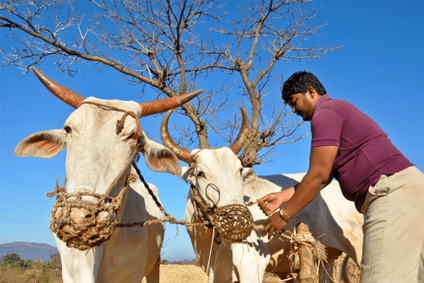 India may be the world's largest raw milk producer but the dairy sector is marked by poor on-farm efficiency and low productivity. The country's dominant co-operatives have struggled to improve the model employed by their farmer members. But, with a step-up in investment on the horizon, could all this change? Raghavendra Verma reports.
India's dairy sector is dominated by large co-operatives, which struggle to boost efficiency amidst India's entrenched informal village-based supply system.
The Confederation of Indian Industry (CII) said this month that India's dairy system suffers from low input, low output and low productivity per animal.
It is a conclusion supported by a study released by the Associated Chambers of Commerce and Industry of India (ASSOCHAM), which found the daily per-capita milk availability in the country is only 252g, which is below the global average of 279g.
Moreover, only about 20% of the raw milk produced by India's dairy farmers makes its way into formal processing channels. "Large portions of production is self-consumed by small farmers and only the balance is made available for processing," the CII told Dairy Vision 2025, a conference held earlier this month in New Delhi.
Growing demand for processed dairy products – and a desire from Indian regulators and industry to develop the domestic sector rather than lean on imports – has given the need to increase milk output added impetus.
ASSOCHAM suggests there is hope this ambition can be achieved.
India's milk production is growing at a compound annual growth rate of more than 4% annually and its capacity is expected to hit 177m tonnes by 2019-20, the organisation says. In contrast to assessments from the Australian government, which says India will have to look to imports to meet domestic demand, ASSOCHAM thinks this growth will enable Indian producers to match projected annual demand by 2016/17 (then projected to be 150m tonnes).
Nevertheless, India's ability to grow its output is hindered by the complexity of the country's dairy supply chain.
As India's minister for agriculture, Radha Mohan Singh, told the Dairy Vision 2025 conference: "There are more than 15m farmers associated with 155,634 grass roots level milk cooperative societies across the country."
That said, these small units are grouped together by large networks of co-operatives, selling products under national and regional brands. And investment in the supply chain is on the rise, Sanjesh Thakur, partner at advisory firm Ernst and Young, tells just-food.
"The catchment area in India is fairly spread geographically and given the state of infrastructure its difficult to transport milk beyond say 200 kms range from the manufacturing facility. Key dairy players have now started increasingly investing in capacity expansion and infrastructural development to strengthen brand presence as well as operational efficiency," he says.
Amul is by far the biggest national brand, and its owner, the Gujarat Co-operative Milk Marketing Federation (GCMMF), is gunning for US$3.7bn in sales for the financial year ending March 2015, according to its managing director Rupinder Singh Sodhi.
"In the last four years, we have grown 127% and in last two years, we have added 26 new products in all categories," he tells just-food.
Amul's major products include liquid milk, butter, cheese and yoghurt, while the strength of its operations has been its raw milk procurement network involving 3.3m farmers.
While the present situation would suggest co-operatives have, in the past, struggled to modernise dairy farming in India, Sodhi argues they are actually the best way to grow the Indian dairy industry.
The co-operative model allows farmers to control production as well as processing and marketing, providing added incentive to feed milk into formal processing channels by boosting their share of profits, he says.
"In the case of liquid milk, 85% of sales [collection] go back to the farmers. In any developed country farmers get only 36% of what consumer pays," Sodhi stresses.
On the one hand, Amul believes high returns will motivate farmers to feed raw milk into its production channels. On the other, the co-operative is investing in technologies to help its farmers boost raw milk output by improving the per-head yield. The company is working to increase fertility through the monitoring of artificial insemination activities to refine the pedigree of the herd.
This forms one plank of the group's capital expenditure programme, which will also see it develop new products and expand internationally. "In the next three years, we are going to invest about $500m," Sodhi says. "We borrow money from commercial banks and the National Dairy Development Board and get the lowest interest rates because of our very good balance sheets."
In their efforts to boost supplies, Indian cooperatives are being aided by government-backed initiatives to improve productivity.
These include the Rashtriya Gokul Mission, which will be managed by the National Dairy Development Board (NDDB). This programme aims to develop and conserve indigenous breeds, enhance milk production and productivity, upgrading cattle quality using elite indigenous breeds and distributing disease-free bulls with strong genetic profiles for breeding. The mission will also establish indigenous cattle centres to promote productive breeds.
The large cooperatives and the NDDB are also working on a National Dairy Plan Phase 1. This scheme aims to improve animal productivity, strengthen infrastructure for milk procurement at the village level and enhance milk processing capacity and marketing.
At a recent workshop in Ahmedabad, the Convergence of Productivity Enhancement Activities to Meet Future Demand of Milk and Milk Products, NDDB chairman T Nanda Kumar argued that it was in the interest of small farmers to improve their performance, should cooperatives start to impose standards on their suppliers in future. He said: "In absence of accelerated growth and better business performance, millions of dairy farmers will be left out of the cooperative domain."
Unsurprisingly, given the scale of the co-operatives they are coming up against and the level of return they offer farmers, private and public companies often struggle in the competition to secure raw milk supply.
This issue is exacerbated by distorting state regulations in some areas of India, notes Kuldeep Sharma, founder of New Delhi-based dairy industry consultants Suruchi Consultants.
"In Rajasthan and Karnataka, direct subsidies are given to farmers but to only those who supply milk to the local [co-operative] federations," he says. "In times to come, there should be a level playing field for everyone, otherwise the private sector would hesitate to invest in these states."
But, like the co-operatives, dairy companies are investing in improving the milk yield and securing supply.
Recently, Indian FMCG giant ITC, which has been diversifying from its tobacco base, decided to enter the dairy sector by setting up its first dairy plant in Munger in the state of Bihar. The plant will be operational by December.
A company spokesperson told just-food ITC is planning to establish more plants in Uttar Pradesh, Punjab, Maharashtra, Andhra Pradesh and Telangana.
ITC is banking on its existing integrated rural development programme, which includes a livestock development initiative to enhance the productivity and quality of milk.
"Artificial insemination programmes covering around 110,000 milk animals have resulted in 29,000 high-yielding cross-breed progenies, whose yield range from seven to eleven litres per day compared to about three litres per day for nondescript animals," the spokesperson says.
ITC runs 261 "cattle development centres" and hopes to work with more than 30,000 dairy farms.
Meanwhile, large and established food companies such as Nestle are also investing in improving on-farm production in India.
According to the Swiss company, its milk-processing factory in Moga has grown its supply base from 4,600 farmers providing 2,000 tonnes of milk when it opened in 1959 to 100,000 farmers in 2,600 villages producing more than 300,000 tonnes. The group runs "field camps" under the Nestle Agricultural Services programme to help farmers improve their farming practices and milk quality.
Increasing levels of investment in the dairy supply chain could potentially boost output in the long run. But dairy processors are coming up against some long-entrenched practices as they work to modernise dairy farming in India. The road ahead is a long one.
Additional reporting by Katy Askew.