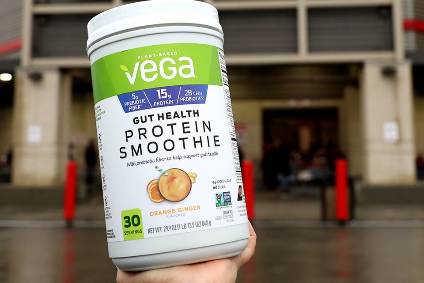 According to CEO Emmanuel Faber, Danone needs to "reinvent itself again" – and the French giant has shaken up its management and started a review of the future of all assets. Dean Best reports on the Alpro maker's quest to get back on track.
Today, Danone chairman and CEO Emmanuel Faber sought to give the company some fresh impetus after a year so far in which investor confidence in the French giant appears to have dissipated.
Year-to-date, Danone's share price is down by more than a quarter and the company can't simply point to the uncertainty caused by Covid-19. Since the start of 2020, Nestle and Unilever, two of the other European FMCG majors to which Danone is often compared by the investor community, have both seen the value of their shares rise.
"Q3 looms, with confidence at rock-bottom, capping 20 years of under-performance. A take-out remains unlikely, so Danone needs to confront the problem of shareholder value, if the shares are to progress," Jefferies analyst Martin Deboo wrote on Thursday ahead of the Alpro owner's third-quarter sales.
The figures were due tomorrow but, in the end, the numbers came this morning, posted a day earlier than scheduled, after French weekly business magazine Challenges reported on Friday Danone's CFO, Cécile Cabanis, had decided to leave the business.
The publication suggested Faber wanted to "fundamentally reshape" the business and could move from a model of three business divisions based on products to one on geography. It also reported the changes could have led to a split in the roles of chairman and CEO but claimed Faber did not want to relinquish his "power".
Danone quickly issued a statement on Friday afternoon to say its senior management was working on a "plan to adapt the company to the new environment and the new challenges of the sector". A few hours later came news of the decision to bring forward the publication of the Q3 figures to today.
This morning, an announcement was made that Danone is restructuring its management – with Cabanis deciding to leave – and that the company is reviewing its portfolio to adapt to the challenges created by Covid-19.
At 09:00 CET, Faber and Cabanis held a conference call with analysts to discuss Danone's third quarter and, more pertinently, the changes on which the company is set to embark.
Faber, who said Danone had decided to come to the market a day earlier than planned due to "limit undue volatility" from the "unpleasant rumours" that emerged on Friday, paid tribute to Cabanis, who has spent 16 years at the business, most recently not just as the group's CFO but in a wide-ranging role of EVP for strategy, tech, data, cycles and procurement. "She has been instrumental in all the major transformations of our company," Faber said.
For her part, Cabanis, who is set to step down in February, said she was announcing her exit with "great emotion" but admitted: "As you've seen, Danone is taking a new step, a new foundation and is entering a new five-year cycle, so this was the time for me to reflect and ask myself an essential question: do I throw my full energy into this cycle and commit for several years or do I look at something else and start a new cycle myself? Now is the time after 16 years to start something new."
Danone is appointing a COO and creating another regional chief executive role, with a new position of CEO of Danone International to sit alongside the position of CEO of Danone North America announced in May.
The Activia owner is also reviewing its product portfolio and revealed today it's weighing up the future of its operations in Argentina and its Vega brand in the US.
"Reconnecting" with sales target
Danone believes the moves will help it "reconnect" with its mid-term objectives, which include growing its sales, on a like-for-like basis, by 3-5% a year, profitably. In the first nine months of 2020, the company has seen its like-for-like sales decline 1.6%, hit by Covid-19 decimating its bottled-water business and by pressure on its infant-nutrition sales in China amid reduced tourism and the political crisis enveloping Hong Kong.
Nonetheless, away from these macro events, some in the investment community have been less than convinced about Danone's underlying performance. "2019's front-footedness has evaporated, with Q3 likely to be a second negative quarter on the top line," Jefferies' Deboo wrote on Thursday. "The irony is that a company with health and wellness at its core is unable to grow, just when those qualities should be at a premium."
Danone's third quarter did indeed include a decline in sales year-on-year. The Actimel maker booked sales of EUR5.82bn (US$6.82bn), down 9.3%, with a more than seven-point hit from exchange rates. The company said the result equated to a 2.5% fall on a like-for-like basis but pointed to a "sequential improvement" following a 5.7% decline in like-for-like sales in the second quarter.
The 2.5% fall was worse than analysts had forecast, with consensus expectations of 1.8% decrease. Sales from Danone's specialised-nutrition arm (which houses infant formula) fell by more than 5% and, although there was signs of improvement from waters, sales there still dropped 13.5% (having been down 28% in the second quarter). There was better news from Danone's combined dairy and plant-based division, the company's largest, were like-for-like sales were up 3.7%. Year-to-date, that side of Danone's business has seen its like-for-likes grow 3.3%, an encouraging performance.
There are concerns about the near-term outlook for Danone's specialised nutrition business due to the problems in and around China. The company's early-life nutrition operations in China are its most profitable. Danone is seeing growth from its domestic sales within China but admitted there had been a "sharp contraction" in cross-border sales channels due to border closures with Hong Kong, Oceania and Europe and a slump in sales through daigou – traders outside China that buy products for customers to be shipped back to the market.
In the fourth quarter, Danone expects to see its overall specialised-nutrition business to "improve", Cabanis said, "but remain negative given continued headwinds expected from the cross-border channel on early life nutrition China".
The uncertainty about the outlook for this part of Danone's business over the upcoming months will fuel investor concerns about the company's margins and Faber was asked if the group had any plans to look at further cost savings now that its recent programme – dubbed Protein – was set to come to an end after running from 2018 and 2020 (and, incidentally, exceeding its target).
"We believe that there are very significant cost savings we can implement"
"Yes, there are new cost savings plans," Faber said. "We are pretty clear that there is both an opportunity because we learnt a lot about new ways of working and making efficiencies during Covid but also increasing cost of doing business in Covid. When we make both maps, we come to believe that there are very significant cost savings we can implement through a new programme and this is embedded in both the organisational aspect, the portfolio aspect of our adaptation plans on which we will update you pretty soon."
The thrust of the questions Faber faced this morning was on the changes to the way Danone is set to organise itself and on the review of its portfolio – all announced under a corporate motto of "deliver, reshape, review, adapt".
The Danone chairman and CEO was asked why the two roles hadn't been split and replied: "The board did not review this option because the board did not discuss this option." Danone, he noted, had only done so once before in its history when Faber had succeeded Franck Riboud as CEO. Faber added: "We would only consider this is in transition periods of one generation to another generation of chairman and CEO." He was asked more than once why the company created the role of Danone International CEO, handing responsibility for 80% of its sales to one executive, Véronique Penchienati-Bosetta, at present the executive vice president for the company's specialised nutrition business. Having that one role might accelerate decision-making, Credit Suisse's Alan Erskine said, but could the re-jig away from a category structure have its downsides?
"The risk you highlighted, rest assured we are not removing the category expertise we have," Faber insisted. He argued Danone could benefit from "cross-category opportunities" and pointed to the company's businesses in Italy and France where there are operations in baby food and dairy already working together.
JPMorgan's Celine Pannuti asked why Danone hadn't created business units specific to European or emerging markets. Faber said the question was "very valid" but asserted Danone's teams across its operations outside North America could work together to prepare the business for the likely economic crisis to come in the wake of the pandemic.
"There's no doubt that we're going to be in a situation where purchasing power is going to be at stake in this world, in Europe, in North America. Our people in Indonesia, in Mexico, in Brazil, in Africa have been running these questions of affordability and efficiency in ways which I think can and should inspire our older economies," Faber said. "Beyond Véronique herself, there is a whole bench of executives, including ones in Europe that have experience of emerging countries – and vice versa – and nurturing the cross-learnings from one to the other needs to continue to happen. We believe the new current set-up is allowing us to do this."
On the portfolio review, Faber said it's "quite likely" that, away from Vega and Danone's Argentina business, "other assets will be reviewed as well". Danone has front and centre that quest to get back to 3-5% "profitable growth" a year, he added. "We are starting to look at our businesses and see how much we believe that they can be fit for a 3-5% profitable growth agenda in this new world."
Aside from potentially selling assets (and today's news here will fuel market chatter Danone could look to offload parts of its waters operations, as Nestle is reportedly doing), Faber said the group would look at "organic" measures, including cutting the number of SKUs the company sells.
"It's clear from our customers, the logistics, supply-chain constraints they have is getting them to shorten their range," he explained. "There is an opportunity for us to make sure we focus our portfolio of SKUs. In some cases, it could go up probably in countries and categories to 20-30% cuts in SKUs we're reviewing."
It's clear Covid-19 has been a key factor in the changes Danone outlined today; Faber spoke often about the company having to adapt to "the new world" but it was interesting to hear his answer to Société Générale's David Hayes, who asked if the shake-up would have happened if the virus hadn't.
"To your very valid question of 'is that all just because of Covid?' The answer is no," Faber said. "As many other companies, very frankly, we are seeing in the Covid crisis an opportunity to move on things that would've been maybe not as [much of] priorities before or maybe not creating the same sense of urgency in our own company or outside of the company in our ecosystems."
Pointing to the creation of a role at Danone of chief operating officer for end-to-end design to delivery (to be held by Henri Bruxelles, the executive vice president of the company's waters business and its operations in Africa), Faber said: "The most advanced companies around us have also been moving to one way or another linking research and innovation with suppliers, ecosystems, and with manufacturing capabilities to ensure there is no leakage in the innovation pipe in terms of the quality of execution. We reconnected from a situation where we were among the only companies that didn't have an operation or manufacturing function at comex [executive committee level] to the end-to-end design to delivery thing, which I think puts us ahead of a number of our competitors. It's a bunch of catching up and move forwards that go beyond the question of Covid itself."
Danone's share price closed the day up 0.26% at EUR53.44, with investors perhaps in a wait-and-see mode after the recent results at the company and the still uncertain outlook for both the waters business and infant nutrition in China. Margins will remain a key talking point, with some likely waiting for evidence the company will, after the apparent success of Protein, look to embark on fresh efforts on savings.
And the market will be looking to see, one, what kind of decisions are reached (and possible disposals are achieved) on the Argentina unit and on Vega and, two, which other measures are introduced as a result of the portfolio review, key as it is to provide fuel to support growth.
"The whole idea of the portfolio rationalisation is to indeed re-invest in the core," Faber said. "When I say we need to focus, when we disposed of our last bit of the shareholding in the Yakult, that's the same. We want to make sure we are focused as a management team and we focus our resources both management assets and cash what will make the profitable growth of Danone."
As Jefferies' Deboo reflected today: "All steps in the right direction, then, along a road to recovery that we expect to be hard."