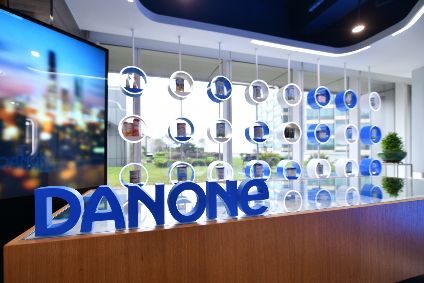 The US plant-based market, baby food in China and the prospect of consumers trading down were among the hot topics as Danone discussed its latest numbers. Dean Best reports.
Danone's shares curdled today (30 July) after its second-quarter like-for-like sales fell almost 6%, hit by a bottled water business where revenues dried up but also weaker performances than the market expected from its two food divisions.
Q2 sales from Danone's Essential Dairy & Plant-based business (home to brands like Activia and Alpro) grew but at a slower than analysts forecast, while sales from the company's Specialised Nutrition division (where the company houses infant formula) declined, amid challenges in China and destocking in Europe.
Danone's margins dipped but were better than the market expected. Due to Covid-19, the company continues not to provide formal guidance, though it said margins are "expected to remain impacted in the second half" by Covid-19-related costs, a negative mix, as well as increased investments in the competitiveness of the business".
It added: "The company is leveraging the crisis as a catalyst to accelerate the business transformation that was already underway to emerge stronger."
At 16:24 CEST, Danone's shares were down 6.7 at EUR56.22.
How well do you really know your competitors?
Access the most comprehensive Company Profiles on the market, powered by GlobalData. Save hours of research. Gain competitive edge.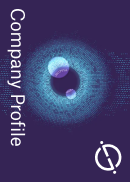 Company Profile – free sample
Thank you!
Your download email will arrive shortly
Not ready to buy yet? Download a free sample
We are confident about the unique quality of our Company Profiles. However, we want you to make the most beneficial decision for your business, so we offer a free sample that you can download by submitting the below form
By GlobalData
Danone under-shoots market across portfolio
While it was the slump in sales from Danone's water business that stood out (down 28%, hit by Covid-19 lockdowns closing out-of-home outlets and curtailing the on-the-go purchases of commuters), sales from the French giant's other two divisions came in below analyst forecasts.
Q2 like-for-like sales from Essential Dairy & Plant-based (EDP) rose 1.6% (against analyst expectations for growth of 2.2%), leading to a 3.1% rise over the half, with what Danone called "solid growth" in Europe and North America. The dairy side of the business was up at a "low-single digit" rate, while the plant-based portfolio grew at double digits.
However, outside those regions, Danone described EDP's performance as "mixed", with its business in the CIS flat and its operations in Latin America and Africa seeing sales decline as Covid-19 hit the more traditional retail channels in those regions.
Danone's Specialised Nutrition division posted a 2.2% fall in quarterly like-for-likes (analysts had forecast a 1.6% increase), as de-stocking hit sales in Europe and amid "flat" sales in the closely-watched market of China where, although the company's sales of "adult-nutrition" products rose, infant nutrition was hit by the closure of the border between Hong Kong and mainland China. First-half sales from the division were up 2.7%.
The suspension of the Aptamil owner's formal guidance continues but the company believes it will see growth pick up during the second half. "While it remains difficult to predict exactly how consumer habits and macroeconomic conditions will evolve for the balance of this year, in particular given the uncertainty around the easing of lockdown measures, we're confident that Q2 was the most challenging quarter of the year and the back half of the year will show a sequential improvement in growth," chairman and CEO Emmanuel Faber said.
Danone's satisfaction with dairy, plant-based
While some analysts expressed disappointment about the slower growth Danone saw from its EDP division in the second quarter, the company expressed satisfaction its biggest unit was its most buoyant across the first six months of the year.
"We are very pleased to report that our largest business we've been talking about for many years has been the fastest growing during this period, posted solid growth, 3.1% on a like-for-like basis in the semester, with a notable 2.2% growth in volume, where five of our top ten brands – Silk, Horizon, Alpro, Actimel and Danette – grew double digit," CFO Cécile Cabanis said.
This part of Danone's business has been in the spotlight for a while, in part due to the US$12.5bn of WhiteWave Foods back in 2017 that gave the French group its now notable presence in the fast-growing plant-based market, but also due to the ups and downs Danone has had with its dairy business, especially in Europe.
Growing at-home consumption and pantry loading in the latter part of the first quarter had given the division a boost in Europe and North America in Q1. In Q2, Cabanis said Danone saw "solid growth" in Europe "in line with the first quarter", with Alpro up double digits and the company's dairy business also growing. It was a similar split in North America with both sides growing but plant-based, unsurprisingly, growing more quickly.
Latin America and Africa – roughly 15% of Danone's EDP business – was a key factor weighing on the division in Q2. Danone saw its EDP sales in Latin America rise in Q1 but that switched from April, as Covid-19 started to have a greater impact on the region.
Picking up the pace in US plant-based
Nevertheless, on a conference call with analysts this morning to discuss Danone's numbers, the company did face a question about its position in the plant-based beverage market in the US, where oat alternatives are the most buoyant segment and have been making inroads for the last couple of years.
Danone took its Silk brand, best known for its soy alternative, into the oat segment in January last year with its Oat Yeah line and then launched a "zero-sugar" variant last autumn.
Today, the company was asked why it hadn't "quite [caught] the trend" of oat alternatives to milk in the US.
Faber said Danone's plant-based beverage business had seen sales grow by 10% in the first half of the year but added: "The category is actually growing faster than this."
He noted how the biggest part of Silk had grown share again in the biggest part of its business, the soy category, where the brand accounts for more than half the market. "Our market share has improved in soy …  and that, for us, being a leader with more than 70% market share in the segment, it is an essential part."
However, Faber acknowledged Silk's oat business had faced challenges. "The big part of the segment is the other ingredients, including almond, on which we are doing a good job and growing together with the category and improving, actually, in terms of even market share. The fastest growing – smaller – one is oat, in which there are several players in and out and that will continue to be. We had a couple of supply issues in the first half of the year, which are being addressed and we have launched a recent innovation, which makes us hopeful that you will see some share stablisation sequentially in Q3 and Q4 in the overall plant-based beverage segment for us in the US."
China in spotlight
The decline in second-quarter sales from Danone's Specialised Nurition division was seen by analysts as one of the weaker parts of the company's performance.
Danone posted a 2.2% fall in like-for-like sales, which came after a 7.9% increase in the first three months of 2020.
When Cabanis reported Danone's Q1 numbers, she did acknowledge the growth in that quarter was down to stockpiling and warned the division's Q2 performance – and, for that matter, the rest of 2020 – would be "highly dependent on the pace that de-stocking will occur".
This morning, Danone reported "significant de-stocking" did take place in Europe, which it said was the "primary" factor for the division's 3.7% fall in volumes in Q2.
Elsewhere, Danone reported "strong momentum" in south-east Asia but, as is often the case given the importance of the market to the infant-formula industry, it was China – where sales were flat – that was the focus of analyst questions on this morning.
Noting how Hong Kong-listed infant-formula producer China Feihe had last week said it expected to see its revenue jump 40% in the first six months of the year, Barclays analyst Warren Ackerman asked for more detail on Danone's performance in the market and particularly how the closure of the border between Hong Kong and mainland China was affecting the French group's business.
Faber said Hong Kong itself was a "small but very important" part of Danone's early-life nutrition sales in China adding that, while the tension there could affect sales, a more important consideration was how the closure of the border with mainland China affected the company's trade.
The Danone chief said the company's sales through mum-and-baby stores were rising, while Cabanis pointed to a fall in "indirect" sales due to travel restrictions and destocking by daigou – traders outside China that buy products for customers to be shipped back to the market – after Q1 when Covid-19 was having its greatest impact on buying patterns in China.
"The growth of Feihe is a fact. There's no doubt this company is on a super strong momentum for the last 18 months now. That does not mean that there is not growth potential for others," Faber said. "It's more about channel dynamics and how big has been the stocking phenomenon than the question of the competitiveness of our brand as far as we can see now but … I think we need to remain vigilant about what's happening in China because the level of visibility on the stocking/destocking is certainly not as good as we would hope."
Mix and the "middle class"
The "mix" of Danone's sales weighed on the company's underlying margins, which the business said was primarily due to the slump in revenues from its waters division, hit by Covid-19 lockdowns closing out-of-home outlets and hurting on-the-go sales.
Danone was asked if the change in its sales mix could also be a sign consumers were trading down as the pandemic hit jobs and dampened confidence.
Cabanis said what Danone had seen happen to its mix was "really directly the consequence" of shifts in the channels and product formats linked to government lockdown measures.
However, she added: "It's too early to say what will stick or not but in terms of what we observe it is today fully linked to the context and implementation of local measures, both on proximity [convenience] stores, out-of-home channels. We need to continue to monitor that … and we will be able to come with more structural observations at the end of Q4."
Faber said he believes there will be a "polarisation" in consumer behaviour, with some looking for lower-value products and others trading up. Danone, he added, will have to decide how to tweak its product portfolio.
"There won't be a middle class any more in a way," he asserted. "Some of that middle class is going to go down and have to make trade-offs and therefore down-trading."
Danone, he explained, will need to work out "how much do we want to play part of that game or not" and, if so, if it already has products to meet that demand or not.
"And, on the other side, [there will be] up-trading because many people are going to be very demanding on health and quality and food. The relationship between food and health has never been as clear now for this generation through the Covid crisis as well. This whole question of down- versus up-trading is there in front of us and we want to use the next several months of de-locking to understand where are the opportunities for us."