Danone Q1 sales update and adapting to Covid-19 - six things to learn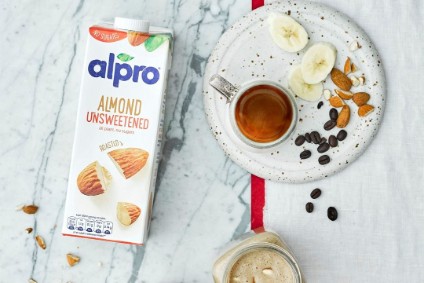 Alpro "posted another quarter of excellent performance", Danone said
Danone today (21 April) posted first-quarter sales that beat analyst expectations, with the French giant boosted by Covid-19 pantry-loading. However, the Alpro maker withdrew its financial guidance for 2020, which may have weighed on its share price. Dean Best takes a look at the numbers and Danone's commentary.
Pantry-loading boost
Danone was today the first among Europe's major food companies to provide detail on how the emergence of the Covid-19 pandemic had affected its business and the wider categories in which it operates.
In February, Danone lowered its forecasts for 2020 on two key metrics – like-for-like sales growth and recurring operating margin – and outlined its preliminary assessment that the novel coronavirus would "generate a sales loss of Q1 of approximately EUR100m (US$108.6m) in net sales".
In the first three months of 2020, Danone's sales rose 1.7% on a reported basis to EUR6.24bn and by 3.7% on a like-for-like basis. Faber called the results "stronger than we had anticipated" and said "a China downside" had been "offset by pantry-loading upside in Europe and North America in March".
With Covid-19 evolving from what looked in January and early February to be localised in China to a global pandemic, more of the world's population were put under lockdown in March, hitting the foodservice market but boosting at-home consumption.
Danone's bottled-water business felt the impact of a largely shut-down foodservice market. However, broadly, Danone is less exposed to foodservice than some of its peers. The stockpiling that fuelled the retail sector boosted Danone's other divisions of Essential Dairy & Plant-Based (home to brands like Activia and Alpro) and Specialised Nutrition (where the company houses infant formula).
"We estimate that in terms of growth for the company, the impact of Covid-19 is between 1.5% and 2% of the growth," CFO Cécile Cabanis said.
Caution over sales trajectory
Essential Dairy & Plant-Based, Danone's largest division by sales, saw its like-for-likes rise 4.6% during the first quarter, amid pantry-loading seen in Europe and North America.
Danone's Specialised Nutrition division saw its like-for-like sales grow 7.9% during the quarter. Sales in Europe were up by around 10% due, again, to consumers stockpiling in March.
Notably, Danone said demand in China remained "solid", although, for obvious reasons, the performance of the company's business there varied by channel. Sales at so-called "mum-and-baby" retail outlets unsurprisingly fell but sales made through the e-commerce channel grew.
In a comment that will likely be closed watched by competitors such as Nestle and Reckitt Benckiser, Cabanis added: "It is interesting in the Covid-19 context, we have not seen any slowdown in premiumisation and actually it has accelerated."
Looking ahead, there were, however, notes of caution. "Going forward, Essential Dairy & Plant-Based performance in volume will depend on the net impact of the wide and multi-faceted impact of the lockdown measures, with still a big uncertainty abut their length and depth," Cabanis said. "We expect that mix will deteriorate on the back of evolving consumer preferences."
She added: "All-in all, when we look at specialised nutrition sales, the uplift in Q1 was related to stockpiling. The performance of the next quarter and the rest of the year will be highly dependent on the pace that destocking will occur."
Uncertainty over rest of 2020
Speaking to analysts today, Danone's management were careful about any commentary they gave on the new quarter and further ahead into 2020. The withdrawal of financial guidance for the year is a very clear indication Danone (and the company is far from alone on this) is finding it difficult to plot out how the business – and the categories in which it operates – will fare during the rest of the year.
"We are unable to predict how this lockdown will affect both our ability to supply and the demand for [our products]," Faber said.
However, echoing comments from others in the industry, Faber was clear Danone does not see the pantry-loading continuing during this quarter. "We do not see Q2 as a replication of this, with lockdowns all over the place now and gradually consumers have been into their new normal for a few weeks after the pantry-loading that we observed in March."
Cabanis sought to underline why Danone had pulled its guidance – and was keen to emphasise the company is keeping a close eye on how it's managing its resources. "For 2020, we have limited visibility for the coming months, given the multitude of business factors that are impacting and how fast things are changing.
"However, I want to reassure that we are more agile and disciplined than ever in the way we allocate our resources, to ensure business continuity, to ensure efficient operations while maintaining a strong balance sheet. We have been delaying investment, especially in capex expenditure. We have been refocusing everything on business continuity and this is also what led us to the Q1 that you have today."
Additional costs eat into margins
That's not to say Danone did not face questions on the rest of the year. On the call with analysts, its management was asked twice about its outlook for full-year margins.
In February, Danone trimmed its guidance for its recurring operating margin from more than 16% to greater than 15%. On today's call, Danone had warned the changes in its sales mix could be a negative impact on revenues and therefore profitability but the company was asked what impacts the recent fall in dairy input costs and oil prices could have on the company's margins.
"Remember on PET we were hedged quite for a large part of the year," Cabanis said. "On milk, we have a long-term contract with the farmers at a cost-plus formula so the commodity prices are not even that much a [tailwind] to our business.
"On the contrary, what we've been seeing is that, given the sanitary measures and disruption in the supply chain, on our suppliers, disruption in transportation costs, we have had significantly additional cost we are bearing to make sure we can continue to drive the business properly and this will have an impact on our H1 margin negatively."
Talking up big brands
Danone did call out some data it believes show growing consumer demand for branded products.
Citing a survey from global communications firm Edelman, Danone said 60% of people are turning to brands they trust (a figure the company said rose to 89% in China). The survey (the Edelman Trust Barometer Special Report 'Brand Trust and the Coronavirus Pandemic') also showed 65% of people's future purchases is influenced by brands' response to pandemic (which rose to 88% in China).
"Although it's too early to have a definitive view on what's going to happen, we observe a resurgence of consumer preference in big brands," Cabanis said. "In addition, retailers are refocusing their range whilst they are greater expectations for brands to help address societal change."
The pantry-loading seen in markets around the world did cause manufacturers and retailers to focus on fewer SKUs to focus on getting products to shelves. Danone itself said it is focusing on its "core range to maximise industrial output".
Faber believes that could present an opportunity for Danone and, interestingly, suggested there could be a change to one trend that has shaken up the packaged food sector worldwide in recent years, while, again, underlining how it is "very, very early days" in assessing how the competitive landscape could take shape.
"The simplification of SKU assortments and ranges in the trade is very significant," he said. "this is a time for big brands if we act properly. "[Retailers] need reliable partners. They need partners that can act at scale. This is where large brands, large companies can operate at an advantage and maybe, for the first time, the food revolution that propelled all these small, nice brands on the shelf may be put on hold for some time or may transform actually in the coming periods. We see assortment reduction all over the place."
Commitment to "vision"
As it has for all industries, the Covid-19 pandemic has shaken the packaged food industry, already a sector that has been going through significant upheaval over the last decade or so.
But, for all the short-term pressure of getting products to market to meet the spike in retail demand, or trying to make adjustments to supply chains as the foodservice sector freezes over (and all the while working hard to ensure to keep staff safe), manufacturers are trying to keep an eye on the longer-term picture and how that may (or may not) change.
Three years ago, Faber and Danone declared an "Alimentation Revolution" and urged the industry to "nurture the adoption of healthier and more sustainable eating and drinking habits". The company adopted a new signature of "signature" of 'One Planet. One Health'.
It was only in February when Faber announced "a EUR2bn climate acceleration plan" to "further transform our agriculture, energy and operations, packaging, and digital capabilities" over the next three years to "leverage fully our climate action to generate resilient growth models for our brands".
Today, Danone sought to underline it remained faithful to what the company's management calls its "vision", even if the timing of some of those investments "may be slightly pushed back as a result of the short-term disruption from Covid-19".
"We believe Covid-19 is basically accelerating the need for all these transformations," Faber insisted. "We are very, very clear on the fact regenerative agriculture, biodiversity leverage and natural and planetary diets are there because they also are going to be fundamental of how people are going to be concerned about their health through food and we believe that they're therefore fundamentals."
Dealing with the impacts of Covid-19 will demand pragmatism but it would be a major surprise if Danone deviated from what Faber calls the company's "North Star" of health and sustainability and it's clear the company believes those issues will only grow in importance.
Oops! This article is copy protected.
Why can't I copy the text on this page?
The ability to copy articles is specially reserved for people who are part of a group membership.
How do I become a group member?
To find out how you and your team can copy and share articles and save money as part of a group membership call Sean Clinton on
+44 (0)1527 573 736 or complete this form..