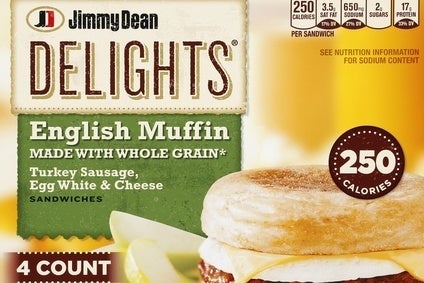 The hunter became the hunted yesterday (27 May) as Pilgrim's Pride made a hostile bid for Hillshire Brands. The news comes just days after Hillshire announced its own plans to acquire a third US food group, Pinnacle Foods. Pilgrim's play for the maker of Jimmy Dean sausages leaves that deal looking shaky and has set the market alight with rumours that further takeover bids for Hillshire could follow. Katy Askew reports.
The calm of the Memorial Day weekend was shattered yesterday when Pilgrim's Pride, the world's second-largest chicken processor, launched a hostile bid to acquire Hillshire Brands for US$6.4bn.
While the Hillshire board responded by reiterating "the strategic merits and value creation potential" of its own $4.3bn deal to acquire Pinnacle Foods, pundits largely expect the cash payout on offer for Hillshire's shareholders will prove too tempting to resist.
The market does not seem to have ever been fully on board behind Hillshire's move for Pinnacle, which itself was only announced last week.
Hillshire has argued the combination with Pinnacle would bring operational benefits, competitive advantages and cross-selling opportunities. However, concerns over the high debt level Hillshire would have to take on to fund the move – coupled with confirmation it will freeze its dividend payment at 70 cents a share for the "foreseeable future" and cancel its share buyback programme – sent the group's shares tumbling by around 6% on the day the bid was announced.
Writing yesterday after Pilgrim's move for Hillshire was unveiled, JP Morgan analyst Ken Goldman highlightsed the strategic and financial merits of the tie-up over a transaction with Pinnacle. It is, Goldman suggested, a more logical option for Hillshire.
"For Hillshire holders, we would prefer this deal to the Pinnacle one on both strategic and financial levels," he wrote in a note to investors. "From a financial basis, we think Pilgrim's Pride-Hillshire would bring many more synergies than would Hillshire-Pinnacle, primarily because putting two meat companies together likely would generate sales/marketing efficiencies, back office consolidation and supply chain benefits. From a strategic basis, our logic is similar: we think joining two protein companies makes a lot more sense than marrying a meat company with one that has a focus on frozen vegetables."
Pilgrim's CEO Bill Lovette would agree. "Compelling strategic and financial logic underpins this combination," he insisted yesterday when the poultry group announced its offer for Hillshire. "By combining our strengths we can create a fully integrated branded protein leader with a broad portfolio of brands, strong consent margins and complementary competencies."
The combined entity would generate sales of around $12bn and EBITDA of $1.4bn, with a stable of brands that hold number one and number two positions in their categories.
Speaking to analysts during a conference call, Lovette said Pilgrim's has identified a number of synergies including sourcing, economies of scale and SG&A reduction. He stressed the firm, majority-owned by Brazilian meat giant JBS, generated operational savings of $642m from 2011 to 2013. "Pilgrim's culture is built around strong operational efficiencies we have the systems in place to achieve these quarter in and quarter out and we have the track record to prove it."
Pilgrim's also believes the deal will enable it to accelerate top-line growth and its move into the branded consumer space in the US and internationally.
"The proposed combination would enhance our position in the protein and branded food industries and provide increased scale and stability… We intend to extend Hillshire brands into more categories leveraging Pilgrim's fresh offering with Hillshire's national brands, pursue opportunities in school lunch and institutional [channels] and expand in natural and antibiotic-free products," Lovette said.
Lovette revealed the proposal has the full backing of the boards of both Pilgrim's and majority shareholder JBS. He said Pilgrim's management expects to sit down with Hillshire's board "in the near future".
By and large, pundits expect these negotiations to focus not on whether Hillshire will abandon its acquisition of Pinnacle but rather if Hillshire's board can elicit a higher offer either from Pilgrim's or find an alternate bidder.
The cash offer of $45 per share represents a premium of around 22% to Hillshire's closing price on the last full day of trading before Pilgrim's announcement yesterday. However, Hillshire's share price shot up to a high of $45.52 before settling above the offer price to close at $45.19, suggesting investors either expect Pilgrim's to raise its offer or for a counter-bid to be launched by a rival company.
Reports have touted another meat group, Tyson Foods, as one potential bidder, while analysts have also flagged Spam owner Hormel Foods as a possible suitor.
"In this case, it seems likely that Hillshire's management team will rebuff this initial offer in the hope of eliciting a better price, either from Pilgrim's Pride or an alternative bidder," Bernstein Research analyst Alexia Howard wrote in an investor note.
Howard noted the offer – which represents 12.5 x EBITDA – "isn't cheap" but she does believe competitors in the US protein space could be tempted by Hillshire's strong retail presence and stable of leading brands.
"We wouldn't completely rule out the possibility that another bid emerges. Hormel, with a bigger retail presence from its Hormel, Spam, and Jennie-O Turkey Store brands, could see materially higher cost and revenue synergies. Tyson may see similar synergies to Pilgrim's Pride, but this could be its last chance to do a transformational deal to enter the much higher margin and less cyclical downstream packaged meats business."
Other US protein companies that may take a look at whether to throw their hat in the ring include Sanderson Farms (although their smaller scale could prove a barrier), ConAgra Foods or privately-held Cargill, where its CFO Marcel Smits once served as CEO of Sara Lee before it split into Hillshire and tea and coffee group DE Master Blenders.
Interestingly, Kellogg's name has also been raised – with Hillshire's brands such as Jimmy Dean complementing the cereal giant's breakfast offering. Diversifying its US base away from the no-growth cereal category could well prove a tempting prospect for the Special K maker, who is struggling to shore up its top line in the US.
Whether or not a counter offer is forthcoming, it is clear Pilgrim's has much to play for in its pursuit of Hillshire.