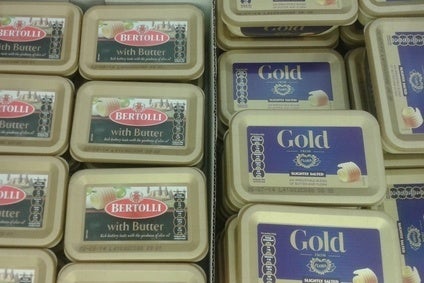 Unilever is establishing a stand-alone unit for its spreads brands, prompting fresh speculation that the group could be preparing for a sale of the business. At the same time, this week's acquisition of Talenti Gelato & Sorbetto would suggest that the Anglo-Dutch FMCG giant is prepared to invest in growth areas in food. Could these changes spell further portfolio adjustments? Katy Askew reports.
Unilever revealed today (4 December) that it will establish a stand-alone unit for its spreads business, which includes brands such as I Can't Believe It's Not Butter and Flora. The unit, Unilever baking, cooking and spreading, will be overseen by current EVP of spreads Sean Gogarty and it is expected to be fully operational by mid-2015.
Speaking to analysts and investors in London this morning, CFO Jean-Marc Huët was quick to stress what the business has going for it. He insisted spreads are an "important part" of Unilever's portfolio, accounting for 7% of group turnover. The unit is a good cash generator with strong operating margins – which stand at 20%, well above Unilever's group wide operating margin of 14%. The company has also been able to grow its market share in developed markets this year, the finance chief explained.
However, share gains have not offset the decline of the overall category in the developed markets of Europe and North America. Category-wide sales were down a total of 4% in the third quarter, Huët revealed. There is little potential to grow the business in emerging markets, which have been an engine for Unilever's expansion. Spreads therefore represent a drag on the top line: in the first nine months of 2014 revenue was down 3.2% year-on-year.
"Growth remains our highest priority," Huët said in his investor day presentation. In this context, the performance of spreads is clearly problematic.
Unilever believes it can go some way to sorting out the issues in spreads by giving it "full responsibility for strategy, planning and performance delivery". A representative for Unilever told just-food: "We are confident that this approach will provide the focus and speed needed to improve delivery whilst retaining the benefits of Unilever's scale. Overall our intention is to improve the competitiveness of our spreads unit with sharper accountabilities and more focused decision making."
Dedicated management resource, a developed market focus and responsibility for its own P&L, cash flow and balance sheet performance will bring a number of benefits, Huët insisted. These include greater focus thanks to "short decision lines" and the ability to take "necessary decisions". At the same time, the business will still benefit from Unilever's scale, he claimed.
The message from Unilever: we have problems in spreads, we are taking action to address these and we remain committed to the business.
Nevertheless, Lamine Lahouasnia, head of packaged food research at Euromonitor, believes that the move is a signal that Unilever could be preparing for a disposal of the business.
"A lot of the indications are that they are going to start looking for a buyer for the spreads division… Spreads has for a long time been a cash cow. It is one of the more profitable segments and it is a reliable one. But, in terms of its longer term growth opportunities – and the company has said that growth is its number one priority – spreads doesn't really fit in with that strategy. They can invest in the innovation side of things, there might be little areas of niche growth they can identify, but ultimately its not going to see a [high level of] top line growth."
With a weak growth outlook, Unilever could look to sell off spreads and focus on other areas of the business that are more attune to the group's strategy to expand sales. If so, it would follow a trend of portfolio trimming. In recent years, Unilever has sold off a swathe of food brands in lower-growth categories, including Skippy peanut butter, Slim-Fast weight management business and Wish-Bone salad dressings.
But it isn't all disposals on the food front. This week saw one of the first moves in some time from Unilever to acquire a food business. The company announced a deal to purchase Talenti Gelato & Sorbetto, a gelato manufacturer operating in the premium space in the US.
The bolt-on acquisition is complementary to Unilever's existing ice cream interests, which have themselves already been growing at a decent clip.
Talenti a small player compared to Unilever's other ice cream brands, which count the likes of Magnum and Ben & Jerry's. But the business is witnessing rapid top-line growth: sales are expected to total US$120m in 2014, up from $49m two years ago. Unilever could well look to step up the pace of expansion by feeding products into its own global distribution channels.
It also increases the group's exposure to the higher-growth premium end of the US ice cream market. As Kepler Cheuvreux analyst Richard Withagen noted: "Talenti's premium offering fits Unilever's strategy of moving its portfolio among others in personal care and premium products. Talenti's pricing is above Ben & Jerry's and well above mainstream brands like Breyers and Klondike."
In contrast to the rest of its food portfolio – spanning spices to mayonnaise – the signs are therefore positive in ice cream for Unilever, the world's largest player in the category. The sector is a clear growth story for the company and we can certainly expect a continued focus on expansion.
"Ice cream has really been ear-marked as one of their star performers, both in terms of their position in the market and the promise in terms of the future – there is a lot of emerging market demand coming through. I think they have identified ice cream as an area where they are willing to spend a bit more money and the Talenti acquisition – although it is small – is a signal of that," Lahouasnia says.
Could this be seen as a signal that it is looking to bulk up its food (or refreshment, as ice cream is defined) sales through further M&A?