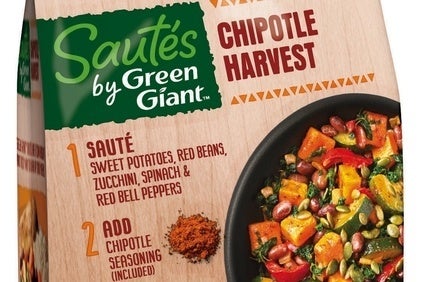 With General Mills apparently preparing to sell its Green Giant brand, Bonduelle is rumoured to be looking at a bid. The fit between Green Giant and Bonduelle's existing business is a natural one and the move would significantly step up the French group's presence in North America. However, Green Giant has seen lacklustre sales and its market share decline. Would Bonduelle move for a turnaround story? Katy Askew investigates.
At General Mills' investor day last week in Boston, the US group outlined its strategic priorities for 2016. Jeff Harmening, COO of General Mills' under-pressure US retail arm, revealed the group's "top priorities" in the US are growing sales of its natural and organic, cereal, yoghurt and snacks brands. Green Giant's canned and frozen vegetable operations are no longer core to General Mills' strategy, it would seem.
Throughout the day, no mention was made of the group's intentions for Green Giant, which it is reportedly preparing to offload. But management did admit it is looking critically at the areas of its portfolio that are not delivering growth.
"We do look at our portfolio on a regular basis certainly during every strategic planning process… Even for the businesses that haven't grown the way we would have liked, whether it is from a margin standpoint, a cash generation or a return-on-capital standpoint, they're cash generative, they are positive ROC, they are positive value creation on a stand alone basis. We also say would they be more valuable to our shareholders in somebody else's hands if we were to monetise that? Where we see opportunities to do that we will take action."
General Mills does not break out Green Giant's profit figures but, while Green Giant might be cash generative, the brand is seeing some challenging sales trends. Green Giant sales, which are not detailed by General Mills, are believed to stand at circa US$700m and are in slow decline.
Harmening revealed General Mills commands a 15.8% share of the US frozen vegetable market. However, the group's share dropped by 168 basis points in its 2015 financial year.
The company has taken some action to turn Green Giant sales around, with product launches designed to modernise the brand. General Mills started rolling out a Green Giant Sautés line – a range of frozen vegetables that come with packets of dry seasonings and garnishes – in March in an attempt to update the brand's image. However, Green Giant essentially remains a massively recognisable brand that is, nevertheless, in decline.
Reports surfaced this week French vegetable processor Bonduelle is preparing a takeover bid for Green Giant, in conjunction with private-equity group Centerview Partners. Bonduelle declined to comment. The report followed claims in March General Mills had started working with Rothschild on a possible.
Is Bonduelle eyeing a turnaround story?
The strategic rationale is compelling. France's Bonduelle has identified North America as a growth market and, in its most recent financial update, the group flagged the "ongoing development" of the region. "Commercial activity remained strong in Canada and, in the United States, the volume gains were on-going in the various sectors of activity," the company noted.
Bonduelle established its North American business in 1998, when it set up a New Jersey subsidiary that consisted of one employee who was responsible for selling Bonduelle products into the market. It was not until 2007 that the family-controlled company began a more aggressive push into North America, with the acquisition of Canada's Carriere Foods. Since then, M&A has played an important role in its strategy in the region. Bonduelle took control of the Omstead Foods business in 2009, followed by Family Tradition Foods and, in 2012, the frozen vegetable interests of US processor Allens.
Green Giant would fit neatly into Bonduelle's portfolio. Indeed, Bonduelle already sub-contracts processing for the Green Giant brand and a potential acquisition would substantially step up its US presence, where it generates just $300m in revenues, with a regional focus in the north east.
If Bonduelle were to take ownership of Green Giant, the French group's limited presence in the US means there is little risk of sales cannibalisation, Midcapp analyst Florent Thy-Tine tells just-food.
Moreover, Thy-Tine believes Bonduelle could be better placed to improve Green Giant's sales trends given its broad experience of vegetable processing. The company defines itself as a specialist in vegetable processing and does not draw lines according to the technology used, be it canned, frozen or fresh processed.
"Bonduelle has the capacity to improve the sales of Green Giant. They could bring their technology and take advantage of the "vegetable trend" in the USA as many people want to eat vegetable and healthier. Maybe Bonduelle can give a better image of canned vegetable than General Mills did," Thy-Tine says.
Green Giant would bring Bonduelle another significant advantage in the US: it would provide the business with production bases close to local growers. This is important because vegetable processing requires vegetables to be frozen or canned shortly after they are harvested. Peas, for example, have a maximum travel time of around 1.5 hours before processing.
Additionally, once they have been processed, canned and frozen vegetables are heavy – and therefore expensive – freight. It is therefore a bonus to have processing plants close to the markets being served.
In the US, Green Giant packages frozen vegetables in Illinois, California, Minnesota, Idaho and Washington state. It cans vegetables in Minnesota, Idaho, Wisconsin and New York.
Aurelie Husson-Dumoutier, an analyst with Kepler Cheuvreux, says Bonduelle management has "always considered Green Giant as a great asset" and "mentioned several times that it would be interested in buying it if it were for sale, depending on the asking price".
The sticking point, then, could come down to valuation, with analysts suggesting the business could fall in an extremely wide price range of 0.6-1.5 times sales. This gives Green Giant a ticket price of $385m-1.05bn.
Bonduelle has been going through a process of de-leveraging. This has been achieved through "strong control" of investments and working capital, Bonduelle said. In the first half of Bonduelle's current financial year, the company reduced its debt to EUR675.9m, against EUR696.3m in the year-ago period. "The ongoing improvement of the financial profile allows the group to increase its capacity to raise funding for internal and external growth projects," the company revealed.
Nevertheless, a deal of this size would need to be funded through a rights issue, Husson-Dumoutier says. "The main shareholder is the Bonduelle family with circa 60% [of outstanding shares]. The family does not rule out being diluted if a rights issue is necessary to finance an acquisition, especially as Bonduelle's shareholder structure (limited stock partnership) grants control to the general partners (in that case the Bonduelle family) even if they own a minority stake," Husson-Dumoutier notes.
Exactly what Green Giant will fetch will likely come down to the number of competing bids for the business. It is possible Green Giant will pique the interest of other strategic buyers and the likes of Campbell Soup Co. and ConAgra Foods have been touted as possible acquirers.
Campbell already has extensive canning production and distribution capacity throughout the US, offering the prospect of supply chain synergies. But whether the Green Giant brand fits with Campbell's push into packaged fresh is another question.
Likewise, integrating Green Giant into ConAgra's US canned and frozen business would no doubt generate considerable supply chain savings. ConAgra is itself undergoing a significant process of portfolio realignment, with plans to sell off its private-label interests. With his history of taking iconic but lacklustre brands and turning them around (think Sara Lee) perhaps ConAgra's new CEO Sean Connolly will see Green Giant's potential.
Elsewhere, a business the size of Green Giant is likely to see some interest from private equity, where a focus on cost cutting would likely lead to improved profitability from the brand.