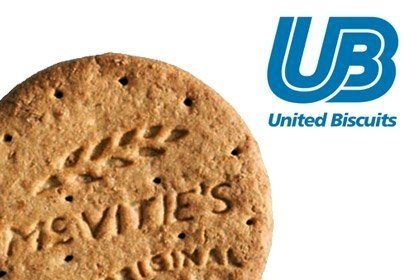 BLACKSTONE Group and Pai Partners are progressing with plans to offload UK Jacob's-to-Mcvitie's manufacturer United Biscuits. The question on everyone's lips is whether the business will be floated or sold. Katy Askew reports.
Unilted Biscuits' private-equity owners, Blackstone Group and PAI Partners, appear to be preparing to cash in their chips and end their investment in the UK's largest biscuit maker.
The firms acquired United Biscuits back in 2006 and their ownership of the group has now stretched well beyond the typical four-to-six year period private-equity investors hold onto a company.
Speculation around a possible sale of United Biscuits has circulated periodically since Blackstone and PAI failed to sell what was then a larger business as a going concern in 2010. In 2012, the private-equity investors split United Biscuits into two units – salty snacks and sweet biscuits. The salty snacks business was then sold to Germany's Intersnack.
While the company and its owners are remaining silent on the issue, it seems pretty likely the long-rumoured disposal is nearing.
One source close to the situation told just-food Blackstone and PAI are looking at "every strategic option" in their bid to get the highest valuation possible for the biscuit business.
These options include a sale – to either a strategic buyer or investment fund – or a flotation.
The Wall Street Journal reported that United Biscuits management met with a number of potential buyers this week. United Biscuits declined to comment.
Kellogg is among those linked to the sale. Initial reports suggesting the US cereal giant is eyeing United Biscuits emerged last month but the company has remained tight-lipped on the subject.
An acquisition of United Biscuits would align neatly with Kellogg's strategy to expand the snack side of its business in an effort to offset the decline witnessed by many of its breakfast cereal brands. According to Bernstein analysts, UB could be a "good fit" for the firm.
"Management has indicated they are open to acquiring businesses where they can find synergies, and given their overlap in western Europe and the opportunity to piggyback on top of existing distribution infrastructure, the acquisition of United Biscuits may make sense from this perspective," the analysts wrote in a recent note to investors.
Another US food giant touted as a could-be-acquirer is Campbell Soup Co.
As far back as 2010, Campbell was said to be interested in the biscuit side of United Biscuits. Like Kellogg, the group has worked to offset weak growth from its core business by reshaping its portfolio to focus on faster growing categories.
Under CEO Denise Morrison, who took the helm in 2011, Campbell has grown its presence outside of the simple meals and soups business – and expanded its revenues generated outside the US.
Campbell has not been shy about using M&A as a tool to further this agenda. The group has made three significant acquisitions to try to boost its growth prospects: US chilled foods firm Bolthouse Farms, still its largest acquisition, US baby food business Plum Organics and Denmark-based baked snacks company Kelsen Group.
And more M&A seems to be on the cards. Campbell has set the target of becoming a US$10bn company in the next five years. At present, the firm generates annual sales of around $8.3bn.
"We've made a lot of progress with the three acquisitions helping our overall growth momentum. As we look externally, we think more acquisitions can help do the same type of thing," Anthony DiSilvestro, Campbell's CFO, said at the group's most recent investor day in July.
However – while UB might seem to complement a number of Campbell's existing brands (think Pepperidge Farm crackers and Arnott's biscuits) – it does not reflect Campbell's current drive into fresh and packaged fresh categories. As Athlos Research analyst Jonathan Feeney told just-food recently: "The company wants to play in a very hot, very high multiple area – fresh and packaged fresh."
Rumours have also suggested Turkish biscuit major Ulker could be among the strategic buyers interested in the sale.
The Turkish biscuit maker benefits from the financial clout of what it terms its "strong and supportive" parent, Yildiz Holding. And the company did increase its exposure to developed international markets through the 2007 acquisition of US chocolate group Godiva from Campbell.
However, UB does not fit with Ulker's stated strategic objective to "become a regional player in markets with high-growth potential". In a recent investor presentation, management flagged that it is seeking further international developed opportunities – but the group is targeting "high growth" markets such as Saudi Arabia and Egypt.
United Biscuits has been pursuing a strategy of international expansion in a bid to build its "master brands" – McVitie's and Jacob's – into "global mega brands". In an interview with just-food, Jeff van der Eems, the head of United Biscuits' international business, explained the group is ramping up its operations in growth geographies such as west Africa, India and the Middle East. The firm is also expanding in areas such as Saudi Arabia, where it purchased a majority stake in snacks business Rana Confectionery Products.
Nevertehless, the UK still accounts for the lion's share of sales – around 80%. If Ulker was eyeing United Biscuits, it would perhaps be to gain control of its stable of strong brands that could then be fed into the Turkish firm's distribution networks.
Institutional investors, too, are understood to be taking a look at United Biscuits. Interestingly, Ontario Teachers Pension Plan is a name that frequently crops up.
OTPP is one of the world's largest institutional investors with global investments worth around C$130bn. It is also remarkably successful, with a strong track record for performance and an average annual return of around 10% since its inception in 1989.
The Canadian pension fund is no stranger to investing in the food industry. It holds shares in Nestle and Unilever with a value of C$198.8m and C$148.5m respectively. It also has interests in smaller food companies, such as US snack maker Shearer's Foods, and, earlier this year, the investment fund snapped up rival UK biscuit maker Burton's Biscuit Co.
If the fund were to win through it would own the number one and number two biscuit makers in the UK. In that case, Stefan Kirk, of M&A advisors Glenboden, says competition regulators would certainly require the sale of some of the combined assets.
"M&A lawyers in anti-monopoly situations will always try to 'cut the categories' such, as to demonstrate a minimum of concentration post-merger in any market category. However looking at the respective portfolios of UB and OTPP, it seems that concentration would be high enough to require the re-sale of certain brands, at least in biscuits," he suggests.
While it seems there is interest from potential buyers, another option open to Blackstone and PAI is to list the business through an initial public offering.
Investors have shown a strong appetite for IPOs this year and the first half of 2014 was the busiest period for flotations since before the financial crisis.
Data from EY shows IPO numbers in the EMEA region were up 97% in the six months to June, with capital raised up by 243% compared to the same period in 2013. London and France saw the majority of the new issues.
With the IPO market looking buoyant, it could prove a fruitful avenue for Blackstone and PAI to use for United Biscuits.