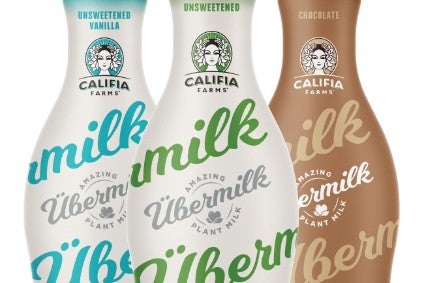 In part two of our look at the oat-based dairy alternatives market in the US, Andy Coyne looks ahead and examines the competitive landscape and product development opportunities.
If plant-based dairy alternatives were a race, almond milk would be out in front but oat milk is coming up on the rails.
In part one of this feature yesterday we charted the rapid growth of plant-based dairy alternatives – and oat milk in particular – in the US market and found a category populated by start-ups and conventional dairy companies that have seen the growth potential of this category. Its potential is also something that has also not been lost on investors.
But who will be the winners as the market develops? And will oat dairy's charge be sustained or will another type of non-dairy milk emerge as a contender to almond milk's crown?
Well placed to answer these questions is California-based Califia Farms .
Set up in 2010, Califia Farms offers a range of plant-based dairy alternatives in the milk, yogurt and creamer product areas, including its Ubermilk oat drinks, which were launched in 2019 and are made from whole grain, gluten-free oats. The company this month raised US$225m in a funding round led by the Qatari government's investment arm.
Peter Pappas, the chief commercial officer at Califia Farms, is in no doubt oat milk's surge is set to continue.
"Coffee shops and baristas have helped fuel its [oat milk's] growth, as they've increasingly started using oat milk in coffee due to its creamier consistency, which gives it a better mouthfeel and interestingly, allows baristas to still make beautiful 'latte art', which is very important in that community. The neutral taste profile resembles dairy milk and really allows the taste of the coffee to come forward," he says.
"There are a lot of similarities between oat milk's growth and almond milk's early stages. Environmental concerns and sustainability are playing a bigger role in the way people are making food decisions, and oat milk is a more sustainable alternative to dairy and some other dairy alternatives. When world-class retailers like Walmart, Aldi, Kroger and, most recently Starbucks, are embracing the product, I believe you've expanded beyond faddish.
"Oat milk sales have skyrocketed 636% in the 52 weeks ending 26 October, according to Nielsen. While its market share is still significantly smaller than almond milk, I believe that the oat category has potential to grow to the point where it will challenge the almond milk category with its size within the alternative milk space. We may be a few years away from that but there is no doubt in my mind that Oat milk is here to stay."
Domenic Borrelli, president of French dairy giant Danone 's North America's plant-based food and beverages and premium dairy unit, which oversees brands such as Silk and So Delicious, agrees.
"Danone is invested in the oat segment and believes that it will continue to grow in the coming years," he says. "Because of its taste, texture and allergen-friendly properties, we see the oat segment as a long-standing option in the plant-based market, and we will continue to invest here for growth. We believe there is still a lot of runway ahead of us for growth."
Chobani , the New York dairy business best-known for its Greek-style yogurt, recently launched an oat-dairy product range. Niel Sandfort, the company's vice president for new product development, also sees the segment having legs.
"I wouldn't call it a fad. There was an era of soy and then almonds and we are getting better at finding the right starting point," he says. "We think oats does rise to the top. It's a trend rather than a fad."
However, Susie Fogelson, a New York-based food marketing strategist who runs her own consultancy, F&Co., is able to take a more distanced view of the category.
She says: "I think it will level off. It [oat milk] is a surge now. There is a long runway of products going into the marketplace. They will co-exist with dairy and if milk brands are smart they will find a way to produce them too. One of the trends of 2020 is to get milk from anything – hemp, quinoa etc. But oat milk is a compelling product."
And that's something that has not been lost on large food companies – specialising in dairy or otherwise – which have made sure they have skin in this particular game.
They haven't always been successful. Food and beverages giant PepsiCo, announced in November that it had pulled its Quaker brand oat-based breakfast milk from US shelves less than a year after introducing the product to the company's home market. It was suggested sales were below the company's expectations.
But more generally companies see opportunities in this space and, in such a crowded marketplace, product providers will need a USP to distinguish them from competitors.
Chobani is perhaps the poster child for how a category – in its case yogurt – can be shaken up by a new entrant. The company came from nowhere to lead the US yogurt market in just a few years and is now a business turning over multiple hundreds of millions of dollars annually.
Nevertheless, Sandfort believes US shoppers still see Chobani "as a relatively young and conscientious company" and says the business can capitalise upon that with its plant-based efforts.
"The thundering herd is under way. We've seen this before in yogurt and we will have to be incredibly focused on the battle. Service is important – the ability to supply this big and volatile market. We believe we win on taste, similar to yogurt, and that's a huge part of it. And, generally speaking, we have a good reputation with consumers," Sandfort says. "Yes, they think of us as a yogurt company but they are also willing to see us as something else. They still see us as a relatively young and conscientious company. We don't have the same baggage some other companies have.
"It's also fundamentals. We are one of the only ones to use organic oats. We go to great effort to make sure there is no gluten contamination, which can be picked up at some mills but not ours. I feel we are starting from a better base."
Mooala, a Dallas-based producer of organic and dairy-free drinks and creamers, is one smaller player that believes it can benefits from interest among younger consumers for up-and-coming brands.
"Millennials are more inclined to support smaller business and brands they believe in," Jordan Campbell, vice president for marketing at Mooala, says. "Bigger dairy companies can do this [manufacture products] at a more inexpensive level but I believe millennials will back businesses that have got the same values as they do."
Califia Farms, looking to bed down its Übermilk oat drinks in the US market, its latest move in the oat-dairy segment, touts up its focus on plant-based dairy – and its recipes.
"We're a plant-based food company that's not owned by a larger company with dairy products. We're independently owned and exclusively make plant-based food and beverages that are both good for you and good-for-the-world. I don't see that changing any time soon," Pappas says.
"Taste always comes first with every product we develop. Nutritionals are almost as important, if not equally important, which is why we focus on developing products that have a cleaner label, made with simple ingredients and have less sugar compared to others in the marketplace."
Market-watcher Fogelson sees a future for both the big brands and the smaller category disruptors.
"My instinct is that with the smaller players it is about the marketing and they can expect to get into Whole Foods," she says.
"The big guys like Danone and Chobani will bring it to the mainstream into the likes of Dunkin' Donuts and will introduce it to the masses. I think people with issues with CPG won't use their purchase to make a point but they may have found the product they want to use and will support the smaller brands.
"But companies can't afford to miss the boat. They have to expand their portfolios just like Coca-Cola did with water. They have to go better-for-you."
Where could product developers behind US oat-dairy brands look next?
Danone suggests healthier options within the oat milk category will be a growth area.
Borrelli says: "We recently launched the first oat milk beverage with zero grams of sugar per serving with Oat Yeah The 0g Sugar One. We know consumers are looking for great taste in plant-based beverages, but that they also love the versatility and nutritional profile of a zero-gram sugar option."
Califia Farms sees opportunities across the dairy fixture – and even further up the supply chain. "With dairy present in some form in almost every meal and throughout the food supply as an ingredient, there are so many opportunities," Pappas says. "I think we'll see oat milk in both new categories and new usage occasions. I believe the natural extensions are in butter and cheese alternatives along with ice cream and perhaps yogurts."