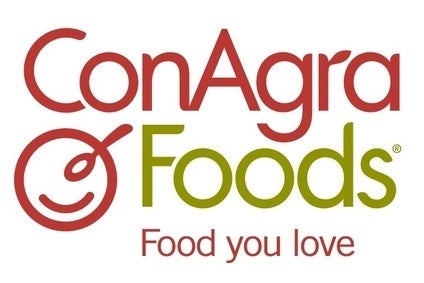 ConAgra Foods came under even more pressure to start delivering returns to shareholders last week when activist investor Jana Partners revealed it has taken a stake in the US food company. Shareholders have long grumbled about the seeming incompatibility between ConAgra's branded and private-label business, with shares in the under-performing US food maker at all time highs on the expectation that disposals must soon come. Are there more options open to ConAgra management than simply carving up the business? Katy Askew investigates.
ConAgra Foods was already at a strategic crossroads before activist investor Jana Partners announced that it had taken a stake in the US business. The company is not performing well – and has failed to perform for some time.
In its most recent financial update, for the third quarter ended 22 February, ConAgra posted a net loss of US$954.1m, compared to a net income of $234.3m a year earlier. The bottom line was hit by a pre-tax non-cash impairment charge of approximately $1.3bn as the company wrote down goodwill and other intangible assets at its private-label division. This impairment charge served as the catalyst for Jana's decision to start building a stake in ConAgra, the investment firm revealed in a regulatory filing last Thursday (18 June).
The hedge fund suggested ConAgra's results have been disappointing since its acquisition of private-label manufacturer Ralcorp Holdings, which competed in 2013. Since then, ConAgra has repeatedly missed its forecasts, cut long-term targets, failed to increase dividends and faced operating performance challenges, Jana argued.
Certainly, challenges at the group's private brands unit were in evidence during the third quarter. Even adjusting for the impairment charge, underlying profits from the division fell "due to a continued competitive bidding environment and execution shortfalls". Sales volumes at the unit were down 7% in the three months. Operating profit was down 44%.
The poor showing from private brands would seem to be the number one issue facing incoming chief executive Sean Connolly, who took the helm at ConAgra in April.
It seems Connolly and Jana are on broadly the same page in their goal to "create shareholder value". However, a question mark perhaps hangs over how quickly they expect returns to materialise. Connolly has yet to detail his plans for ConAgra but, speaking during a conference call at the end of March, he stressed: "For now, I'll just say that I am committed to long-term value creation."
Jana's more short-term outlook is likely to speed the pace of change at ConAgra, Sanford Bernstein analyst Alexia Howard suggests. "We view the announcement as a positive for ConAgra as it could accelerate the anticipated change that investors are expecting following the appointment of a new CEO," she notes.
Howard argues Connolly's "priority number one" should be to "sell private brands, probably sooner rather than later". In a note to investors, Howard writes: "Performance has been weak for the segment, stemming from execution issues, the difficulty of managing branded and private label under the same roof and industry headwinds, including emerging challenger brands in many categories… Given that private brands has been a massive under-performer, investors likely expect a plan for the segment. In fact, many investors could be disappointed if the business is not sold."
ConAgra has insisted it expects to see better results from the segment moving into fiscal 2015/2016. The company said it has made strides in improving customer relationships and cutting costs. But the jury is still out on whether these efforts will be enough to lift the unit out of the doldrums.
Howard also suggests ConAgra should also consider disposing its B2B commercial foods unit, which includes Lamb Weston. "While we don't consider a sale of the segment as top-of-mind for investors as the sale of private brands, commercial foods does not seem to have much strategic overlap with the core consumer foods business."
While it is true to say ConAgra's brands are not performing as badly as the group's own-label business, it should also be noted ConAgra is not firing on all cylinders here either. The company booked a 2% decline in consumer foods sales in the third quarter, which fell to $1.8bn on flat volume. While some brands, such as the Slim Jim meat snacks, are on-trend and growing, overall ConAgra's portfolio is weighed down with second-tier brands in stagnant categories. Think Chef Boyardee and Healthy Choice.
An early indication Connolly is attempting to modernise ConAgra's consumer foods portfolio and adjust to the emerging preference from US consumers for healthy, natural or organic food options came last month, when the group announced the acquisition of Blake's All Natural Foods. The deal, for an undisclosed sum, is relatively small within the context of ConAgra's total revenues. However, it does help unlock the rising demand for organics in the US. As Connolly noted at the time: "Blake's is a great addition to our existing frozen meals business and provides more choices to a growing group of people buying natural and organic foods."
Selling off or separating private brands (and possibly commercial foods) would unlock cash that could be used to accelerate any portfolio transformation as well as continuing ConAgra's drive to pay down debt and/or deliver an immediate cash payout to shareholders.
Given the typical nature of private-equity investors, it could well be that Jana favours this approach. In a note from Barclays Capital, Andrew Lazar suggests the "language" of Jana's statement implies the hedge fund could push for "a potential separation" because the private-label and branded businesses are viewed as "strategically incompatible". However, Lazar adds Jana could well be open to other avenues for value creation.
"We importantly do not believe the firm sees a split as the only means of possible value creation. For example, Jana also cited the opportunity to address ConAgra's "operational performance and cost structure", as well as its "capital allocation policies and capital structure"," he writes.
There is undeniably a lot of internal opportunity to improve ConAgra's performance and self-help measures could result in strengthened private-label margins. Indeed, the recently announced exit of Paul Maass, who headed up the private-label unit, points to the likelihood that Connolly already has plans in this area.
Athlos Research analyst Jonathan Feeney thinks Connolly could be the man for the job. "The private-label business appears to be radically under-earning, operating just above breakeven excluding synergies versus 10-11% margins at Ralcorp. We think the problems are reparable," he writes in an investor note. "While private label may continue to under-perform in the near term, new CEO Sean Connolly's strategic prowess could be exactly what's needed to maximise value."
Feeney argues ConAgra's leading position in private label means that the company's assets have "enormous value" to whichever entity ultimately consolidates the US private label sector – whether it is ConAgra or a competitor like Post Holdings or TreeHouse Foods. "Were ConAgra to right the ship, we think it has the most overlap with targets and financial capacity to do deals among the key consolidators, mainly Post and TreeHouse. But should it decide to change direction, its assets could find a bidder in Post, whose leadership has the longest track record," Feeney predicts.
ConAgra has not yet detailed its strategic objectives but the group said it is "looking forward" to engaging with Jana Partners. In a statement responding to Jana's announcement, the company commented: "We look forward to opening discussions with Jana Partners after the ConAgra Foods' June 30 fourth-quarter earnings announcement, and discussing their views on shareholder value creation at ConAgra Foods."
Jana said following these discussions it would "if necessary" put forward three nominations to ConAgra's board of directors. Jana said it will nominate: former Unilever and General Mills chief financial officer James Lawrence, former Nestle USA CEO Brad Alford, and Jana managing partner Barry Rosenstein. Interestingly, the FMCG backgrounds of Lawrence and Alford mean they are well-placed to help deliver a turnaround programme focused on cost reduction and internal improvements.
While Jana is planning to push for improvements at ConAgra, it remains to be seen what direction will be taken. To sell, or not to sell, that is the question.