Fonterra's full-year results – 10 things to learn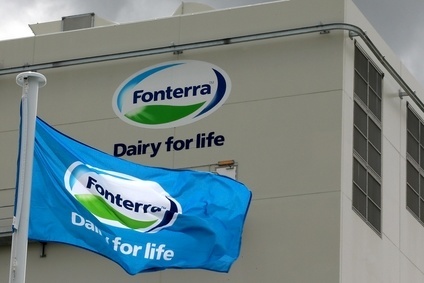 Fonterra remains cautious on commodities volatility as prices recover
New Zealand dairy giant Fonterra reversed its first-half profit drop to report a massive jump in full-year earnings yesterday (24 September). The result was achieved despite lower sales from the co-operative, with a focus on efficiency and product mix as well as the benefit of lapping weak prior-year comparables. Here are just-food's ten key takeaways from Fonterra's fiscal 2014/15 numbers.
Fonterra profit jumps 183%
Fonterra rebounded from a poor 2013/14 year – when net profit totalled NZ$179m (US$113.8m) - with a net profit of NZ$506m. Normalised EBIT reached NZ$974m, compared to NZ$503m a year ago. Much of the improvement can be attributed to the fact Fonterra is lapping an extremely weak prior-year performance and profitability has not returned to the levels seen in fiscal 2013/14 when Fonterra booked normalised EBIT of over NZ$1bn.
Profit growth was H2 weighted
Profit growth was weighted to the second half. Fonterra's results had continued to deteriorate in the first six months of the fiscal. CEO Theo Spierings attributed the improved H2 result to a strong focus on costs, mix and cash management. "We focused on improving our sales mix, achieving more efficiencies, maximising our gross margins and achieving our strategic goals faster," he said.
Strategic review
As part of its drive to lower the cost base Fonterra embarked on a strategic review during the half. To date, the review has seen 750 positions eliminated. The cuts come from a number of areas, including administration, ingredients sales, consumer, marketing, research and development, communications, health and safety, food safety and quality, group resilience and risk, property, procurement and change management.
Spierings said savings generated by the business review, such as improving working capital, have already enabled the cooperative to support its farmers during "challenging market conditions". This support has included an interest-free loan made available to its farmer-owners as well as delivering an advance rate to farmers.
Cash to farmers comes at a cost
This support to Fonterra's farmers has come at a cost, management said yesterday. Speaking during a webcast, CFO Lukas Paravicini said Fonterra's interest payments have jumped by NZ$95m, or 6 cents per kilo of milk solid, this year. The firm's gearing ratio has gone up to 49.7%. "The advance rate to farmers is really a timing issue which will go away in the next few months. Excluding that drops to 46% gearing ratio," Paravicini noted.
Revenues down, volumes up
Revenue was down 15% in the year at NZ$18.8bn but volumes grew 9%. Management attributed the drop to a slump in dairy commodity prices. Spierings said: "The global dairy industry has been hit simultaneously by geopolitical turmoil in the Middle East and Russia, ebola in Africa, an economic slowdown in China and the sharp drop in oil and mineral prices. These events suppressed demand at a time when farmers all around the world had ramped up production in response to previous high prices. This resulted in an inevitable impact on pricing."
Commodity prices have risen since July...
Dairy commodity prices rebounded in July, chairman John Wilson revealed. Whole milk and skim milk powder prices have jumped 44% and 21% respectively. "Prices have lifted so quickly since July," he said. Some of this jump can be attributed to lower supply, with farmers responding to low payouts by reducing production, he suggested. "We have had a decrease in milk production quite dramatically. Tough weather conditions on farm, there is less cows out there, less suppliant being fed... [Milk output is] tracking 8% behind last year on a year-to-date basis." The company now expects milk supply to fall by 5% over the coming 12 months. Its previous forecast stood at a 2-3% decline.
...but uncertainty remains
While commodity prices are currently up, Fonterra management was quick to stress the ongoing volatility in the market. Spierings stressed the past year was "one of the most difficult I've known" and insisted conditions are expected to remain challenging. "Looking ahead, this uncertainty means that world markets are likely to be difficult in the medium term," Spierings said.
Investing in capacity
Although global demand for dairy has slumped, Fonterra is investing in increasing its processing capacity. This year, the company had embarked on some "significant" projects, including raising capacity at its Edendale and Litchfield sites, CFO Paravicini explained. This has driven up capacity by over 800m additional litres. We have continued to invest beyond our capacity which gives us this optionality the possibility not just to take that additional volume but also to be able to use the best stream returns... It drives efficiency, scale and therefore it will therefore drive costs down," Paravicini argued.
Wilson was quick to dismiss the suggestion major investments in capacity are poorly timed, given decreasing global demand. "In fact we haven't had this capacity in place early enough and it has significantly cost us at peak, which impacts our profitability, which impacts our dividend. It has been important to get this capacity build. We are in a good position now. And you will see our capital expenditure drop dramatically... over the years ahead. You have to plan in advance."
Investing in China
China is Fonterra's "number one market" and the company is investing in expanding in the country, Spierings added. With some New Zealand farmers suggesting that the firm should be growing exports to China rather than investing in farms and joint ventures there, Spierings insisted a whole-chain approach was necessary to expand in the market.
"The investments at home in capacity and also foodservice...always has priority one," the chief executive stressed. "It is very clear from the Chinese context [the government] has always said from day one... you need to be present in farming and you need be present at the consumer end... to really play a role in consumer food activity.
"Therefore you see significant investments in our farming operations there. We have completed the second hub... way over 50000 animals, about 200m litres of milk, high quality milk which we sell to key ingredients customers. In the consumer side, we have launched Anchor, we have launched our Anmum brand. But can we do that really without partners? We cannot... We need partnerships and the Chinese want us to also develop those partnerships."
Spotlight on executive pay
At a time when many of Fonterra's farmers are struggling to cover on-farm costs and the cooperative has announced a swathe of job cuts to drive cost savings, details of an increase in the pay scale of Fonterra's top executives caused quite a stir in New Zealand. The number of Fonterra employees who were paid a salary of more than NZ$1m rose from 17 last year to 22 this year, according to employee remuneration figures in the company's annual result. Spierings received an 18% pay hike, worth around NZ$750,000 a year. This brought his salary to between NZ$4.93-4.94m. The revelation has ignited public debate on management remuneration in the country.
Oops! This article is copy protected.
Why can't I copy the text on this page?
The ability to copy articles is specially reserved for people who are part of a group membership.
How do I become a group member?
To find out how you and your team can copy and share articles and save money as part of a group membership call Sean Clinton on
+44 (0)1527 573 736 or complete this form..