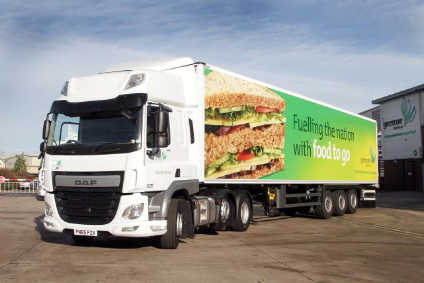 Andy Coyne looks at the ramifications of Greencore's decision to quit the US after a decade of trying to build a successful own-label business in the market.
The decision by the Ireland-based convenience food group Greencore to exit the US may be seen as another example of a company from Europe struggling to fulfil its American dream. Or it may be seen as an astute piece of business by a company that was made an offer it just could not refuse.
Greencore would like us to follow the second narrative.
CEO Patrick Coveney admitted in a call with analysts this morning (15 October) after the move was announced there was "some level of emotional disappointment" at the decision to pull out of the US. However, he stressed the takeover offer from Hearthside Food Solutions (US$1.07bn) "represents a compelling and immediate realisation of value for Greencore's shareholders".
Analysisthis morning from Irish-based asset manager and advisory group Davy went some way in outlining how attractive the deal appears to have been to Greencore.
"The transaction is being effected at a premium to its US invested capital base. The multiple (13.4-14.2x EV/EBITDA) exceeds the market implied value of the US entity," it said.
Jason Molins, who follows Greencore for Irish stockbroker Goodbody, concurred. "Overall, we consider the valuation realised for the US business as extremely attractive, and note it is 25% above our sum-of-the-parts valuation."
But Davy described the announcement as surprising, perhaps reflecting on the fact it was only in March that Greencore announced a major shake-up of its US operations, including restructuring its leadership team.
Maybe it should have been assumed a company in such a turnaround situation had left itself open to approaches from rivals looking to add heft to their own operations but Coveney insists in August a sale of the business was not on his radar.
He stressed things in the US were looking up for Greencore. "This year in particular we have worked the US business very hard and we had a really strong second half," he said. "We had re-set the team, the strategy and the portfolio."
Coveney said Greencore was looking ahead in the US with "positivity and momentum".
But then – in September – came the unsolicited approach from Illinois-based contract food manufacturer Hearthside.
"We thought it was unambiguously in the best interests of shareholders to accept," Coveney insisted.
Analysts seem to be happy to follow Coveney's narrative. In the aforementioned post-deal announcement call, there were no questions about the US sale from analysts who instead concentrated on the business decision to concentrate on the UK market and the food-to-go category there in particular.
Reflecting on the US adventure, Coveney pointed out that, while Greencore had been operating in the US since 2008, it had only been doing so on any real scale for the last two years – almost certainly referring to its $748m acquisition of US convenience food group Peacock Foods in 2016.
The operations Greencore has sold to Hearthside comprise 13 manufacturing facilities and thousands of employees. It was of such a scale that, added to its UK and Irish operation, it allowed Greencore to describe itself as the world's largest sandwich maker.
But while analyst Martin Deboo, from US investment bank Jefferies International, suggested "getting out of the US just two years after scaling up there might result in some red faces at Greencore", he added: "The transaction looks to have significant upside to us."
He estimated the deal price "recovers Greencore's entire cumulative investment in the US to date, plus a small profit".
Greencore's decision to focus on the UK is described by analysts Davy as reverting "to a simpler UK-centric business with a mix of lower growth but higher returns on capital".
It does, however, come at a time when some other businesses are looking to hedge their bets as far as the British economy is concerned with the sword of uncertainty that is Brexit – the UK's departure from the EU next March – hanging over it. Coveney, however, is largely unconcerned.
"One hundred per cent of the products we sell in the UK are made in the UK," he said. "And 80% of the packaging is sourced in the UK and we can flex that up a bit if needs be."
Coveney said his only real Brexit concern – from a Greencore perspective – is a longer-term one about the availability and cost of labour.
Announcing the deal this morning to the London Stock Exchange – on which it is listed – Greencore said proceeds from the deal of around GBP802m ($1.05bn) will allow the company to declare a special dividend of 72 pence per ordinary share, representing an aggregate amount of GBP509m in cash, to shareholders.
"The essence of the transaction in pure valuation terms is that Greencore shareholders take some earnings dilution plus a 72p per share guaranteed payment, in return for owning a share in a UK-focused Greencore entity of uncertain value," Jefferies' Deboo suggested.
"A defensible optimistic scenario would be for Greencore to trade on its valuation pre-Peacocks, the most recent point at which it was priced as a predominantly UK player, post-Brexit," he said.
More strategically, Greencore also said the transaction will support a strengthened balance sheet, with up to GBP293m to be used to reduce leverage.
Greencore said post-deal it will "focus the organisation on UK opportunities with a strong team of leaders with industry-leading experience and expertise across strategy, commercial, manufacturing, technical/food safety and people development".
The company said it planned to "extend its leadership position in attractive categories and formats within the structurally growing convenience food market" and "deepen its long-term partnerships with customers".
CEO Coveney put more meat on these bones in the call with analysts.
He said the proceeds of the deal will allow it to adopt a "dynamic capital management approach" and added: "We are looking at the UK business with a great deal of excitement of what we can achieve in the years ahead.."
Coveney talked about having "a singular focus, incremental firepower and greater resilience and financial flexibility".
More specifically, he is excited about the growth potential of the food-to-go element of its convenience food business. "We see long-term structural development for more convenience food and more available food-to-go," he said.
The Greencore boss pointed to a "roughly 10% higher growth margin" in food-to-go and convenience food than in food more generally and to IGD research suggesting food-to-go will grow by 5% a year between now and 2023, compared to a figure of around 2% for the wider grocery sector.
"It's important to fish where the fish are," Coveney said.
He pointed out to analysts Greencore has invested "significant capital" in its UK manufacturing capability – new depots, new systems, an increased number of vans – in the UK in recent years and this heavy lifting will support the next three or four years of growth.
Asked by Deboo about possible M&A activity in the UK, Coveney said the company would look at it as opportunities arise but it is "not under pressure to do it".
Coveney said the company is "not going to magic up a new strategy for the UK overnight" but is confident of success.
"Mid-single digit revenue growth is a sensible way of thinking about how we progress our business from here," he said.
Shame about that American dream though.
As Julian Wild, a food sector analyst at UK law firm Rollits, said: "The US has been a graveyard for UK food manufacturers and retailers over the years.
"I thought that Greencore would be the most likely to succeed given their substantial investment and commitment to the cause. But it has clearly proved challenging and difficult to manage, requiring a higher level of hands-on senior executive involvement.
"Greencore have made a brave decision to exit on sensible terms and focus on the UK, where it has generally been very successful. What the impact of Brexit might be remains to be seen."