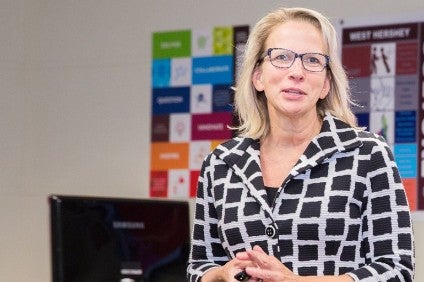 Hershey noted some pluses around market share and e-commerce as the confectionery maker reported a drop in first-half sales amid shifts in consumer patterns linked to the Covid-19 pandemic. Simon Harvey takes a look at the key talking points as the normally busy Hallowe'en season approaches.
Snacks major Hershey might have seen its sales decline in the second quarter at the peak of the coronavirus outbreak but analysts were impressed with the category gains achieved in its key North American market, despite the inherent challenges.
Covid-19 weighed on the Reese's and Twizzlers maker's results through the first half, particularly in the three months to 28 June, as demand troughed at the back-end of March and into April as governments imposed restrictions on people's movements. Then signs of a pick-up emerged in June as lockdowns began to ease somewhat, with Hershey quietly confident about the prospects for the rest of the year, on the assumption there isn't a second wave.
The swings in demand are evident in Hershey's sales results – reported yesterday (23 July) – which showed a 3.4% drop in the second quarter on a reported basis but a smaller 2.2% year-to-date decline. Operating profits, which fell 6.4% in the quarter, were 9.8% lower for 2020 as a whole so far.
On a conference call with analysts, Hershey chief executive Michele Buck said the demand pick-up evidenced in June is also feeding into July. "We haven't really seen any material changes in July versus our trends. There are some geographic differences, just given the big differential across geographies as a result of Covid. I would say we're feeling good about what we continue to see."
She said Hershey's chocolate portfolio increased 13% in June, with the Reese's, Hershey's and KitKat brands each growing 14%. Key "variety brands" such as PayDay, York, Almond Joy, Mounds, Heath and Rolo also all grew during the month, resulting in a combined growth rate of over 11%. And sales of Twizzlers and Jolly Rancher were up a combined 6% in the second quarter, "also ahead of the category".
Share gains stand out
In a note to clients, AllianceBernstein analyst Alexia Howard noted how Hershey's second-quarter sales were, on an organic basis, below the consensus forecasts among analysts on Wall Street. Hershey's Q2 organic sales were down 3.5%, some 1.8% below analyst forecasts.
Nevertheless, Howard noted how, in North America, Hershey saw "225 basis points of share gains in measured channels"
On Hershey's call with analysts, Andrew Lazar, equity analyst at Barclays, described the company's market-share gains on the call as "pretty phenomenal and unprecedented in many ways".
Buck said: "Hershey has outperformed the category, with sales growth across brands that accelerated as we progressed through the quarter. Our category share grew 225 basis points in the second quarter, bringing our year-to-date share gain to 150 basis points. Importantly, we are winning share in every channel this year."
"We do believe that the recent share performance is likely to persist for several more months, and while we do think that huge gain we're seeing is likely to revert next year as we lap the strengths, we do believe that some of the gains will remain in the long term and sustain."
Sanguine about pricing during recession
Price increases Hershey initiated over the past couple of years weighed on volumes in North America in the second quarter.
Hershey finance chief Steven Voskuil said the price increases so far initiated will help offset the incremental costs associated with Covid-19, but Buck noted most of the "price realisation" is only likely to filter through in the second-half results.
However, a third of Hershey's portfolio has escaped any price actions so far, Buck confirmed, but perceptions among retailers over imminent price increases led to an inventory build up, which caused a "1.5% to 2% headwind on our first-half growth", she said.
The CEO continued: "We take a lot of variables into consideration when we decide what to price, when to price, how to price, and we will be consistent with the stated strategy going forward. While we have priced each of the last two years, that certainly doesn't mean within our strategy that we have plans to price every single year."
And in the context of a recessionary environment, it seems Hershey will not waver from passing through price increases if it sees fit, especially as demand for chocolate tends to hold up pretty well during a downturn, Buck said.
"At times when people need to cut back on other categories, we will continue to just evaluate all the different factors for when, how, on what we will take pricing," she explained. "But we aren't particularly concerned that we can't price in recessionary times. We have done that at points in the past."
Emerging-markets downturn
In North America, sales edged up 1% in the quarter to $1.5bn and net income rose 5.7% to $497.6m.
But it was a different story for Hershey's international division and other segment, where combined sales dropped 38% in the quarter to $123.5m, with the shutdown of air travel a particular impact on its travel retail business.
Mexico, India and Brazil were singled out as areas of concern due to the number of coronavirus cases in those countries, where lockdown measures and the economic impact of them weighed on chocolate sales.
"In many of these markets, chocolate consumption is not as embedded in the culture as it is in the United States, and it is premium-priced versus other food and snacking options," Buck said. "Category trends did improve as the quarter progressed, but they remain below prior-year levels. While we saw strength in some of our other items in key markets, such as cocoa powder, syrup and spreads, it wasn't enough to offset the chocolate declines."
Buck said Hershey had "scaled back investments" in the international division "to help mitigate the Covid-19 impact on our business". Nonetheless, Hershey is continuing to make tactical moves outside the US and Buck added: "We remain committed to our international strategy over the long-term and we will maintain an appropriate level of investment to capture opportunities as the macroeconomic environment and pandemic improve."
Hershey's international should "slowly rebound" but sales are likely to remain below levels a year ago, Voskuil said.
E-commerce "significantly higher"
Despite the pressures in retail and the out-of-home and travel segments, e-commerce has emerged as an important revenue driver during the pandemic, not just for Hershey but for the packaged food industry as a whole, and manufacturers are now paying more attention to the sector in the belief new consumer habits will stick beyond the current crisis.
Hershey said growth in e-commerce "remains significantly higher than our pre-Covid baseline", at 200% in the second quarter compared to a year earlier. And, fortunately for the company, it had invested in the channel a "few years back" to build that capability, Buck said.
She added e-commerce, which represents about 2% of the group business, could grow to around 5% by year-end.
"People buying online is where we thought it would be maybe five years from now"
"Where consumers are in terms of household penetration of people buying online is where we thought it would be maybe five years from now," Buck said. "To some degree, that is a shift because e-commerce is a little more than a channel, it's some of the business model as well. We are taking some further steps internally to develop e-commerce to really now be one of our main steam channels, versus before it was kind of, I'd say, in the growth development phase."
Will Hallowe'en prove trick or treat?
Further ahead, Hershey is not providing guidance for the year due to the immeasurable uncertainties from Covid-19 and how the environment will pan out from here on in from both a business and social perspective, but chief finance officer Voskuil did provide an outline.
In North America, Hershey expects sales growth to accelerate in the second half led by "elevated at-home consumption, price realisation and the replenishment of retailer and distributor inventory levels", the CFO said. "These gains are anticipated to offset improving, but still pressured, sales in the foodservice and speciality retail channels."
For Hershey, Hallowe'en represents 10% of annual sales but is likely to be susceptible to the whims of consumers and the trajectory of coronavirus. Sales will be closely watched, given the impact Covid-19 had on Easter sales, another key selling period for Hershey.
Still, Buck believes the fact people don masks to go trick-or-treating might offer some respite, although this year CFO Voskuil doesn't expect the event to have a "material impact on second-half financial results".
Nevertheless, Buck said: "While research indicates trick-or-treating participation will likely be below prior-year levels due to Covid-19 concerns, the expectation of this holiday tradition has been consistently improving over the past several weeks. We expect to outperform the category given our iconic brands, strong innovation and merchandising, and great execution."
Buck explained Hershey starts manufacturing for Hallowe'en in the second quarter ready for shipments in the third semester but the virus could pose barriers for the sell-through to retailers.
"I think if we see pressures in Hallowe'en, it's probably going to show up more towards Q4 than Q3, as it will be at those end periods, post the holiday, relative to sell-through at that point in time. It is important to note that nearly 50% of Hallowe'en candy spend is on 'treat for me' and 'candy bowl' occasions, which start early in the season. Trick or treating represents the other 50% of the season, with sales concentrated in the last two weeks of October."
Whatever scares might be in-store as October approaches, Buck said she feels "pretty good" about the prospects for Hallowe'en, and for the business in its entirety through the next two quarters. But Covid-19 remains an unknown, particularly in the US and some developing countries where it's still growing rapidly, with the biggest fear the risk of a second wave in the more established markets.
"We expect accelerated sales growth in the second half of the year, based on momentum exiting the quarter, assuming there's no significant disruption to current consumer trends," Buck said. "We also expect pricing and strong cost management to drive margin expansion and earnings growth."