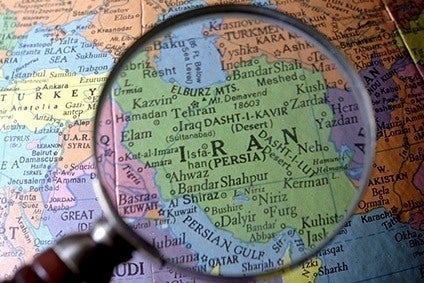 The easing of decade-long economic sanctions on Iran lifted could open a potentially attractive market for international food makers, with access to a population of 80m consumers, a majority of which is under 35 and increasingly on the lookout for branded goods. However, establishing a foothold is unlikely to be straightforward. Hannah Abdulla reports.
For manufacturers eyeing attractive emerging markets, Iran may have grown in importance. The publication last month of a deal on Iran's nuclear programmes is set – should Tehran abide by the agreement – to lead to the easing of sanctions place on the country by the US, EU and UN.
The accord means executives across a number of sectors are now looking at Iran – and its population of 80m consumers – and weighing up the potential of the market.
For international packaged food companies, the lifting of sanctions could prove advantageous, says Bassam Aoun, consulting analyst at Euromonitor International, as it will open up access to 24m households "all with increasingly westernised and modern preferences".
One demographic particularly attractive to international branded food firms could be Iran's younger population. According to Ali S. Ali, trade manager for the food and drink sector at the British Centres for Business in the United Arab Emirates – which supports UK companies looking to enter that market – about 65% of the Iranian population is under 35-years-old.
"With the lifting of sanctions, international branded food manufacturers could tap into a large brand-conscious population," he says.
Dairy has been touted as a category that could see significant growth. Euromonitor data reveals Iran is already among the world's top ten fastest-growing dairy markets.
At present, local players such as Pega Dairy and Solico Food account for a significant chunk of the Iranian dairy sector but, despite the sanctions and pressure on the economy, some global dairy companies have entered the market. Through a joint venture with Sahar, Danone has had a presence in Iran since 2007.
Lianne van den Bos, a food industry analyst at Euromonitor International, suggests Iranian consumers have already started to slowly move away from loose, unpackaged foods towards packaged items, a trend she believes could be accelerated by the lifting of the sanctions.
"Given the fact that Iranian consumers have long been exposed to a more limited dairy offer from local manufacturers and neighbouring export countries, such as India, not backing the sanctions, consumers may well be more open to try products from Europe or the US, the largest dairy regions in the world."
Fonterra is one firm hoping to capitalise on Iran's dairy opportunity. In an interview with TVNZ, Theo Spierings, CEO of the New Zealand dairy giant, said Iran was "definitely part of the future plans" of the company, adding it was a "massive market" for fat, butter and butter oil, products he said would be the group's entry point.
Elsewhere, French poultry firm processor Doux is another exploring route-to-market opportunities. Doux, which exports to markets across the Middle East, was present in Iran between 1975 and 2010 but ended shipments there due to the trade embargo. A spokesperson told just-food: "We are an older player in this field and will be back when it [market] opens. The older Iranian consumers know our brand so this is definitely an advantage."
However, establishing a foothold in Iran will not be straightforward, even for companies that may have once done business there. Firstly, inflation has stabilised since the hitting more than 40% before President Rouhani came into office but it is still high. Inflation slowed in June to over 15%. Such a prolonged period of inflation has put pressure on spending. Many middle-income shoppers opt for essentials over more indulgent items. The hope among Iranian policymakers will be inflation comes down as the sanctions are eased but the rate of decline is by no means certain and shoppers, used to buying essentials, will need convincing to trade up.
A further challenge is competition against domestic firms. Locally-produced goods are cheaper, while Iranian companies can have the edge over international rivals on their knowledge of the Iranian consumer and their habits, explains Euromonitor's Aoun. "We noticed that they resonate better with low-mid income populations, who make up the majority of consumers in Iran," Aoun says.
There is also the problem of imitations. According to Aoun, a significant number of international branded products are available on the market but are unlicensed and have no ties to the company's balance sheet. As an example, he says a Kit Kat chocolate bar could be sold in a small store in Iran but may never have its revenues transferred to Nestle's books. Nestle told just-food it does not export Kit Kat to Iran but "is aware" of imitations available on the market.
Of course, the non-local players already in the market could have something of a head-start on rivals considering an entry. Bank of America Merrill Lynch gives the example of Saudi Arabian oil and sugar player, Savola, which it says is the leading maker and supplier of edible oils and ghees in Iran with a market share of approximately 45%.
For a player like Savola, the freer flow of capital to and from Iran post-sanctions would facilitate the repatriation of earnings and cash flows from Iran. It would enable it to improve operational efficiency and provides the opportunity to boost its manufacturing capabilities in Iran. Also, with these non-local players that have a presence in the market, knowledge of the market and logistical advantages could present a tie-up opportunity for those looking to enter the market.
Nestle is another that already has a presence in Iran. Operating out of local factories in Qazvin and Polour, the company produces infant cereals and formula, as well as bottled water for the market, and imports a limited range of products from abroad. The company is exercising caution on its plans for the country should the sanctions be eased.
"We are assessing the potential implications for our business in that country, but it would be premature to comment further at this time," a spokesperson for Nestle's operations in the Middle East says. "Nestle's activities in Iran remain fully compliant with the sanction regime currently in place. By providing basic food products to Iranian consumers, Nestle will continue to fulfil the needs of the population."
International companies interested in Iran will also need to analyse shopping habits in a market dominated by traditional outlets. According to Euromonitor, in 2014, Iran's grocery retail sector was worth US$48bn in 2014. Hypermarkets and supermarkets generate $2.9bn of sales but traditional stores account for $39bn.
"The reason for this largely traditional way of shopping is based on the Iranian consumers' preferences. When shopping in a local grocery store they form a personal relationship with the owner and that comes with its own benefits, for example having a monthly tab," explains Aoun.
AT Kearney's, Mirko Warschun, head of consumer industries and retail practice for the EMEA region, says distribution within this channel will be vital. "You need to have access to traditional retail markets – so the bazaars, the markets, the small mom-and-pop stores," he says. "If you are not able to have a wide distribution quite quickly it will be quite hard to establish your brand."
Warschun says companies interested in entering Iran could look to strike up a partnership with a distributor on the ground, but, he warns, this must be managed "in parallel" with solo efforts in the market. He points to multinationals having experienced flat sales in other potentially, high-growth markets because their distribution partner lacked the right reach or insight into the market. Many of the logistical and supply chain challenges are no different to those seen in the early days of other emerging markets in Africa or Asia, he says.
"Have a team on the ground able to get consumer insights, track this to know how to grow best. if you are speaking to local distributors, they are there to give you a national coverage and the ability to go into the cities and each regional area. Act in parallel; think five-to-ten years ahead – you'll need to build your own distribution… You definitely need to think about how to enter and ensure you are getting the right insights into the market going forward and building the right momentum."
But is there a need to consider the move into Iran immediately? When approached by just-food, dairy co-operative FrieslandCampina, which already has a presence in other markets in the Middle East, said it was "too early to say" what the potential impact of the sanctions being lifted could mean for its business. That said, with dairy companies like FrieslandCampina bruised by Russia's restrictions on dairy imports, one can imagine Iran has shot up its list of potential alternative emerging markets.
"It's not a decision you need to make your mind up on in the next few days or weeks but it something you definitely need to think about over the next six months," says Warschun. "I don't expect that the window of opportunity is closing within one or two years. There will be an opportunity for sure in the years ahead."