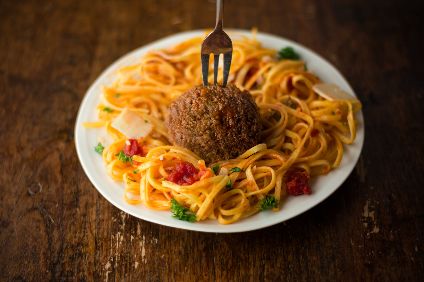 Interest in cellular agriculture is intensifying, with more companies being formed and investors eyeing up the potential of the nascent sector. But how can cell-based meat, dairy and seafood scale up? Dean Best reports.
The products are yet to hit grocery-store shelves but the attention surrounding cell-based protein is only multiplying.
Proponents of cell-based (or 'cultured', or 'cultivated' – there are multiple terms) meat, dairy and seafood argue the nascent sector could help feed a growing global population in a more sustainable and animal-friendly way.
A report published this year by UK-based consultancy AT Kearney forecasts cultured meat will account for 35% of global meat consumption by 2040 (with "novel vegan meat replacement" – those made with plant-based inputs – 25% and conventional meat 40%). Such forecasts have got investors very interested.
Some early-stage businesses have attracted backing: in 2018, Swiss convenience food supplier Bell Food Group put EUR2m (US$2.2m) into Mosa Meat, a start-up based in the Netherlands focusing on cultured beef products. The same year, German poultry producer PHW-Gruppe invested in Israeli firm SuperMeat, which is working on products made from cells extracted from chickens. And 2018 also saw Tyson Foods, one of the world's largest meat processors, take a stake in US start-up Memphis Meats, which has also had investment from agri-food behemoth Cargill.
Venture-capitalists have also moved to invest in companies developing cell-based products. SuperMeat, for example, has attracted investment from US fund New Crop Capital, which has also backed BlueNalu, a San Diego-based firm focused on cell-based seafood.
In July, meanwhile, US start-up Perfect Day launched a product, a limited-edition ice cream produced using the principles of cellular agriculture. The three flavours available – on sale online at US$20 a pint – sold out in under 24 hours, the company says.
In London last week, packaged food majors, financial investors, NGOs and health professionals gathered at the two-day Future Food-Tech event, a conference focusing on subjects including the microbiome, personalised diets and the next steps for the plant-based protein market.
One session centred on the paths ahead for cellular agriculture. "It's no longer about proof of concept. It's about proof of scale," Costa Yiannoulis, the investment director at CPT Capital, the investment arm of the family office of UK businessman Jeremy Coller, told the audience.
Yiannoulis, who has led the building and management of a CPT Capital venture portfolio that includes Memphis Meats, was chairing a panel that included representatives from Mosa Meat, SuperMeat and BlueNalu, as well as from Ireland-based accelerator Rebelbio, which had among its first cohort of companies the ice-cream start-up Perfect Day.
Ido Savir, the CEO and co-founder of SuperMeat, said Mosa Meat's unveiling in 2013 of the first cell-based burger had shown "the world this was actually possible" but argued the "tipping point" for cellular agriculture will come "once we have some sort of proof of scale".
He said: "[Mosa Meat] basically introduced the concept to the world and basically built this space up for us to follow. There were many other prototypes that followed. But since then no one actually showed a commercially viable production process or a model. That's the next stage. Once that would become public, then I believe the tipping points will happen and then the significant funding will come in."
However, Savir warned the complications don't stop there. "I think the main challenge that we see once we have this proof of scale is the complexity of the project. It's a multifactorial equation and each factor is intertwined with all the others in order to allow this process to become cost-efficient enough. There are so many disciplines and areas of work that need to be scaled up together, because, if we as cultivated, cell-based meat companies scale up alone, it won't work."
Savir argued that, even if companies like SuperMeat and others demonstrate a commercially-viable, scalable product, other components will also be needed at scale. He pointed to the need for what cellular ag companies call the "growth media" (often fetal bovine serum, which gives cells the nutrients they need to grow) and the "scaffold" (material that helps the cells used to form tissues) to also be scaled up. "The media, the scaffolding and engineering, the quality assurance and processing and storage and so many other aspects have to be in scale," he said.
"We have to put out there this proof of scale of commercial viability in order for all the other players to have enough confidence in this industry to join us so we can go through this together. This is basically the next stage. I think we'll be seeing this proof of scale in the next year or two from all the different main players."
Another panellist, Mosa Meat's COO Peter Verstrate, echoed Savir's insistence a raft of players need to come into play to further develop the embryonic industry. "I couldn't agree more with what Ido said," he told the Future Food-Tech event. "Ultimately, you need that whole ecosystem to be in place for this industry to be able to grow."
Verstrate sought to underline how a focus on the "growth media" would not be enough for the "emerging industry" of cellular agriculture to develop to scale. "If you just extrapolate pharmaceutical cell food, or growth media as it's called, in size – just make more of it and make the production process a bit more efficient – you will not get there," he said. "You need a whole different approach to producing cell food. And that's going to take the establishing of our own supply chain. Essentially, that doesn't exist today and it's going to have to be huge for the price of our products to come anywhere near the price of current meat.
For all the investment from the likes of Cargill, Tyson Foods, venture capitalists and (in the case of Memphis Meats) Microsoft founder Bill Gates, some industry watchers argue this is a fledgling business that, for all its promise on paper, needs to come together to grow, even if, of course, there are competitive pressures at play.
A member of the Future Food-Tech audience (and panellist on another session), Rob Beudeker, the senior investment director at the investment arm of Dutch ingredient giant DSM, asked the panel if they believed the development of growth media would be enhanced if the industry worked together.
"No-one in the field uses exactly the same media. A lot of the basics on the media, we probably share [but] some we don't share because we all use different cell types and different species," Mosa Meat's Verstrate said. "There could potentially be some joint effort to speed that up, but it's getting probably too competitive for that to happen."
However, Savir said he believes there could be some co-operation as the industry matures. "At this point it's a bit sensitive. I think that in the next year or two, we'll start to see these collaborations form," he said.
Verstrate, Savir, Cooperhouse, Carrigan and Yiannoulis discuss the obstacles to cellular agriculture at Future Food-Tech, London, 18 October 2019
Setting out the issues BlueNalu sees its business – and cellular agriculture overall – having to surmount for scale, panellist Lou Cooperhouse, the US firm's CEO and founder, pointed to other issues to consider, including regulation and marketing. "We all have different regulatory climates in every nation," he said. "And [then] the marketing: establishing an understanding of consumer communication, a language, marketing partners that would make sense to help bring a product to market."
Regulation, of course, remains a vital consideration for a company in cellular agriculture as it weighs up where and when to launch a product. Netherlands-based Mosa Meat would look at Europe, Verstrate says, and would have to go through the EU's novel foods regulatory process.
"We're going to be launching in the EU. That means you have to go through the novel food regulation, which at least takes a year and a half – and that's the streamlined version. It's going to go up to two years probably in practice, we'll have to see," he said.
Verstrate suggested the fledgling industry and EU agency The European Food Safety Authority (EFSA) should work together on this new food technology. "I think EFSA should be open to speak with the field about what we do and establish sort of a common basis – not for them to be biased, but for them to be knowledgeable about what this is, and have something to build on," he said. "I also think that the time it takes to go through this procedure, we should take a look if it's really necessary to take that long.
"If takes you a year and a half or two years to get [a product] to the market, if you submit today, that sort of freezes what you're allowed to do two years from today. If two years from today, you will have made progress, it's going to be very annoying to see that you're going to have to go to the market with something that's outdated."
A spokesperson for EFSA told just-food EFSA has nine months to conduct a "risk assessment" upon receipt of an application under the EU's legislation on novel foods. "This could be longer if EFSA needs to go back to the company for more or missing data and [further] explanations. It is then up to the legislators how long they take for the authorisation," the spokesperson said.
"There are no rules against continuing [product] development, but any authorisation would be granted only to the product as specified in the application. There is a possibility for applicants to submit new information and therefore update their application. During this process EFSA 'stops the clock – i.e. pauses the nine-month deadline – to allow this process to be completed."
In the US, the country's Department of Agriculture and the Department of Health and Human Services have forged an agreement to jointly oversee animal cell-cultured food products for human consumption. "The US has a very aggressive regulatory pathway … being early adopters at a regulatory level, to acknowledge this category is coming," BlueNalu's Cooperhouse said. "We're excited by that and we see that will then be a lead-in for many other regulatory agencies do the same around the world."
The consumer could, of course, prove another tough nut to crack. Consumers of conventional meat and dairy are the target. The growing demand for plant-based alternatives to meat and dairy shows there is a potential market for cell-based versions, while proponents could point to the rapid uptake of Perfect Day's limited-edition ice cream. But will there be wariness about this type of protein?
"There have been many surveys of how people feel about this technology and if they like cultured meat or cultured fish. It's really hard to interpret because you don't have the actual product," Mosa Meat's Verstrate said. "Testing a product without it physically being present is really hard. And, actually, people decide what they buy when they're in a supermarket with a screaming child, in their car, when it's 5.30pm and they want to make up their minds what's for dinner."
However, he added: "Having said that, I think it's a fair assumption that at least 20-25% of the population are, at the very least, very intrigued and very willing to try this when it comes to the market. Ultimately, winning over the other 75-80% is going to be a different story. It's going to be a lot about storytelling. You need to be transparent. We could be ultimately be a more transparent industry than the traditional meat industry, funnily enough. And it's about aligning your story with the product that you're actually going to bring to the market because there are many ways you can bring products to the market using this technology."
SuperMeat's Savir underlined what he saw as the target market for the cellular ag industry – and suggested his and other companies could work with the conventional meat sector. "The ultimate goal are the meat eaters," he said. "We're not creating a substitute or an alternative. We're creating an alternative production method for the industry to use.
"It brings so many benefits to the table, in terms of shelf life, in terms of health issues, and so many other issues, that if we can prove the commercial viability of this and, obviously, all the sensorial aspects of the raw material, the meat industry would become convinced and adapt it. Then they will be the ones who will be the front with the consumer and they know how to do that bit. So I'm not worried about that."
There was some acknowledgement on the panel of signs some consumers are circumspect about the new technology, although the general belief was, as the industry neared launch, there would be a growing willingness to at least try the product.
"The plant-based category has been really helpful to all of us," BlueNalu's Cooperhouse said. "They really helped create the concept in consumers' minds that alternate protein is a new category. What Impossible [Foods], Beyond [Meat] and others are doing is providing the sensory experience of meat with plants and not creating a situation where consumers feel compromised about flavour, which is the number one criteria for purchase in the food industry. Cell-based does the same thing but without the animal and arguably is the exact same ingredient statement as the traditional fishery, etc. Personally, I'm quite confident that cell-based is really the holy grail, if you will."
As chair, CPT Capital's Yiannoulis asked his panel when they thought cell-based products would be seen on retail shelves. Their answers ranged from "three to five years" as a "small-scale" product but, John Carrigan, Rebelbio's chief scientific advisor, forecast it would be "15, 20" years before the food emerges as "a proper supermarket product".
"Stay with it," Carrigan told the audience. "This is the thing. We have to stay with this."