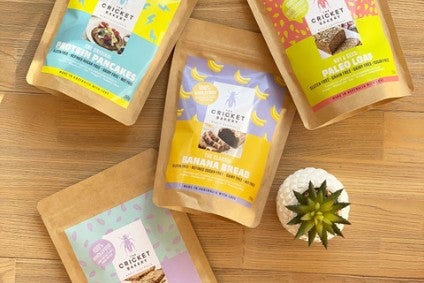 A handful of mainstream grocers have stocked bars made from bugs or protein powder made from crickets and there has been some investment in the nascent sector but, amid growing interest in alternative proteins, what's the outlook for insect-based food?
Alternative protein is a hot topic in the food industry. A range of plant ingredients (and Quorn Foods with its fungal mycoprotein) have helped the meat-free category go mainstream and start the development of markets in alternatives to seafood.
Meanwhile, millions of R&D dollars are funding biotech innovation in the shape of cell-cultured alternatives to meat, seafood and dairy.
What role can insects play? In recent years, a clutch of mainstream food retailers have taken the plunge and stocked insect foods. In Spain, Carrefour has listed products like spicy chilli buffalo worms and energy bars made from dark chocolate and crickets. In the UK, edible insect snacks sold under the Eat Grub brand are stocked by Sainsbury's. In Canada, Loblaw, the country's largest grocer, has a cricket powder SKU sold under its President's Choice own label.
These are but a handful of moves made at major grocers and the idea of insect-based foods remains a novelty to most consumers. However, while cakes made from crickets may still be hard to digest for many, the use of insects in food is growing, attracting entrepreneurs – and consumers – interested in the purported health and sustainability credentials of the ingredients.
Retailers aren't just listing the products. Earlier this year, Kriket, a Belgian company making bars from crickets, announced investment from local supermarket group Colruyt. According to Kriket founder Michiel Van Meervenne, the retailer paid "several hundred thousand euros" for a minority stake in the business. Jef Colruyt, the CEO of Colruyt reportedly said the "investment fits in with our sustainable thinking" and "testifies to the confidence we have in the alternative protein sector in a broad sense", adding: "We look forward to exchanging knowledge and experiences."
Across the Atlantic, US-based edible-insects supplier Aspire Food Group is about to break ground on a 100,000 sq ft factory over the border in Canada. Described by Aspire as a "first-of-its-kind commercial facility", the plant, to be located in London, Ontario, will supply "human- and pet-food markets" with "premium alternative protein products".
Mohammed Ashour, the co-founder and CEO of Aspire, claims the site will "enable not just Aspire Food Group but our entire growing sector to take an important stride forward in our mission to deliver an excellent-value protein at a fraction of the environmental impact of most conventional protein sources".
Beyond protein
The word 'protein' has influenced the way insect-based ingredients are being used, with many entrepreneurs looking to protein bars or protein powder when it comes to product development.
But other areas could help ensure the longevity of the sector over the next five to ten years. Kriket's Van Meervenne, who makes snack bars, believes when the industry only talks about protein, some important category background is lost. "Fitness people are only interested in two things: the amount of protein in a bar and the price," he explains. "Therefore, you miss the point of this being a new ingredient. There's also a strong sustainability angle – and they are tasty."
Van Meervenne believes using broader and more familiar categories will get consumers hooked on insects.
To illustrate his point, he uses the example of sushi. "If that was marketed 30 years ago as an alternative protein, it wouldn't be as popular," he says. "Insect foods have to play in more traditional and mainstream categories, rather than niche ones. Therefore snacking is important, accessibility is important in these first stages: inexpensive, easy to eat and recognisable in terms of the type of product."
Van Meervenne says younger, more urban consumers are more interested in the sustainability of what they eat and, at this stage of the nascent industry's development, breaking down barriers to entry is important. "We shouldn't be naive. Price is key, therefore snacking is interesting and on-the-go products also increase consumption occasions."
In Australia, Cath Riley, co-founder of The Cricket Bakery in Sydney, agrees snacks are an important inroad. She also flags grains, such as breads, cereals, pasta, baked goods.
"It's not only about the education of the nutritional value and sustainability factors of eating crickets, but we need to overcome the visual barrier of crickets," she says. "We find by using cricket flour as an ingredient in products they [consumers] are already familiar with, such as banana bread and pancakes, encourages them to be more open-minded. Using cricket flour in our baking blends makes it very accessible and convenient to try this new food source."
Riley highlights moves by other companies to target the health and fitness consumer but says The Cricket Pantry wants to target a wider demographic. "This has had some degree of success however, we decided we wanted to try and reach a broader market with our baking blends and make eating crickets less of a novelty factor, and more of a pantry staple."
The Cricket Bakery, set up in 2017, sells its products online via its own website and through independent retailers. The company's product range includes protein powder but also banana bread, a paleo loaf and crackers all made with insect ingredients.
In terms of future products, Riley points to the meat category. She says crickets, for example, are high in protein, iron, B12 and calcium, making them a credible alternative to meat.
But Van Meervenne warns that consumption occasion is limited, arguing products such as burgers have to be prepared, while packs tend to be more expensive.
"Burgers work at festivals or events where they are prepared and sold individually to an audience in the mood to experiment," he adds.
Looking forward, Van Meervenne does have his own plans to expand Kriket's range, with a cricket granola on the horizon. He says feedback from consumers suggests "not everyone is a bar eater".
"Also children are a key target audience," Van Meervenne adds. "We have worked with primary schools and it is amazing to see how open and flexible they are. We want to slowly move to this target audience via young families, with our granola on the breakfast table."
He says future launches are also likely to include child-friendly snacks, such as healthier cookies.
More broadly, meanwhile, food science and research firm Campden BRI suggests more uses for insects.
"Insects have some interesting techno-functional properties," she says, "For example, foaming and emulsification. Could insects be used as a functional ingredient rather than just protein fortifiers in the future?" Tiia Mörsky, Campden BRI's ingredients research team leader, muses.
Mörsky says one of the biggest challenges is still the work that needs to be done to change consumers' perceptions of insect ingredients. With this in mind, she believes the greatest potential for the fledgling industry lies in using "insect flour or insect mass" as an ingredient, rather than presenting consumers with a whole bug. She also points to potential for other insect species, should regulations eventually allow.
"The variation in the nutrient content of edible insects is a result of a number of factors including type/species of insect, the feeding method used in rearing insects, the growth stage of insect and the pre-treatment of insect prior to analysis," she explains. "Studies (not Campden BRI's research) have shown the nutritional composition of the black soldier fly investigated at different stages of growth showed significant differences in protein, fat and ash content. In another study, the type of feed had a significant effect on the fatty acid composition of edible insects."
Waiting game in Europe
Which countries could provide the most fertile ground for growth? A few factors are at play. Sydney Koby, founder and CEO of Canada's Bite Snacks, believes developed countries in North America and Europe are important.
Koby, who started her company in 2018 and makes protein bars and powders from crickets, says these are markets "where people have the means to shop for products based on their environmental sustainability and nutrition, compared to less developed countries where shopping budgets may be lower".
Of course, insect consumption is more commonplace in some Asian and Latin American markets but Kriket's Van Meervenne suggests that isn't necessarily a helpful factor when trying to build a category in 2020. Where insects are eaten as part of a culture, Van Meervenne says younger people tend to associate the practice with their parents or grandparents, viewing it as old-fashioned and primitive. "The perception they have is different," he explains, agreeing that markets such as Europe, the US and Australia may be more fertile playgrounds, especially as more consumers become more interested in the roles diet can play in health and sustainability.
The extent to which Europe opens up depends, for the moment, on legislation. In some EU member states, products containing crickets, as well as other insects such as mealworms and grasshoppers, are not allowed to be sold for human consumption.
The European Food Safety Authority (EFSA) has received 13 insect-related applications under the EU's "novel food" legislation. These cover insect species already marketed in some EU member states, for which applications had to be submitted by the end of 2018 as a transitional measure in order to keep these products on the market.
EFSA tells just-food: "Currently, the publication of the first assessments are expected for the autumn."
In 2018, Nordic bakery major Fazer Group launched a range of insect-based products but Van Meervenne believes the wait is why most larger, multinational food companies have been slower to launch in the sector. He says the industry is waiting for "an important legislation decision".
As Europe waits for legislative changes, consumer interest in health and sustainability continues to gather momentum, especially in the shadow of Covid-19. On paper, insect-based foods could offer another option to answer some of these concerns but, amid consumer wariness and stiff competition from plant-based fare, there is, at present, a long way to go before the fledgling sector multiplies.