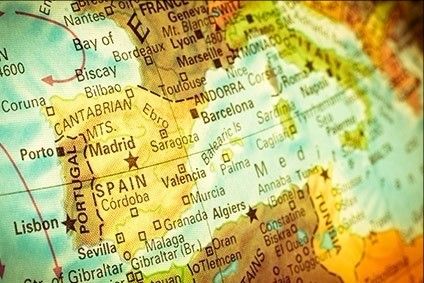 Compared to most other countries in western Europe, Spain has been a relatively large market for dairy alternatives for a number of years, centred on beverages, sold in UHT formats and made from soy.
In recent years, the category has started to expand into new product types (such as yogurt), new formats (the chilled fixture has opened up) and a variety of ingredients (including oat, almond and cashew).
Manufacturers and industry watchers expect the growth of plant-based dairy in Spain to continue – and one notable player is investing behind its belief in the category's potential in the country.
"The Spanish market is already mature but there are still a lot of improvements [to come]," Frederic Sudre, the country manager for Alpro in Iberia, tells just-food.
Yogurt is one of the market segments Sudre sees further opportunity for Danone. In March 2018, the French giant started to roll out plant-based yogurts in Spain under its flagship European dairy-alternative brand Alpro and says it has injected growth into a segment in decline.
"We moved the plant-based alternatives to yogurt from 1.5% of the total yogurt market to 2.5% of the total market in only one and a half years," Sudre says. "It will be so massive I would say that all players should start to work on it. We know they are already working on it."
Market analysts expect Spain's plant-based dairy category, which still sees the majority of its sales in beverages, to continue to see increased activity in other segments.
"Yogurts and desserts are still not very developed in our market. I see more changes in the yogurt and dessert category," David Lacasa, a partner at Lantern, a strategy, innovation and design consultancy based in Madrid, says. "[Spanish manufacturer] Postres Reina has done some nice work on that but we expect that the market will grow to more indulgent and tasty options."
Another local manufacturer, Dhul, owned by France's Andros, has been active in non-dairy desserts, launching products such as a line with almond as its central ingredient. Lacasa adds: "I see more start-ups and international players in the Spanish market with a more indulgent offer. Desserts is definitely a growing opportunity."
Another indulgent segment in Spain where more plant-based alternatives are starting to appear more frequently is ice cream. Earlier this year, Danone launched an Alpro-branded ice cream in Spain. "The market on plant-based ice cream was mainly private label, I would say with not such a good taste or nutrition," Sudre contends, pointing out how the Alpro alternative has "30% less sugar than ice cream". He adds: "We are entering [the market] but we are not the only one. Even the leaders are pushing and there are many brands entering with plant-based alternatives, which is normal."
Taking plant-based alternatives to dairy into more segments in Spain is only one way market watchers see the category developing. Another will be the continuation of a trend that has already taken root, with brands like Alpro and Vivesoy – owned by Spanish dairy business Calidad Pascual – market products containing ingredients other than soy.
Some, meanwhile, argue there needs to be other changes to the recipes of the products on sale. Around the world, as demand for plant-based dairy alternatives has grown and markets have expanded as a result, there has been increasing attention paid to the make-up of some of the products on sale. Danone is one company in Spain that has reacted, launching, for example, a range of unsweetened Alpro drinks, encompassing ingredients including soy, almond and oat.
Asked what manufacturers operating in Spain need to do to continue to capture growing demand for plant-based dairy products, Lacasa argues work will need to be done on recipes. Manufactures should offer "clean-label products with more nutritional value", Lacasa says, reflecting on the beverage category in Spain. "Right now, they are nothing more than water with sugar and something else."
Richard Scheper, a dairy analyst at Rabobank, the Netherlands-based financial services group, echoes Lacasa's comments. "Taste and nutritional value are important aspects for manufactures to improve in order to attract a larger consumer base," Scheper says. "Dairy alternatives generally don't perform as well as dairy products in taste tests. Many alternatives seek to match the taste of milk. Furthermore, the nutritional value of dairy alternatives is generally much lower than dairy products."
Antonio Obieta, managing partner at the Spanish arm of international food consultancy Green Seed, believes more manufacturers will start to launch products with no added sugar and suggests another way to gain a competitive edge would be to add in other ingredients.
"The most important, key, success factor will be to add extra functionality – calcium, protein, etc," Obieta says. Such moves will, in line with how the overall market in Spain has developed, be first seen in drinks and then yogurt, Obieta suggests. "They are not on sale yet but are probably in the pipeline of the NPD processes of the big players," he adds.
And further work on product portfolios is not the only lever manufacturers can pull to drive growth in Spain's plant-based dairy market, analysts say.
Obieta believes manufacturers and retailers should improve how they merchandise products to fuel growth in the category. "Manufacturers need to start to use – or use more consistently – specific secondary displays specific for their vegetable milk SKUs," he says. "As for retailers, they need to decide on a proper specific category strategy and take it to the shelf. There is still too much confusion on the shelves, mixing dairy milks with vegetable milks, or mixing dairy yogurts with plant-based ones."
Spain's plant-based dairy category is expected to become more competitive. And with the tussle for shelf space set to heat up, there is also expected to be greater use of price and promotions among brand owners.
"In Spain there have been a number of relatively cheap dairy alternatives around compared to other countries in Western Europe [but] compared to dairy products, most of the dairy alternatives are still relatively expensive and generally offer healthier margins for producers and retailers. Price levels are expected to come down due to competition and economies of scale in production. Generally, the next five years the market for dairy alternatives will become more mature including an increasing competition on price," Rabobank's Scheper says.
In such an environment, it would not be a surprise if manufacturers started to look at where else consumers buy food and beverages. Danone's Sudre is upbeat about the prospect for the overall plant-based dairy market in Spain but, when asked to think about how the industry could look in 2022, he immediately replies: "We still have big room to improve, mostly in channels. We are still very, very modern trade-oriented but on-the-go is just exploding, so you can imagine that with all the ready-to-drink coffees, there is still a big room for growth."
Danone has sought to build its presence away from mainstream retail, with Sudre pointing, for example, to listings at petrol stations for Alpro ready-to-drink coffee beverages.
"That's the future. We are conquering this space. We didn't use to play in it. And that's just the beginning," he says. "On our route-to-market, we are also working with distributors and partners, such as [Spanish dairy group] Capsa and so on because they have a better footprint on some channels than we have."
It is, industry watchers say, early days for plant-based dairy in Spain's foodservice market. "It is still very underdeveloped," Lantern's Lacasa says. "Only speciality cafés offer this type of milk to consumers. I see a growing demand from consumers in these cafés for this type of milk. Spain is a café latte market, so that is how it should grow."
Obieta says demand is starting to build. "There is an emerging demand to make 'café-con-leche' with non-lactose products. This would mean that "barista" alternatives in vegetable milks will be welcome, with improved foaming texture, for example," he says.
Overall, Danone is one company that sees Spain offering opportunities for growth for plant-based dairy. And it believes its competitors need to act.
"We are investing and what we see that the consumer is responding to that because this is a massive trend," Sudre says. "[Others] are starting to [invest], yes – because they need to catch the train."