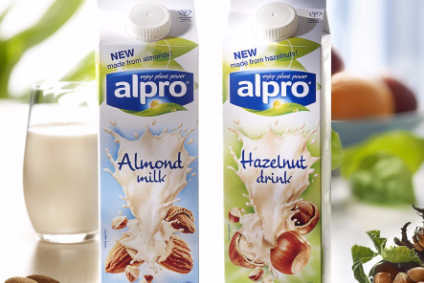 Danone announced a deal to acquire WhiteWave Foods this morning (7 July) in a move that values the Alpro maker at around US$12.5bn. The large-scale acquisition ramps up Danone's presence in the US and enhances its exposure to on-trend categories. For its part, WhiteWave expects the deal will move it to "the next phase of growth". just-food looks at how each group stands to benefit from the business combination.
Danone's acquisition of WhiteWave Foods is a "perfect match of vision, culture and business", Emmanuel Faber, CEO of the French group, told analysts this morning after the company announced its move for the Alpro-to-Silk owner.
Faber had just revealed Danone had struck a deal to take control of WhiteWave in a deal worth US$12.5bn, including the assumption of debt. Danone will fund the acquisition by taking on debt of its own.
The scale of the deal has shades of Danone's EUR12.3bn acquisition of Numico in 2007 – an acquisition that ultimately failed to please investors who felt the French group paid too high a price to expand its infant nutrition business. But there was less investor cynicism this morning, when Danone share prices spiked by more than 5% before settling back at EUR65.08 at 13.20 (BST), still up almost 3%.
Indeed, the US$12.5bn price tag was described as "modest" by Warren Ackerman of Societe Generale. At US$56.25 per share, Danone said the offer represents a premium of approximately 24% over WhiteWave's average 30-day price of US$45.43. "It seems like a modest premium, 24% for a genuine growth company," Ackerman said.
Danone is confident its acquisition of WhiteWave will pay dividends. The French dairy giant says it expects the transaction to be "solidly accretive" to earnings within the first year after closing and to deliver "above 10% accretion" based on expected run-rate synergies thereafter. CFO Cecile Cabanis reveals that "in terns of cost of capital, it will take six to seven years" to fully recover the expense.
The transaction is expected to result in approximately US$300m of EBIT synergies by 2020, the company notes. Around 85% of these will be generated in the US, where Danone and WhiteWave's businesses will be integrated. "We are today fully confident that this will be highly executable but it is too early to share more details," Cabanis says.
Looking at synergies, MainFirst analyst Alain Oberhuber notes: "As Danone expects that most synergies will come through by fiscal 2018, we expect that Danone's EPS will increase significantly by FY18."
The move will double Danone's presence in North America, where WhiteWave is a top four dairy player. Faber says the combined company will benefit from synergies of scale and the group's regional presence will be strengthened across the US.
But this is not a deal motivated by synergy. It is a deal about growth – for both Danone and WhiteWave.
Faber explains: "There is a compelling business logic that only WhiteWave and Danone can address together… Danone is unique position, through its global presence and leadership on the chilled shelf… to take WhiteWave to its next level of growth and lead us to step-change our alimentation transformation plan."
The WhiteWave acquisition exposes Danone to some fast-growing segments of the North American grocery market. "We benefit from being in categories that are supported by very strong secular consumer trends and we play in those categories with absolute leading brands and great product technologies," WhiteWave president and CEO Gregg Engles said.
WhiteWave generates 38% of its sales in plant-based foods and beverages, 34% in organic products and 28% in what Danone described as "indulgence" categories, referring primarily to WhiteWave's coffee creamers business.
As Ackerman observes, brands like Earthbound Farm – the organic fresh produce business – Land O'Lakes and International Delight creamers do take Danone somewhat away from its core retail dairy business.
Faber presents this as an opportunity, insisting Danone had been looking at ways to extend into the fresh produce area of the store in the US. "Earthbound Farm is creating a very interesting opportunity to penetrate in a very attractive part of the shop… Both WhiteWave and Danone are considering further inroads and of course together we will be even more powerful. Through the Earthbound presence, we will be able to penetrate that. It is a Trojan horse to a fast-growing area in the US."
Likewise, coffee creamers opens up out-of-home sales to Danone, reflecting growth in the foodservice sector in North America, as well as growing demand for creamers at home thanks to the proliferation of single serve coffee machines in US households. Faber says it therefore represents an "interesting add-on adjacent to our categories" that moves Danone "into new moments of consumption away from home".
For WhiteWave, the potential for the company to expand internationally was an important factor in the decision of its board to unanimously back the deal, Engles said.
"We [at WhiteWave] have long believed that perhaps our greatest opportunity to create value is to establish and drive the [global] market for plant-based alternatives to dairy… and along that path build leading brands in key geographies," Engles explained. "We have been successful in North America and Europe. Notwithstanding our success we are still a modest-sized company. The resources to build a global category in a fast paced global environment is difficult for a company of our size."
WhiteWave generates 86% of its sales in North America and the remaining 14% in Europe, with a focus on markets like the UK, the Netherlands and Belgium. Under Danone, WhiteWave's geographic presence is expected to expand quickly as the group's brands are fed into Danone's sales channels.
"Danone sees value in that global opportunity that they can marry with their existing infrastructure and capabilities to drive that opportunity more quickly. It is a competitive world and speed is important," Engles observes.
Faber adds that, in the near term, brands like Alpro are likely to receive a boost in the "big European markets" where Danone has a strong share of the dairy counter, even if the dairy alternative brand has enjoyed recent growth and is one of the largest brands in the category in a number of markets in western Europe. However, Faber continued, the "much bigger opportunity for the long term is about emerging countries".
Faber says there is strong demand growth for plant-based dairy alternatives in regions like Africa, where Danone is already working to capitalise on growing dairy sales.
Euromonitor International analyst Lianne van den Bos concurs the global opportunity to extend WhiteWave is significant. "This acquisition will boost Danone's presence in North America in the short run, but also offer overseas potential in the long run. WhiteWave could use Danone's existing distribution network in China – where the US group has already been starting to build a business in recent quarters – to expand its Silk brand to a non-dairy milk alternative market ten times the size of the US and turnaround Danone's growth trajectory in the country," she predicts.
With all this apparent potential, it would be easy for Danone management to get carried away with expanding WhiteWave's brands. However, Faber insists the group will not take its eyes off the continuing turnaround of its own European dairy business.
In Europe, Danone is trimming SKUs and relaunching its brands to both improve its margins and lift its sales trajectory. "You have my full commitment. We are fully committed to get dairy back on track," Faber stressed during the call. He reveals that the group's Actimel and Danonino brands are "performing well" after their relaunches, while Activia is on track to be relaunched in the fourth quarter of this year. "Be assured that the priority for the team is 120% in Europe dairy until the end of this year."