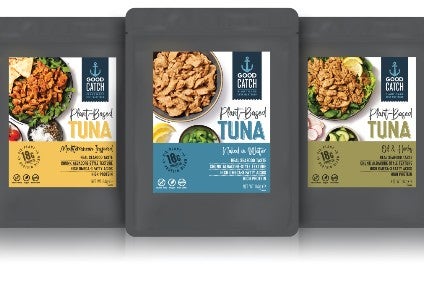 David Burrows sets out the state of play in the UK grocery retail market for seafood-alternative products – and asks those in the category how it could take shape in the coming years.
First there was 'clean' meat. The alternative protein seen as the next big thing is faux fish.
In the past 12 months, the nascent category has been awash with innovation, multi-million pound investment and new arrivals as plant-based seafood finally starts to catch on in markets including the US and the UK.
It's been "crazy compared to 10 years ago when we started out", explains Eugene Wang, founder of Sophie's Kitchen .
And it's the UK market that brands are targeting. "It's a very important springboard for the EU and global market," Wang explains. "This is where plant-based really started."
In the 52 weeks to 29 December 2019, sales of 'fish-free fish' were up 14.9% to a shade over GBP3.1m (US$4m), with volume also rising 15.9%, according to Kantar Worldpanel data supplied to just-food.
Fishless fingers took the biggest chunk of the market with sales nudging GBP1.8m, up 4.5% on the year before. It was a far better 12 months for a sub-category that was worth GBP2.57m in 2017 but dipped dramatically in 2018. Upmarket UK grocer Waitrose entered the fray with its Fish'less' fingers, tapping into the Veganuary trend that sweeps omnivores into a 31-day net of animal and fish abstinence at the beginning of each year.
This year it has been Good Catch that has grabbed the headlines. The plant-based seafood brand that reached 4,500 stores in just 12 months in the US has arrived on UK shores with three "tuna" products made from legumes, plus seaweed and algae extracts. Gathered Foods , the US firm behind the brand, has just attracted US$32m to fuel "significant expansion in distribution" across Europe, as well as North America and into Asia. "We are just getting started," suggests co-founder Chad Sarno.
Despite some decent growth in 2019, the UK fish-free market remains a drop in the ocean compared to its meat-free cousins – Mintel has estimated the UK meat-free category to be worth GBP816m, up 40% in just five years (in the US there's a similar gap: $801m versus $9.4m, according to The Good Food Institute ). There are a number of reasons why the shadow is so long.
Meat-free has had a head start because it was the market that made most commercial sense: meat is an everyday product (sometimes three times a day), whereas fish tends to be more of an occasion, so the opportunity was huge. Mimicking beef and chicken was also easier. "They're bouncy meats," explains Sarno, "but seafood proteins are more dense and layered which is what creates the flakiness – and that texture is much more difficult to [recreate]."
Meat-free NPD could also remain focused on a handful of species, making the task facing the likes of Impossible Foods and Beyond Meat "very simple", according to Wang. Compare that to the "huge task" facing seafood substitutes, with up 20 different species to perfect, he adds.
Whether they have cracked it is open to debate. Kim Lopdrup, CEO at Red Lobster , the largest seafood chain in the world, recently called plant-based seafood products "terrible". Philip Mansbridge, CEO at ProVeg, an organisation seeking to reduce global consumption of animals by 50% by 2040, also thinks manufacturers haven't quite got the products right. Beyond Meat's 'beef' burger, for example, is "fairly indistinguishable" from the meat equivalent, he says. "There isn't anything in that space in fish yet; they're nice but they're not quite there yet."
Ask the likes of Sarno or Wang and they cite the years of work that has gone into crafting their products to ensure they can compete with the real thing – on flavour, texture and nutritional content (let's not forget that, according to Cargill 's Feed4Thought 2018 survey, 44% of Brits and Americans are adding more fish to their diets because of "its big impact on health and relatively small impact on our planet").
There is one big advantage to creating seafood from scratch: you can try and eliminate the things people don't want. "We polled a lot of consumers and one thing they didn't like about tuna was the smell," Sarno explains. "We wanted a 'sea smell' rather than a fishy one so we used seaweed and algae extracts." The tuna products, which will sit alongside the other canned fish at Tesco supermarkets, also contain six legumes.
At Sophie's Kitchen, which has had its 'prawns' and 'smoked salmon' stocked in Sainsbury's for the past 12 months, the team is "brewing a lot of technology", according to Wang, with a new protein set to be launched "pretty soon". Wang also told just-food he is hoping to make the new product at Plant-Based Valley, a 600,000 sq ft manufacturing site based in north-east England and owned by entrepreneur and V-Bites founder Helen Mills.
The UK presents an attractive opportunity for plant-based manufacturers – the doors of the supermarket buyers are easily opened these days – but that doesn't make it an easy market to penetrate. "UK consumers are notoriously picky," says Wang, "especially when it comes to plant-based food. If you can make it here, you can make it anywhere." It's therefore the perfect place to test the water.
Equivalence with real seafood is essential if these brands are going to convince fish eaters to cut the cod or ditch the dab. "You need it to be exactly the same – and cheaper," Mansbridge notes. If not, potential customers tend to be limited to vegans, vegetarians (and those curious to try these diets), plus the shoppers very interested in the environmental of their food choices. The number of these is growing: according to YouGov research conducted for plant-based product manufacturer Quorn Foods , one in two UK consumers now chooses plant-based alternatives for environmental reasons.
In one sense, fish-free can be an easier sell to eco-conscious shoppers as they tend to be well-versed in issues such as over-fishing and are tuned in to things like MSC , a certification scheme for sustainable fishing. They are also joining the dots between plastic pollution and sea life, with concerns rising over microplastics flowing through the food chain and onto their dinner plates. Mercury is another major worry among US shoppers in particular.
However, manufacturers believe there are more green bullets they can spray, as the alternative meat brands have done, to help their cause. The impact of beef and lamb in relation to climate change has been well documented, while chicken is also getting a kicking thanks to the sector's reliance on soya, a commodity linked to deforestation and habitat destruction in parts of South America.
Fish farmers in the UK don't use anywhere near as much soya as poultry, pork and egg producers, for example; what's more, they seem to source far more 'deforestation-free' soya than their counterparts (an analysis of seven major supermarkets by 3Keel, a consultancy, found 31,366 tonnes were used for salmon feed, of which 74% were certified sustainable; for pigs and poultry the figures were 10% and 37% respectively).
However, it isn't all good news: research at the Institute of Aquaculture in Stirling, Scotland, has showed that switching away from fish feed to plant-based feeds – like soya – has "compromised" the nutritional value of the product, with omega-3 fatty acid content falling.
The environmental impacts of fish farming are more nuanced than, say, beef, but given the growth targets in place – the Scottish government wants to double the economic contribution of the sector to GBP3.6bn by 2030 – these ponds will be in the public eye, and that is good news for those producing alternatives. "Somehow fish seem more environmentally friendly and less cruel, but it isn't that way," says Mansbridge.
It can also be tricky knowing which fish is the sustainable option – shoppers can end up grappling with certification, countries of origin and methods of catch. "Plant-based seafood takes out that guesswork," says Jen Lamy, sustainable seafood initiative manager at The Good Food Institute.