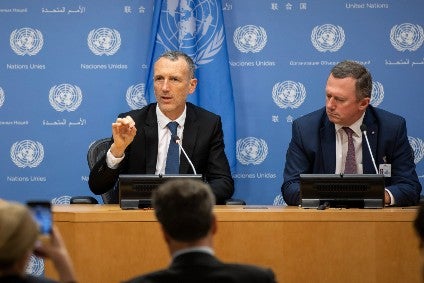 Last week's UN climate summits underlined how Big Food is now at the centre of debates on issues like climate change and development, Ben Cooper reports.
During last week's UN summits on climate change and the UN Sustainable Development Goals, food was naturally a recurring topic of discussion. In such forums, the global food system is characterised in many forms and represented by a diverse range of stakeholders.
Multinational food companies are a hugely significant component in the food system, their power itself often being a matter of debate during such events, and have therefore always been a key stakeholder group. However, last week underlined how much has changed in how the industry, as represented by the heads of the big international food companies, participates and contributes its ideas.
Rather than responding to issues and finding itself invariably defending a position, the food industry is seeking to be a leader in the concerted search for solutions. Companies cannot expect to set the agenda – to have such power would be undesirable and severely compromise the institutions themselves – but they can help shape it.
During the UN General Assembly last week, two of the special summits taking place were of particular interest to the food sector, one on the UN Sustainable Development Goals (SDGs) and the other on climate change, and the industry was well represented at both.
Above and beyond
UN progress reports on the SDGs published in July revealed that, despite progress in some areas over the past four years, on some SDGs "progress has been slow or even reversed". The global response has not been ambitious enough, the UN said.
Among the subjects discussed at the SDG Business Forum, held during the two-day SDG Summit, was how business can scale up its contribution. Companies that had already gone "above and beyond" the call of duty were recognised but the conclusion of a report published by the UN Global Compact and Accenture last week was that the business contribution to the 2030 Agenda is "not on track".
The report found that only 21% of CEOs believe business is playing a critical role in contributing to the Global Goals. The SDGs have proven to be a powerful brand with which multinationals can partner and align policies. It is fair to say food companies have not been shy in tapping into this, with the familiar SDG icons now frequent features in company sustainability reports.
There is a strong sense that coordinated and effective engagement by companies can help accelerate the sluggish rate of progress during the first four years but the danger of reference to the UN SDGs being used as greenwash is clear. In this context, the recent launch of a guide to integrating the SDGs into business reporting from the Global Reporting Initiative and UNGC, is very welcome.
Climate action and inaction
Last week began with the much-publicised Climate Action Summit which 16-year-old climate activist Greta Thunberg had sailed the Atlantic Ocean to address. With their senior executives, one imagines, arriving in New York by more conventional, and higher carbon, forms of transport, major food companies were also well represented at the event.
UN Secretary-General António Guterres had convened the conference in the wake of last October's sobering report from the Intergovernmental Panel on Climate Change (IPCC) to "mobilise political and economic energy".
The report highlighted just how behind global GHG reduction efforts are in pursuit of the Paris Agreement goal to restrict global temperature increase to well below 2°C while pursuing efforts to limit global warming to 1.5°C. The report also set out in alarming detail the extent of impacts if global warming could be restricted to 1.5°C aim and comparing them with the effects of only staying within the 2°C scenario or failing to achieve even that, which would be the case if current trends continue.
While the IPCC has significantly raised public concern around climate change, being a principal catalyst for the massed demonstrations seen in recent months, it has not had the effect on governments as might have been hoped. Mobilising political and economic energy means Guterres essentially imploring national governments to adopt more radical and progressive legislation to reduce GHG emissions.
There were some positive announcements, and what was said gave reasonable grounds to be hopeful of better in 2020, but Guterres did not hear anything approaching what he needed to, and was hoping for, from the big GHG-emitting nations. So, overall the reaction was mooted.
While the Summit failed to produce the step-change in government climate policies Guterres may have, somewhat vainly, been hoping for, the private sector was reflected in a better light.
The CEOs of 87 multinational companies, including food giants Nestlé, Danone and Unilever, were officially recognised for committing to more ambitious greenhouse gas (GHG) emissions targets as part of the Business Ambition for 1.5°C — Our Only Future campaign, launched in June by the UN Global Compact (UNGC).
In committing to science-based targets aligned with limiting global temperature rise to 1.5°C above pre-industrial levels, the companies are demonstrating a prompt response to the IPCC's wake-up call. Guterres has stressed the important role the private sector has to play, the enhanced climate commitments of the 87 multinationals provide tangible evidence of the substantive contribution responsible companies can make. It represents one of the few positives to emerge from the Summit.
The world's most powerful food companies were forceful advocates of the ambitious 2015 Paris Agreement on Climate Change and it is therefore not surprising to find them among the companies taking the strongest lead on emissions.
UNGC introduced the idea of science-based targets five years ago, and to date aligning with the 2°C scenario has been considered sufficiently progressive. To meet the Business Ambition for 1.5°C, companies can either align targets for both direct and indirect emissions with 1.5°C emissions scenarios, or commit to achieving net-zero GHG emissions by 2050. Companies can also elect to commit to both options and this has now rapidly become the gold standard for corporate emissions reduction policy, underlining the impact the IPCC report has had and the sudden elevation in public concern over climate change.
The UN climate change agenda also illustrates how industry engagement on major global issues has changed. An important difference between the framework laid down in the Paris Agreement and what had gone before, was the increased participation of non-state actors. These include NGOs and organisations such as universities, unions and trade associations, but the Paris Agreement was notable for the prominent role private-sector organisations, and multinational CEOs, played in shaping and championing the UN climate agenda.
Interestingly, having previously sought influence over UN climate policy in order to limit climate regulation by governments, in the lead-up to the Paris Agreement private-sector organisations and business leaders were generally supportive of stronger climate legislation, and have continued to be, not least to provide a regulatory "level playing-field".
As leading food companies such as Nestlé ramp up their emissions goals, the risk of finding themselves at a competitive disadvantage to companies investing far less in emissions reduction, or nothing at all in some cases, will only increase.
Adopting the 1.5°C commitment further increases the onus on companies to reduce emissions along their raw materials and packaging supply chains. This is particularly challenging for food companies because of their dependence on agriculture. Around 80% of GHG emissions relating to food production are generated by agriculture, with agriculture overall accounting for around 25% of global GHG emissions.
When announcing, earlier this month, it had signed up to the Business Ambition for 1.5°C, Nestlé unsurprisingly identified agriculture, and its dairy supply chain in particular, as a key area for action. The company referred only to improved management of its dairy supply chain. However, by highlighting the importance of increasing plant-based protein production, Nestlé's plans also speak to the substantial emissions reductions food companies can realise by developing the plant-based category and thereby reducing their dependence on livestock farming.
Meanwhile, the emphasis Nestlé is placing on scaling up initiatives in agriculture aimed at absorbing carbon reflects a key attribute of agricultural supply chains that will mitigate the daunting emissions challenge they represent for food companies. Unlike emissions anywhere else in the value chain, agriculture offers potential for carbon sequestration. Fostering adoption of farming practices such as minimal tilling, crop rotation and the use of cover crops can boost the capacity of soil to retain carbon and will feature more prominently in food companies' sustainable agriculture strategies, along with encouraging farmers to plant more trees and hedges.
The IPCC report has given crucial new impetus to the global climate agenda, providing a catalyst for mass protests and moving climate change up the political agenda across the world. Its key message is that governments have to do more to accelerate their climate plans, in order to set the world back on the path towards a 1.5°C limit. While protestors have berated governments for moving too slowly, global corporations are also consistently targeted by campaigners and vilified by climate protestors, including those which are moving the fastest on GHG emissions and doing most to encourage greater urgency from their peers and from policymakers.
Any CEO hoping for a little kudos, or the reputational bounce of a favourable headline, from having their new target heralded at the Climate Action Summit, would have been sorely disappointed. Instead, the summit and the world listened uncomfortably to Thunberg's impassioned and uncompromising condemnation of the global community's response to climate change. Thunberg made sure the key takeaway was that all the stakeholders gathered in New York must do better.
Last week, government representatives had more reason to be looking at their shoes as Thunberg spoke than industry chiefs. However, as with the UN SDGs, industry has to make good on commitments that, when announced, give them such a positive announcement. More food companies signing up to the Business Ambition for 1.5°C will do much to show the industry can be part of the solution. Those doing so are in a far stronger position to lobby governments for supportive public investment, policy and regulation.