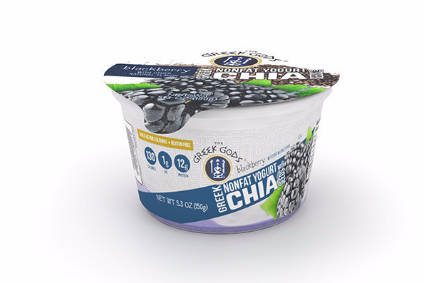 Despite Hain Celestial lowering the top end of its forecasts for annual net sales and earnings yesterday (4 May), the US group earned praise from Wall Street for the steps it is taking to cut costs and zero-in on health and wellness trends in the US. On an investor call, Hain Celestial's management team talked at length about what it is taking to position itself for future growth. Hannah Abdulla reports.
There were two topics that dominated the Hain Celestial investor call yesterday (4 May) in the wake of the group's third quarter results; the US group's renewed focus on responding to consumer demand for healthier products and the Greek Gods owner's moves to future-proof its business with a cost-cutting programme to allow reinvestment of savings into five newly-outlined "core-platforms".
The company behind brands from Tilda rice to Ella's Kitchen baby food revealed in February it had hired management consultants Boston Consulting Group to analyse, among other things, how the business could reduce "complexity" and save around US$100m in cost savings between 2017 and 2019, enabling the company to reinvest in its brands.
Questions earlier in the year on where the savings would come from were left unanswered. But Hain Celestial looked to address those yesterday, confirming initiatives including "optimising" plants, co-packers and procurement, as well as "rationalising" the company's product portfolio.
Among a series of announcements yesterday was news Hain Celestial had earmarked "a group of brands" worth US$30m in sales for disposal, under the belief the unnamed products "no longer fit" the company's "core strategy". Irwin Simon, Hain Celestial's founder, president and CEO, said more detail on this initiative would be provided when the group reports its annual results in the autumn.
Hain Celestial did reveal the so-called Project Terra review had identified five "strategic platforms" under which its brands would be categorised, based on consumer habits and needs, which Simon said would allow the company to "sharpen its platform for growth".
The units are "fresh living", which will focus on poultry, yoghurt, plant-based proteins and other refrigerated products. A second arm will be "better-for-you baby", which will include infant foods, infant formula, diapers and wipe products. A third – "better-for-you snacking" – will focus on what Hain Celestial called. "wholesome products for in-between meals". The company said a "better-for-you pantry" unit would look at "core consumer staples". The fifth division would be "pure personal care", products with "cleaner and gentler ingredients".
"The grouping of brands was determined by common consumer needs, route-to-market or internal advantage to provide a strategic roadmap to continue our natural and organic leadership position, which I began in 1993," explained Simon. "The new platforms will also let us look more closely at distinct channel strategies for our brands ensuring that we continue to extend our advantage in the natural and to grow in the multioutlet market. These platforms will apply globally and represent distinct opportunities for incremental growth and margin improvement aligned with consumer demand."
Under the platforms, Hain Celestial plans to invest in the marketing behind its top 15 brands, which it believes will drive growth and improve margins. Hain Celestial will look to adjust and align its prices, re-think its "price pack architecture" and reallocate investment in promotions based on the return on investment. The company, meanwhile, announced the appointment of Jim Meiers – its US chief supply chain officer – to the position of chief operations officer of the whole group to manage supply chain, procurement, productivity and manufacturing.
Meiers said Hain Celestial is already looking at saving US$50m in costs through productivity by the end of its 2016 financial year. Project Terra, he added, is "incremental to our current productivity process. Hain will use these savings to reinvest in our growth brands to drive consumption".
There were two aspects to Hain Celestial's plans for investment. One, solidifying its focus on becoming a leader in health and wellness and, two, setting up a venture unit. The unit, Cultivate Ventures, will have three tasks – invest in smaller brands that are in "high-potential categories", incubate smaller acquisitions Hain Celestial may make in order to grow the assets to a scale for when they can join one of the five "platforms" and to invest in products, concepts and technologies that focus on health and wellness.
Health and wellness has been central to the development of Hain Celestial but the company has been facing intensifying competition from more conventional but larger packaged food companies, especially in its home market.
The company has sought to continue to expand its business in the area, not just in the US but also overseas. However, one of the main pressures on Hain Celestial's growth in recent quarters, particularly in the US, has been the inroads companies like Campbell Soup Co. have made in certain categories.
However, Simon said Hain Celestial was confident about the continued growth of healthier categories and about the company's position. "Our retailers want more and more health and wellness. And I've never seen it like this from around the world. We got a pretty good feel that's a category that consumers want today," he asserted. "This is an exciting category, absolutely attracting a lot of competition as they see conventional categories decline. I think what's important is we recognise how millennials want these brands, how millennials are very, very, very responsible in the food they eat. There are very few companies out there that can boast and say 99% of their products are GMO-free. Over 71% of our products from a transparency [point] have 13 ingredients or less. Over 40% of our products today are organic. A lot of retailers, a lot of consumers want more and more health, Hain is there, and Hain will continue to be there," he added.
Alexia Howard, an analyst covering Hain Celestial at Sanford Bernstein, said the company is well-positioned to meet one growing trend in the US – increased demand for products without GMO ingredients. "We believe Hain is best positioned with regards to GMO labeling, as almost all of its products are GMO-free," she said.
The results of Project Terra show health and wellness categories will continue to be a focus within Hain Celestial's M&A strategy, part of which will now take the form of smaller investments through the new Cultivate Ventures division. The unit will also invest in some of Hain Celestial's existing smaller brands the company says are in "high potential categories", such as SunSpire chocolates and DeBoles pasta.
Simon said the group of brands under the Cultivate Ventures umbrella generated sales of "somewhere around" US$20m to $30m. "There's some great businesses that are going to be part of this that are going to get focus, love and attention, where before they kind of got lost in the first 15 brands. And it's interesting as you look at valuations today and you look what businesses are being bought for and what these are worth and get them on a growth trajectory, there's some great businesses that we can really turn into something. And they're all on trend categories, whether meat-free, chocolate or high-fibre crackers," he said.
However, when it comes to smaller, on-trend acquisitions, Hain Celestial will face competition from the likes of Campbell and General Mills, which have both recently set up similar units. In particular, General Mills, with its 301 Inc. division, recently invested in organic plant based soup maker Tio Gazpacho and cottage cheese firm Good Culture.
Nevertheless, Hain Celestial's announcements yesterday did win some praise from analysts covering the business. "The company acknowledged that the level of competition is intense, especially as the company continues to migrate into the mainstream channels, so freeing up resources for reinvestment therefore makes sense," Sanford Bernstein's Howard said.
That said, the group is facing a fast-evolving landscape, particularly in the US but increasingly in markets like the UK. To be fair to Hain Celestial, the company realises trading conditions are different to those it had seen for over much of the last two decades when Simon and his team were building a health-and-wellness focused business. For much of that time, Hain Celestial was the challenger and the major CPG players were slow to react. Now, Hain Celestial's larger rivals are becoming more attuned to changing consumer trends and are adapting, while, at the same time, the company is facing increased pressure from below, as smaller players make inroads into some categories. A note Howard issued today, for example, citing Nielsen data, showed upstart nut butter business Justin's LLC had grabbed 9.3% of that category in the US, not far behind Maranatha's 11.5%.
The Project Terra programme was a necessary exercise. Hain Celestial has had to reassess and refocus in order to try to remain one of the leaders in the healthier parts of the sector.