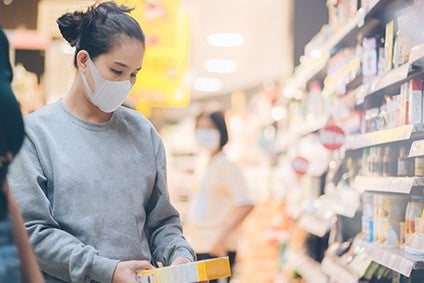 Concerns over how Covid-19 is transmitted has affected how some consumers are using packaging and buying consumer-goods products. However, as Jessica Paige reports, research suggests sustainability remains a contributing factor in the purchasing decisions of a notable cohort of consumers.
Since the start of the Covid-19 coronavirus pandemic, consumers and businesses have had to alter the way they view packaging health and safety, with the "war on plastic" being put on hold to address these concerns.
Early in the pandemic, uncertainty about how the virus spread meant that, among the majority of shoppers, sustainability took a back seat. Consumers were concerned reusable packaging could increase the risk of transmission, and single-use plastic began to return to the mainstream, despite having been acknowledged as environmentally unfriendly and unsustainable. Plastic waste began to rise, with some shoppers discarding gloves and masks carelessly.
Regulatory moves were delayed. The UK plastic straw ban was delayed from April to October. In the US, certain states delayed bans on single-use plastic bags. Some temporarily prohibited the use of reusable bags.
It seemed that sustainability was being forgotten, however, research indicates concerns over sustainability still persists among a notable cohort of consumers in certain markets.
David Wilson, the UK managing director of Vanden Recycling, says: "It seems clear that there has been a partial shift in public attitude to plastics during the pandemic. We're seeing ongoing demand for plastic packaging and increased use in some areas.
"That, however, is also going hand-in-hand with an expectation for the ability to recycle that packaging and inclusion of recycled content. There's been no reduction in demand for PET and HDPE for use in plastic bottles and other polymers are also in demand for other plastic packing applications.
"For the moment it seems that the public's antipathy towards plastic as a packaging material has been set aside as they think about the safety and security of the goods they buy."
Packaging giant Amcor conducted research last month that highlighted the need for better recyclability. The results of the company's research showed consumers want to be educated on recycling practices and how to live more sustainably.
At the end of last month, scientists from various countries signed a statement urging consumers to return to reusable packaging, declaring it safe to use.
The open letter, convened by Greenpeace, said: "Reuse and refill systems are an essential part of addressing the plastic pollution crisis and moving away from a fossil fuel-based economy. They can create jobs and help build local economies.
"The Covid-19 global pandemic has triggered a discussion of how to ensure the safety of reusable systems in a public health crisis. Based on the best available science and guidance from public health professionals, it is clear that reusable systems can be used safely by employing basic hygiene."
The statement explained the virus is mostly spread through inhaling aerosolised droplets and not through contact with surfaces, and that disposable products present similar issues to reusable products.
TIPA, an Israel-based compostable flexible packaging company, commissioned a poll to find out how perceptions of plastic in the UK have changed during the Covid-19 pandemic.
The poll results revealed that, despite the virus, 85% of consumers believe compostables should replace plastic food packaging and 58% are willing to pay more for it. Alongside this, 67% of consumers expressed concern about increased plastic waste during the UK lockdown.
"The vast majority of UK consumers are concerned about increased plastic waste, and they are looking to the food industry and the government to empower them to buy sustainable alternatives, even if it costs more," TIPA CEO and co-founder Daphna Nissenbaum says.
"While conventional plastics continue to endanger our oceans, wildlife, natural areas, and our health, compostable packaging can fully degrade and return to the earth safely. Now is the time for decision-makers to show leadership, and encourage compostable packaging for the sake of the natural environment."
Richard Bracewell, marketing and technical director at UK paper products group James Cropper marketing and technical director, says demand for eco-friendly packaging has not abated. "We are seeing increased interest and demand for recycled papers, including CupCycling, our innovation to upcycle used coffee cups and transform them into beautiful papers. This demand is coming from across the board in terms of industries," he asserts.
"Many brands have their own sustainability ambitions, devised by listening to their customers' needs, that go above and beyond regulatory requirements. For example, in the fragrance and cosmetics sector, we are seeing increased interest from consumers, not only on the provenance of the ingredients that go into the products themselves but the packaging itself."
Meanwhile, Ireland-based corrugated packaging major Smurfit Kappa Group found that, as well as being important to businesses and consumers, sustainability is still driving research and development despite Covid-19.
Results from a survey by Smurfit Kappa Group, conducted in collaboration with The Financial Times, revealed that: "In the face of this uncertainty, leading businesses […] are moving from global conversation to corporate action" in a push to remain relevant, with 83% of businesses describing sustainability as a business opportunity to be exploited and 72% describing sustainability as a lasting trend.
Delta Global, a supplier of packaging for "luxury" retail customers, underlines how packaging should still be used to build relationships with consumers.
CEO and founder Robert Lockyer says packaging will need to "transcend its physical form" in order to add value, such as through messaging, customer experience, and socially responsible initiatives.
"With concerns around safety and a widened physical distance between brands and consumers, messages with a personal touch are definitely the best way forward if companies are to rebuild trust and customer confidence following this disruption. Printed URLs and scannable QR codes should be placed on the item that will take you through to personalised 'thank you' messages from brands, or styling advice guides on the company's website," Lockyer suggests.
"Not only are these much more environmentally friendly options, these tactics will also ensure retention and offer another touchpoint to re-market to existing customers and build long-term relationships."
This article original appeared on just-food sister site packaging-gateway.com.