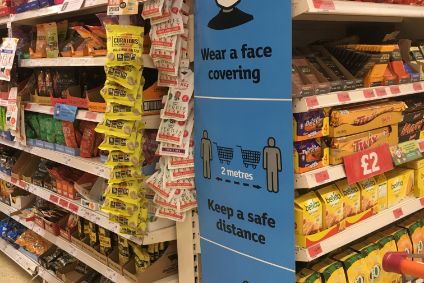 It's been a long road for food manufacturers grappling with the consequences of Covid-19, and there's still more mileage to cover until the virus is beaten, or at least contained. Simon Harvey assesses what they can take forward from their experiences during the coronavirus pandemic.
It's been a tough past year for packaged food manufacturers, having to swiftly adapt business strategies around Covid-19, while still getting product from factory to shelves, and the challenges remain, with markets in Europe and the Americas still in the teeth of the pandemic.
What has emerged from the early days of stockpiling, empty supermarket shelves and days and even weeks to secure a home-delivery slot, is the critical importance of food and the companies and people that process them. Employees suddenly found themselves labelled as front-line workers, without the option to stay at home like many office staff, providing an essential service to keep us all fed and avoid what could have amounted to chaos among the populous.
Factories were opened 24-7 in some instances, with workers donning full face visors and other personal protective equipment (PPE), now common terminology for most of us, and undoubtedly intrusive too for those having to wear them. Meat and poultry producers in particular came under added scrutiny over ensuring worker and food safety, but not all could prevent staff from contracting the virus, despite a myriad of measures and processes, and unfortunately, many employees paid the ultimate price.
Agility and adaptability might best describe the pandemic-related characteristics of food manufacturers as they adjusted production volumes and stopped making some products as supermarkets cut the number of SKUs in favour of the most essential and higher-volume consumer items. Others had to contend with the closure of restaurants, food-serving entertainment establishments and other hospitality venues, which for some were essential revenue streams.
So what have packaged food producers learnt that could influence strategy and decision-making going forward, and their preparedness for future shocks, if one is able to prepare at all?
Cyrille Filott, an analyst at Dutch investment bank Rabobank, says you can't really prepare for future shocks, it's more a case of a change in mindset that companies need to take.
"What you can do is establish a culture of being able to change quickly when something hits and give people the freedom to think outside of the box," he tells just-food, adding there's been an acceleration around how manufacturers communicate their purpose to consumers and society.
"Being purpose-led, so not necessarily looking at financial returns only but much more about trying to do good, such as in the US focusing on Black Lives Matter or diversity inclusion or carbon footprints. I would like to think at least some of that will stick and some of that will remain a focus of these companies," Filott explains.
E-commerce, while growing before the pandemic, has become a critical means to get food to consumers, whether it be a direct-to-consumer model embraced by manufacturers, online ordering through supermarkets or delivery companies getting products directly to people's doors. But it's not so much e-commerce in its own right but an omni-channel approach that companies have emphasised as being of most importance.
They have realised the benefits of consumer data and analytics in optimising their performance around sales, planning, supply chains and logistics, and linking production to consumer data, but also insights around future product innovation, aspects that have accelerated and are likely to remain post-coronavirus, Filott says.
Health trends have gained traction, particularly around immunity, with so-called functional foods becoming more prominent, as demonstrated by what Filott equates to a 20% increase in vitamin sales in Europe. But while functionality tends to have legs beyond an event like Covid-19, he suspects "they might fade away again" at some point, while demand for plant-based foods and free-from products has, and will remain.
While manufacturers have adapted to what consumers and supermarkets need by cutting SKUs, Filott is concerned some may have gone too far, which could put them in precarious position.
"What you see happening with all [of] Big Food, whether it's Mondelez, Kraft Heinz or Danone, they all made SKU reductions of 20-30% of their total assortment. But what many of these companies have indicated is that they will have a more focused innovation strategy.
"The question is, might they be cutting too deep and, actually in a few years time, saying we did great on our margins and improved massively, and now suddenly we see competition appearing left, right and centre in areas that we have invested in in the last few years."
Jojo de Noronha, the president of Kraft Heinz's northern Europe division, says one of the takeaways the ketchup maker established was the importance of communicating its brand credentials to the consumer having not really emphasised the health benefits of baked beans before, for instance, which are high in protein and fibre.
Kraft Heinz was one of the first food companies to launch a D2C service during the pandemic to deliver bulk packs of beans and soups to people's doors, with special concessions for front-line health-service workers in the UK. And it also saw an opportunity to offer more variety by introducing non-canned formats such as the Heinz Beanz Burgerz and Beanz Protein Pots, with the addition of components like egg and spinach.
"By leveraging the power of plants, and specifically our beans, we upped our communication on the benefits of consuming beans, but we also took advantage to develop our portfolio beyond beans in a can," de Noronha says. "One of the big learnings we had was the importance brands like Heinz had in engaging and giving confidence to our communities. If a consumer connects to the brand in a time of crisis, I think they are unlikely to forget that."
With consumer data insights in hand around how people buy Kraft Heinz products, what they really need and the times of day that they want them, the company is employing that information into future product development.
"One of the things we are looking at is what we call additive health"
"We need to play a role in trying to protect consumers immune systems as much as possible," de Noronha says. "One of the things we are looking at is what we call additive health. We have some proprietary technologies within Kraft Heinz which we are looking to add to our portfolio, things like gut health."
Agility comes into the frame too, around logistics, the supply chain, product availability and e-commerce, not just as a result of Covid-19 but because of Brexit as well.
"We realised the need for us to be a lot more agile in logistics and being able to have a more omni-channel approach, making sure we are set up to supply both in-store and online channels, she explains. "Consumers are going to be staying at home more often than not in the future so e-commerce is here to stay, all Covid did was accelerate that trend for us."
Kraft Heinz has put protocols in place to deal with any future crisis, efforts de Noronha believes are relevant in the current climate but also further down the road.
"We have a playbook which we hope to take into the future in case another crisis like this one comes our way. But actually in the normal course of business, agility can help us remain relevant and survive within an industry that is ultra-competitive. One thing the crisis has taught us is how quickly we can set up and make these protocols work for us, so if anything comes back we are definitely ready to put our protocols back in place."
Change ahead for staff
Mental wellbeing has become increasingly important for Kraft Heinz for both office and blue-collar workers, as it undoubtedly has for other manufacturers, whether it be the fear of working on a production line in a pandemic environment, the absence of meeting relatives and friend, or the void from social isolation at home.
"We feel that businesses now have an increasing responsibility over the mental wellbeing of individuals, so in practice, what we've done is have a psychologist virtually on-site. I think that just goes to show that mental wellbeing is at the forefront of how we engage and keep employees happy and satisfied, but also so they feel safe working for us," she emphasises.
Clive Black, a consumer goods analyst at UK investment firm Shore Capital, believes "the shadow of coronavirus is going to be long and deep for the whole food industry", pointing to biosecurity as a key component for manufacturers going forward requiring specific capital allocation policies.
"Biosecurity is probably a big lever for automation – fewer hands touching food – and I think new food factories will have biosecurity front and centre and also the whole supply chain. Retailers will be interested in those manufacturers that can start to offer stronger reassurances around biosecurity as I don't think many people really believe that Covid-19 is going to be the end of these sort of transmissible viruses.
"What does that mean in the future for inoculating workers? What does it mean for those workers that can't or won't have an inoculation? There are all sorts of developments coming through for an adjusted labour process and an adjusted capital-allocation strategy around biosecurity.
"We are probably going to see a situation where key workers, factory workers and probably supermarket workers will be higher up the priority list for supplementary vaccinations."
Black suspects working from home is going to be a "structural" change in the labour force "that was unimaginable a year ago", while commuting to the office or workplace is likely to be down by at least 20% from pre-Covid levels, presenting a challenge for manufacturers to increase distribution outside of urban areas like central business districts.
"For mass-market goods, I think D2C is still going to be very challenging"
He also cites the potential drop-off in travel and the implications for companies serving food-to-go customers and impulse buyers. "These are really profound things that food manufacturers need to think about. Direct-to-consumer is going to be something where there's a bit of a Harry Potter sorting process – there will be some products, particularly premium brands and especially in the indulgence area, that could have particular relevance. But for mass-market goods, I think D2C is still going to be very challenging."
Food producers might be inclined to strike a more effective balance between supply and demand within their portfolios having undergone SKU rationalisation exercises.
"I do think the assortment, the right range to the right production efficiencies, will have gone through a learning curve over the last year, and sensible manufacturers will be loath to over-proliferate and sensible retailers will do likewise," Black says.
"Promotion participation has virtually disappeared for a while – naturally it's re-emerged – but I think the retailers have got more insight and the manufacturers have got more insight into what promotions actually work. We've come back a long way from the peak of promotional activity in the UK, which was over 40% at one stage, probably sitting somewhere in the high 20s at the moment, and I think the pandemic has augmented that."
Shaun Browne, the co-head of corporate finance for US-headquartered Houlihan Lokey's UK arm, says manufacturers and supermarkets will have to adapt to the new shopping patterns with the pandemic likely to remain fresh in consumers' minds.
It could mean people will continue to shop online or visit stores less frequently. Or they could be more selective in where they shop, and possibly seeking one location rather than visiting multiple grocers to find discounts or more selection.
Manufacturers will need to adapt accordingly in innovation and how they get products to consumers. And for the smaller start-up business it will be a challenge, says Browne.
"A lot of the entrepreneurs, the new businesses and the up-and-coming businesses were saying they weren't able to get as much traction as they did beforehand because the buyers were unwilling to have meetings, the buyers found it harder to change ranges and they were also wanting to use the shelf space to make sure they were full of long-term staple products that consumers wanted, rather than some of the more exotic, trendier newer products that may have sat on the shelf, while some of the old staples were flying off it," he says.
Whatever takeaways food manufacturers have absorbed through the pandemic, forward planning is essentially out of their control when it comes to future shocks.
"It's very difficult to prepare for something which, by definition, is uncertain and you don't know what it is and when it will be, how long it will go on for and what the impact is," Browne concludes.
Free Whitepaper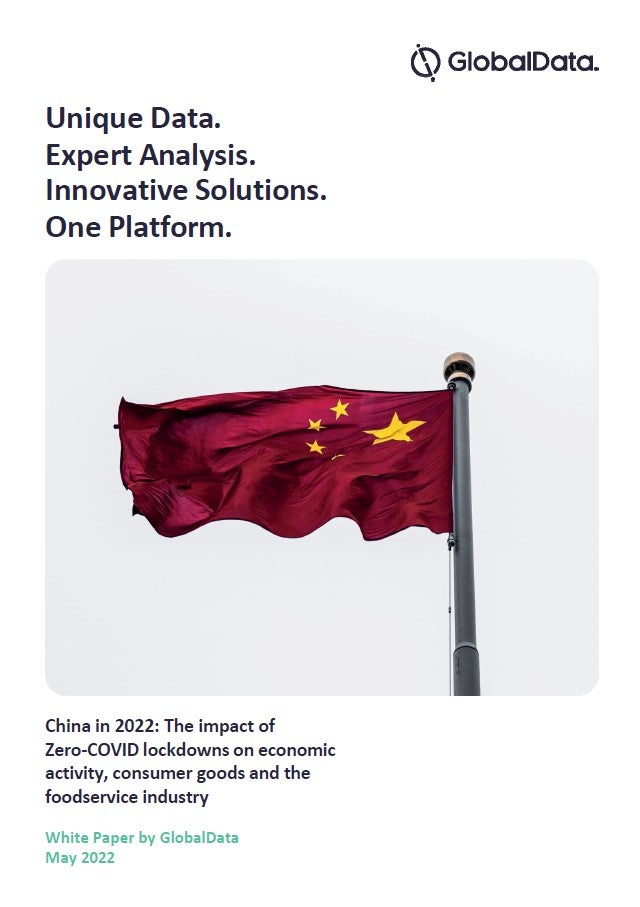 What is the impact of China's Zero-COVID lockdowns on economic activity, consumer goods and the foodservice industry?
While wanting to protect the country from being overwhelmed by Omicron, China's adherence to a Zero-COVID policy is resulting in a significant economic downturn. COVID outbreaks in Shanghai, Beijing and many other Chinese cities will impact 2022's economic growth as consumers and businesses experience rolling lockdowns, leading to a slowdown in domestic and international supply chains. China's Zero-COVID policy is having a demonstrable impact on consumer-facing industries. Access GlobalData's new whitepaper, 
China in 2022: the impact of China's Zero-COVID lockdowns on economic activity, consumer goods and the foodservice industry
, to examine the current situation in Shanghai and other cities in China, to better understand the worst-affected industry sectors, foodservice in particular, and to explore potential growth opportunities as China recovers. The white paper covers:
Which multinational companies have been affected?
What is the effect of lockdowns on foodservice?
What is the effect of lockdowns on Chinese ports?
Spotlight on Shanghai: what is the situation there?
How have Chinese consumers reacted?
How might the Chinese government react?
What are the potential growth opportunities?
by GlobalData