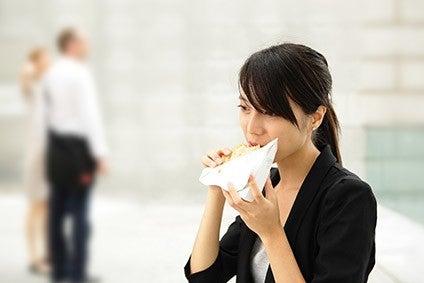 With food-to-go largely reliant on commuters, travel and leisure, the category has been profoundly impacted by lockdowns associated with the coronavirus pandemic. Simon Harvey reviews the outlook for the UK, with some pain still to endure during the Government's gradual easing of restrictions, which are set to last until at least late June.
A crystal ball might be handy in predicting what the UK food-to-go market will look like in a post-pandemic world as the outlook is very much dependant on future working patterns.
In the short term, however, there's one aspect on which manufacturers and industry watchers agree: it could take years for foot traffic to return to pre-coronavirus levels, before Covid-19 forced many of us to work from home, making a grab-and-go lunch from the office, or a snack on the morning commute, a distant memory.
There are, of course, questions about the extent to which office workers will return to their desks, with more flexible working arrangements a distinct possibility. Moreover, if and when more people do head back to the office, will they still have a hunger for their regular sandwich, salad, or sushi? Might they be looking for something different, given people have been cooking in their kitchens, perhaps discovering new meals and foods, or be more inclined to take something in from home?
Health may increasingly come to the fore, given the pandemic has likely changed mindsets over wellness, which would require tweaks behind grab-and-go innovation strategies.
Manufacturers in the food-to-go sector have suffered during the lockdowns as they are largely reliant on worker traffic, domestic travel, tourism and away-from-home leisure activities.
The lockdowns pushed sandwich and bagel maker Adelie Foods over the edge last year, leaving two major players in the category – Samworth Brothers in Leicester, which declined to comment for this article, and Greencore in Dublin – both of which took up some of the speciality sandwich business from the defunct company.
Greencore, a major supplier of food-to-go products from sandwiches to sushi, has seen its sales suffer during the Covid-19 pandemic due to the country's lockdown measures to try to tackle the virus. In the year to 25 September, Greencore saw its group sales fall by more than 12%, with operating profit down by 81%. In November, Greencore raised cash by issuing new shares in the business, citing the "ongoing uncertainty" caused by Covid-19.
The pandemic has made its impact felt in a range of less severe ways, too. Soupologie, for example, a London-based business formed in 2012 serving retailers and foodservice customers with 600-gram pots of free-from soup, pulled a plan last year to enter the grab-and-go market with smaller pots because of the uncertain outlook.
"We were going to produce a smaller version that could sit with the sandwiches and the salads and so on but then we realised with the lack of commuters that wasn't going to be a big thing. We changed our strategy and figured people would need convenience, so we launched healthy ready meals in November," co-founder Amanda Argent tells just-food.
"We figured that after the initial shock of the first lockdown it became quite clear that things were not going to be getting back to normal anytime soon. We need to see what happens if and when life does get back to normal," she says with regards to revisiting the plan.
Suburban areas may benefit
IGD, a UK-based charity providing insights for the food industry, forecasts the country's grab-and-go market won't return to pre-Covid levels until 2023 at the earliest.
The charity estimates the market was worth GBP18.9bn (US$25.9bn) in 2019 for foodservice and retail, which it split as GBP14.5bn and GBP4.4bn. At the retail level, IGD says demand tailed off last year to around GBP3.1bn and is predicting GBP3.7bn for this year and GBP3.9bn in 2022.
Nicola Knight, a senior analyst at IGD for food-to-go, says: "Post-June 2021, footfall will begin to increase but is unlikely to return to pre-Covid levels this year. But, by 2022, food-to-go specialists and coffee shops, which were the hardest hit in 2020, will have implemented new strategies to regain most of the lost ground."
Patrick Coveney, the CEO of Greencore, is more optimistic as he envisages some sort of "bounce back" by year-end.
"The total food-to-go market will be less than it was in 2019 but, within that, the retail section, which is about 30% of the market or even a third, could be substantially back to where it was in 2019 but with quite big differences by region and format," he says.
"You are not going to see the same level of traffic in King's Cross Station or Heathrow Airport, yet you may see in suburban areas that food-to-go could be even stronger than it was pre-2019 because more people will be shopping close to where they live. We are now starting to see volumes build in March and we anticipate that will continue to happen as society reopens."
Coveney touches on a point shared by Cyrille Filott, an analyst at Netherlands-based investment bank Rabobank, who believes working from home will be a gradually-developing, long-term "structural shift".
"This is an evolution not a revolution," Filott claims with respect to working life, adding "it will not happen on day one, and it will probably take somewhat longer because companies need to convert their places to enable this working from home or working in the office in a different way."
Coveney adds: "As the food-to-go market resets, we will see a movement in volumes from city centres to suburbs and market towns but people will frankly want a change of scene or a change of recipe because you've been stuck in your house."
One or two days' home-working
There are many scenarios to consider in making predictions. Younger people may be more keen to go back to the office for social reasons, while some companies might put pressure on employees to return, whether that be five days a week, 9-to-5, or two or three days on-site and the rest at home. Some businesses may use staggered start and finish times, which will change the shape of on-the-go purchases.
The speed of the UK's economic recovery might be a factor, too. Inward tourism is another consideration, particularly with European countries now battening down the hatches to prevent a third wave, and even after the virus is hopefully contained from the vaccine roll-out people may still be fearful of travel.
Rabobank conducted a survey in six European countries and found the expected decline in foot traffic in relation to working from home amounted to about one day per week, rising to around two in the UK. "The nuisance for the UK is that there's a lot of gearing towards finance and IT compared to other European countries, especially finance, and those jobs can more easily be done from home or at least not in the office," Filott says.
However, he warns there's "no one single solution".
Filott continues: "I do believe the sandwich shops, as a sector, they will be hit, especially those in business areas, and actually those in suburban areas may do really well. Some of these brands are actually brilliant. But can you leverage those brands into a full retail environment? Can you leverage these brands into forecourts? Can you try and work with the food retailer and set up a sandwich shop because it is closer to where the consumer might be?"
Shaun Browne, the co-head, corporate finance for US-headquartered Houlihan Lokey's UK arm, says the pandemic will have changed the look of the market landscape but, at this stage, there are questions as to the extent of any change.
"It will look different but I'm not sure how dramatically different. If there are fewer people working in offices, if there are fewer people out shopping in high streets, if there are fewer tourists and international visitors, then the demand for food-to-go products in city centres will reduce. Some of those retail outlets will have to either close or move the percentage of products that are food-to-go to other products."
Digital strategies
Many food manufacturers have adopted new digital strategies during the pandemic, with direct-to-consumer one option that has been embraced with fervour as a means to having an omni-channel approach to serve consumers.
Coveney suggests it's an area that will have significant importance over the next few years.
"Digital and direct-to-consumer models of different types will be relevant for both food-to-go and food-for-later," he says. "I think you will see those formats being gradually used more for immediate consumption food. How we configure our business to match against those consumer behaviours going forward is going to be very important for the next five to ten years, along with the growth post the rebound of society opening up, and trends around hygiene, nutrition, meat reduction and plants."
And IGD's Knight envisages an omni-channel philosophy will be key to coping in a post-pandemic world.
"With so much uncertainty, a multi-channel model that can be flexed to respond to changing customer needs can help to mitigate risk and prepare for a new post-Covid future," she says. "Partnerships between retailers, food-to-go operators and third parties (such as distributors or delivery companies) are likely to increase as businesses seek to target new markets quickly and at low cost."
Natures Way Foods, a predominately private-label business offering bagged salads to retailers and lettuce to McDonald's, along with salad lunches for on-the-go customers sold in outlets such as Pret A Manger, went through a rationalisation exercise because of the drop in traffic.
Caryn Gillan, the company's head of food, says appetite for its products is still down around 30% from pre-Covid levels.
"I don't think it's going to go up to previous levels until we get into 2022"
"We think it will be quite a slow but steady recovery but I don't think it's going to go up to previous levels until we get into 2022," she says. "We reduced the range because the footfall just wasn't going into store. People are shopping less often, so their frequency of shop is one or maybe two times a week … they are not even going to that food-to-go fixture for example in retail."
M&A opportunities
Subdued demand, at least in the short term, may present opportunities too, with consolidation a distinct possibility. However, that's likely to apply to food-to-go segments other than sandwiches given that side of the market has been squeezed already.
Houlihan Lokey's Browne points to ready-to-eat salads as one such area that might be ripe for acquisitions, a category Greencore entered in 2019 when it bought Freshtime UK.
"Where you might see some further consolidation is in things like salad bowls … but you may well see one or two of the other smaller players [taken over] who will have undoubtedly suffered during the last year," he explains.
On the manufacturing side, Browne envisages some "rationalisation" taking place in terms of factory closures, or even consolidation among producers, if demand remains down once government restrictions are eased.
Coveney shares a similar view. "The area that's more relevant to Greencore and the retail environment is in food-to-go product areas outside of sandwiches, particularly in salads and snacking. I think you will see change in the supply base and that will include consolidation."
Either way, Greencore is eager to seize any opportunities. "In 2019 we stated we wanted to employ more capital into M&A and we would still like to do that. However, the caveat here is that we do have to rebound our business and build back the economic return as we come out of Covid before we can start spending material chunks of money. So that's probably more a 2022-23 agenda item for us," he explains.
IGD's Knight suggests changes in consumer behaviour as a result of the virus presents innovation opportunities but business will need to be quick to grab them in areas such as picnic sets for outdoor socialising, lunch boxes for home workers and meals that can be reheated at home, which will require "an internal structure designed for fast decision-making".
Re-Nourish, for example, has developed its own re-heatable bottle for its on-the-go soups. And UK restaurant chain Yo Sushi obviously saw an opportunity when it acquired Taiko Foods in 2018, a London-based business supplying food-to-go sushi and Dim Sum. Neither company responded to a request to comment for this article.
Gillan at Natures Way gives her take on the trends. "We work in food-to-go but we also work in main store salads and there is definitely a trend of eating more healthily. Years ago it used to be people would look at lower fat but now it's more a positive slant on health because people are more interested in what they are eating, the nutrition it gives you, all of those type of benefits.
Ultimately, Knight suggests three factors will determine the course of events in the UK: the speed of the economic recovery, whether working from home evolves into higher levels, and the "resilience of food-to-go specialists, some of which may not be able to survive the impact of restrictions or will struggle to expand again, which will reduce capacity and choice in the market".
And those factors may be similarly important in food-to-go markets the world over.