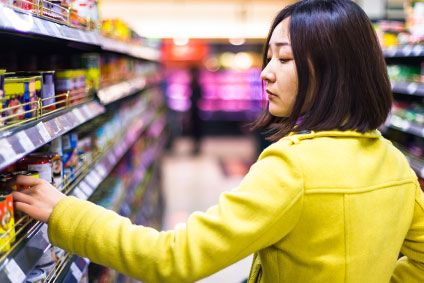 When it comes to packaging, the focus of policy-makers, businesses and campaign groups has been on disposable plastic. But are the 'plan B' packaging options any good? asks David Burrows.
Plastic is bad. Ergo, anything else is good.
It is a message that's gathered steam in recent years and is, according to David McDiarmid, corporate relations director at Princes, the UK food group owned by Japanese conglomerate Mitsubishi Corp., "easy and seductive".
But, McDiarmid insists, the debate is "more nuanced than that. For us, one of the most important things – and this isn't easy in the current media landscape – is that we don't want to make a knee-jerk reaction."
Pressure from the public and politicians globally has been intense. Consumers want to see brands taking action while governments have laid the foundations for bans on certain plastic items or polymers. Taxes for packaging with not enough recycled content are also on the cards.
With poor recycling rates and clear (and growing) evidence of the damage caused when it pollutes land and sea, plastic packaging deserves the spotlight. But are the alternatives being subjected to the same scrutiny? After all, they come with their own environmental impacts and challenges, albeit less beguiling ones like carbon emissions, land use and water intensity.
Cardboard is readily recyclable and (hopefully) sourced from sustainably managed forests. But, more often than not, virgin rather than recycled fibre is used for food packaging. Is a plastic pack with high levels of recycled content therefore better?
Compostable packaging, meanwhile, has enjoyed a reputation as the "greenest" option in countless consumers surveys (and a favourite switch for brands to make in China and Japan, according to a recent report from campaign group Changing Markets). The packaging tends to be costly, recyclers complain of contamination in their material streams and no data exists on how much of the packaging is actually composted.
Aluminium and glass, meanwhile, can boast high recycling rates across many regions, but what of the energy used in extracting the former and transporting the latter?
"Some of the brands I speak to would love this discussion," says Susan Hansen, global strategist food packaging and logistics at Rabobank. "Consumers don't have this knowledge but you can't sell them the message that 'sometimes this material is good and sometimes it is bad'."
This is the "nuance" to which Princes' McDiarmid alludes. Whether this is an attempt to distract from the problems with plastic, or ensure the decisions being made are responsible ones is debatable. But the fact remains that "sometimes plastic is better", says Hansen, and that is a hard sell.
Consumers may have little interest in hearing about the life cycle analysis of one material versus another, but packaged-food manufacturers increasingly do. Or should. Every business should have a "robust defence for the choice of its packaging", says Helen Bird, strategic engagement manager at WRAP, the charity running the UK's Plastics Pact. There are lots of considerations and this, she adds, means "there is always a trade-off".
Researchers at the Cambridge Institute of Sustainability Leadership recently pitched five drinks containers against one another, comparing performance on carbon intensity, water use, recycling rates and the percentage of recycled content. "… not one material came out clearly as having the lowest relative impact in the areas examined," they concluded. However, increase the capture rates and incorporate the recycled material back into 'new' containers and the impact of each one falls.
Brands have set stiff targets to do just that on plastic, but this is easier to do with PET, commonly used for plastic bottles, than it is for the flexible plastics that abound on supermarket shelves. Nearly a quarter of all plastic packaging in the UK is soft, according to WRAP. Brands have traditionally swung away from rigid materials to flexible ones in a bid to lightweight their packaging – which saves money and reduces emissions during transport.
Research in Sweden by McKinsey showed a pouch can carry 5% more liquid than an HDPE plastic bottle, but is 76% lighter and 8% cheaper. Lightweighting and switches to plastic have seen tonnages of packaging waste drop but at the expense of recycling rates. "In some cases, the opportunities for circular thinking have shrunk," says Michael Lenaghan from Zero Waste Scotland, which advises businesses and government on resource policies.
The irony is switching away from plastics can bring similar challenges. Card packaging can be readily recycled but not much ends up back on shelf protecting tomatoes or a pizza. "For food, it generally needs to be 100% virgin [fibre]," explains Arco Berkenbosch, VP of innovation and development at paper-based packaging company Smurfit Kappa Group (SKG). "Always start with the functionality," he adds, because packaging remains a "service to the food product".
SKG has in recent years moved "more and more into consumer packaging" thanks to two major trends: e-commerce and sustainability. Interest in paper packaging is hottest in the plant-based category, according to Teresa Del Re, north Europe head of marketing and innovation at consumer packaging manufacturer DS Smith. Upmarket brands operating in the vegan market, as well as traditional meat and fish producers that are developing protein alternatives, have a customer base that is "very aware of their impact on the environment", she says.
That perhaps explains why Danone has announced a switch from plastic pots to paper cups on dairy-alternative yoghurts. Wrapping products made from plants in packaging made from plants "makes sense", according to the new 'vision 2020' sustainability report for its Alpro brand. It doesn't come cheap though: more than EUR7.5m (US$8.7m) will be invested in this switch, a spokesperson tells just-food, including changes at factories in Belgium and the UK.
The cup remains "in development" so there is little detail to share currently, but the company wants the lids to be recyclable too. The paper will be from virgin sources but Alpro is confident the new cup has "a low carbon impact". Whether this is lower than a plastic pot that is recycled and used to make another pot is moot. "Using recycled paper at the moment is not possible because it could potentially interfere with product quality," the spokesperson says.
Start to dig and the challenges facing brands quickly begin to swirl. They have to face trade-offs such as recyclability versus carbon footprints, while keeping on top of everything from food safety and functionality to brand reputation and convenience. Princes looked at incorporating more recycled plastic into its drinks bottles around 2008 but the finished product was "very dark and we felt the consumer wouldn't go for it", says McDiarmid.
Twelve years on and the company uses 51% rPET in its bottles, which match the quality of those made with virgin material. Times change, technology moves on and so too do perceptions, he adds. "Consumer acceptance isn't set in stone; maybe a darker bottle would now be seen as a 'badge of honour'." This is where industry-level collaboration can help – if everyone moves consumers are carried along.
Still, an Italian shopper is different from a British one, while someone shopping at the value end will have priorities that mightn't align with those picking up premium products. As consultants at McKinsey noted in a January report: "Any packaging material or design change has implications on overall branding strategy, and large portfolios comprised of different plastics, applications, and geographies make strategising highly complex."
This perhaps explains why the approaches have appeared piecemeal to date: new paper packaging for a stock cube, here (Nestlé's bouillon cubes in France) or a cardboard replacement for plastic steak trays, there (Aldi in the UK), aren't going to change the world. Indeed, a cynic might argue these moves are simply to appease campaigners (and garner some positive, anti-plastic, PR). But this would ignore the realities of running food businesses that can span many different markets. "Assessing thousands of SKUs isn't easy and I really do think they are trying to change," says Rabobank's Hansen.
Alberto Costella, marketing manager for export markets at Barilla, the Italy-based food group, says "it's not easy to keep everyone happy", citing at times competing consumer, retailer and political demands. This is why Barilla chose the UK as a test market when it removed the little plastic window from its boxes of pasta. The plastic debate in the country is "strong" so if any market was going to accept a windowless box that is "100% recyclable" it was there.
But the change wasn't straightforward. It was a year in the making. Economies of scale have been lost given it's a trial in just one country. And there is always a chance consumers won't like the fact they can't see what's inside.
Around 96% of the 250m packs of pasta sold in the UK are in see-through plastic, very little of which is recycled. The soft aspects, like colour or texture, are important for brands marketed as premium in a category like pasta, says Costella, so hiding those is a "big risk". "If you do it, people need to trust your brand." So far, it's had the widest reach (one million online mentions) than any other sustainability topic.
Napolina, the Italian cooking brand sold by Princes, last year switched from plastic to cardboard boxes for its premium pastas. The packs are "100% recyclable" even though there's a plastic window. The group has also changed from plastic to card on the wrap for its multi-packs of Princes tuna, even though others have removed that packaging altogether. "We've got to take consumers with us," says McDiarmid.
It's a point that's often lost in the fist-waving at brands who are criticised for not reacting quickly enough. Look at what consumers want, they say. This ignores the "tension" between sustainability and convenience. Reusable packaging is arguably the most sustainable option but it's not yet convenient. (Tesco is working on that with the likes of Danone, Heinz and Coca-Cola as part of the Loop initiative). "We have to deal with today's reality," says SKG's Berkenbosch.
This also means looking at the systems that are place for recycling. SKG collects five million tonnes of paper and puts the same amount back on. In Berkenbosch's words it's a "pure system" but one being challenged by the emergence of packages lined with traditional plastic or bio-based plastic to provide a moisture barrier.
Berkenbosch explains if 10% of a 1kg bundle of packaging is coating that's 100g of "pollution" in the system and you "downgrade the whole thing". SKG is working on new solutions but admits there is tension between those at the design stage and those responsible for the recycling systems.
In 2020, brands also have a global recession to face. Those operating in the value space are unlikely to welcome costlier packaging regardless of its recycled content or mooted environmental credentials. "Talk about using recycled PET in the own-label drinks market and sometimes the reaction is "I'll stick with the cheaper [virgin] one," says McDiarmid.
Whether regulations around extended producer responsibility, deposit return schemes and plastic taxes make the sustainable option the cheaper option remain to be seen. "We've seen product-switch costs run into the millions for one product range alone," explains James O'Neill, principal consultant at Proxima, a procurement consultancy. "You won't find many people who aren't in support of acting more sustainably, but balancing profit and planet can be complex."
In the first wave of anti-plastic pressure there have undoubtedly been a number of knee-jerk reactions as brands scrambled to do something. Decisions were "fairly quick and fairly cut and dry" noted one major food company in an interview for a report by Green Alliance, a think tank. Gradually, however, they seem to be taking a more material agnostic view, which is still easier said than done when people are so angry about plastic.
Indeed despite the pandemic the pressure hasn't gone away. "The industry has responded in a strong way on plastic in particular and Covid or no Covid something has started that we can't – or won't – stop," says McDiarmid.
Is digitally printed packaging now the best option for CPG companies? Has the Covid-19 pandemic accelerated the adoption of digital printing by consumer brand owners? Our short survey aims to find out. View the survey here and complete to be among the first to see the results.