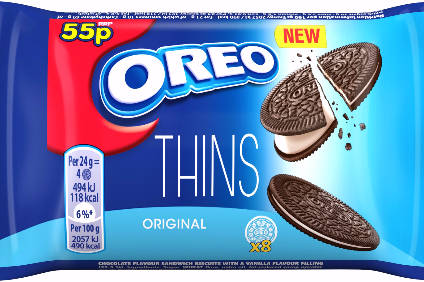 Big Food still rules the roost in most product categories but legacy brand growth has stalled. Our US correspondent Victor Martino looks at how such brands can get their mojo back.
Small and medium-sized consumer packaged goods (CPG) businesses are growing and taking market share away from big global CPG companies and their legacy brands which have seen a slowdown in sales growth for at least half a decade.
For example, in the US alone it has resulted in approximately US$18bn in sales shifting from larger to smaller players since 2009, according to a recent study by Boston Consulting Group (BCG) and Information Resources Inc. (IRI).
This in a nutshell is the metric behind one of the most frequently used phrases in the CPG business today – big brand, or legacy brand, disruption.
Without question legacy brand-owned global CPG companies still hold the number one slot in nearly, if not all, product categories globally.
This isn't the problem. Instead the problem is that cumulative legacy brand growth has essentially stalled. Instead, smaller insurgent and start-up CPG brands is where the growth is.
In the US, for example, sales among smaller brands generating up to $100m annually rose 4.9% in 2018, according to IRI. It's the fastest-growing CPG segment out there, says Susan Viamari, vice president for thought leadership for IRI. In contrast, sales business for big CPG companies – defined by IRI as those legacy brand owners exceeding $5.5bn in sales, inched up a mere 0.6%.
This disruption and the rise of small brands isn't news to most legacy brand-owning CPG company CEOs and strategists. The wake up call is ringing loudly and clearly.
The primary response to date among these global CPG giants has been to invest in or acquire these small brand companies. A more recent response among a growing number of these big CPG companies has been the creation of what I named "stealth small brands". This strategy of mimicking insurgent smaller brands has much in common with investing and acquiring in that all three fall under the rubric, "if we can't beat them, let's join them".
Disruption of legacy brands is clearly occurring but it's a mistake to dismiss these legacy brand, incumbent CPG companies as packaged goods dinosaurs that lack the ability to get back in the game and reverse the disruption and decline in sales growth exemplified by the data from BCB and IRI. It's also a mistake to assume that the small brand revolution we're witnessing is a long-term trend. It might be – but that's an unknown.
Danny Silverman of Clavis Insight makes an important point about this. He says: "Most people on every side of the disruption issue believe the narrative that legacy CPG brands can't compete with young, scrappy insurgent brands and start-ups, so their only avenue to acquiring more market share is to buy them out. It's a myth though."
"Legacy brands are more than capable of competing in today's market, as long as they have the will and the leadership to do so."
The CPG companies which own these legacy brands have yet to prove this point in the aggregate. But the point is correct – these companies do have the ability to grow their legacy brands. Doing so however will require fundamental change from today's status quo ante for most CPG companies.
Growing legacy brands
Let's take a look first at some real life examples of legacy brand growth.
Seattle, Washington-based The Hartman Group recently identified three global legacy brands that have shown continuous growth over a number of years. These brands are sold in countries throughout the world.
What these three brands have in common is a focus on consumer lifestyles, paying particular attention to the needs and desires of Millennial and GenZ consumers, according to the research firm's senior vice president Shelley Balanko.
Below are the three brands and an analysis by The Hartman Group's Balanko of why they are continuing to grow, along with an explanation of the key reasons for the brands' growth.
Oreo (Parent: Mondelez International) – a legacy brand that continues to grow as it stays top of mind for consumers through imaginative new product formats (Most Stuf Oreos,Thins, Bites), creative marketing campaigns (Game of Thrones-themed Oreos), and foodservice applications (Oreo McFlurry, Oreo Cookie Blizzard, etc.). At the same time, Oreo still offers a familiar, indulgent, flavour profile that has not been successfully replicated by competitors.
Häagen-Dazs (Parent: General Mills. US licensee Nestlé) – has continued to grow by focusing both new products/product reformulations on [trends] that are relevant to consumer desires around transparency while also highly credible to its brand. Häagen-Dazs demonstrates this through a variety of means, including: pledging to source high quality ingredients (in 2016 Häagen-Dazs committed to transitioning out all GMO ingredients from every flavour), by providing short, recognisable ingredient panels (Strawberry Häagen-Dazs has only five ingredients), and by delivering on key consumer trends around emerging eating behaviours (such as dairy-free).
Doritos (Parent: PepsiCo) – has leveraged its culinary strengths for flavour inspiration alongside a partnership with Taco Bell (Doritos Locos) to grow and stay top of mind from a consumer perspective. By experimenting with on-trend flavours, or repurposing popular flavours across brands (such as the recently introduced Flamin' Hot Nachos – traditionally only a Cheetos flavor), Doritos remains a playful and exciting competitor in retail and foodservice.
Keys to growth
There are three strategies Balanko suggests marketeers could follow to try to adapt the positioning of their legacy brands to meet new consumer preferences
Iconicity – iconic flavour profiles, such as those embodied by Oreo and Doritos, which offer indulgent and familiar tastes will deliver growth for legacy brands, Balanko says. "Iconic brands build upon their core strengths with new product formats that also fit with current and forward-leaning consumer eating behaviour."
Transparency – as consumers increasingly read ingredient labels and want to know where their foods come from and how they are made, legacy brands that can incorporate this in a way that is credible to their brand heritage will grow, Balanko says.
Emerging consumer eating behaviour – legacy brands that deliver on key long-term trends in consumer behaviour will also be well positioned for growth, according to Balanko.
However, she says, they must do it in a way that is true to their brand. Balanko says that, based on its extensive research, the following consumer behavioural areas will have a significant impact on the future growth of legacy brands: snacking throughout and across the day, even to the extent of replacing traditional meals; seeking out fun and pleasure (the concept of pleasure and reward); and the optimisation of one's mental and physical self through individualised eating behaviour.
These are all areas CPG companies should look at in their efforts to grow legacy brands, she says. "In order to grow their legacy brands, CPG companies will need to ensure their brands stay relevant by finding the right balance of tapping into emerging consumer behaviour trends, all the while remaining true to their brands," Balanko says.
"As CPG companies pursue strategies such as new product innovations and reformulations in order to deliver growth, they will also need to consider the timeline in which their brands can reasonably deliver on these changes from a consumer perspective, while also ensuring that their marketing does not alienate their core users."
Playing off Balanko's analysis and suggestions on how CPG companies can grow legacy brands, here are three additional concepts CEOs and brand strategists should focus on – and the concepts are derived from real world examples from CPG company leaders.
Stay true to the brand – but be current
At the 2018 GMA Leadership Forum in Colorado Springs, Colorado, where global food industry executives from throughout the world meet to compare notes and discuss trends, Jeffrey Harmening, CEO of General Mills, described how the company has been able to grow its Lucky Charms cereal brand over the last few years, including turning in a whopping 20% growth rate in 2017, in what is a declining category.
"You hear about the death of cereal and carbs, and that people don't like sugar," he said. "But we grew Lucky Charms by 20% in 2017. It did that because brands, like people, can lose their way. And we did. But you have to get back to what the brand is about. And we did. People come to Lucky Charms for the marshmallows. We investigated how we could embrace what makes Lucky Charms unique while delivering a contemporary twist, so the company added unicorn-shaped marshmallows to the cereal, prompting swift sales gains," he said.
"The key to keeping brands relevant," he said, echoing Balanko's comment above, "is making sure you have a consistent vision on what that brand is about and that you're refreshing it for today's consumers."
A 20% annual sales gain for a legacy brand such as Lucky Charms is very significant, proving that big CPG companies can hit back with brands that are considered unhealthy and outside of the organic and better-for-you paradigm many think is where all the growth is in today's marketplace. Be true to the brand – but stay current.
Adapt or die
A big problem with legacy brands is they get fat and happy. Huge annual sales can take a strategist's eye off the ball. Then boom – disrupted.
Jim Dinkins, president of Coca-Cola North America described such a scenario at the GMA Leadership conference.
"Millennials are actually more brand-loyal than their parents," he said. "The challenge, however, is that Americans' attention spans are shorter as more channels are available to them, and brands have to work harder to capture their time."
Diet Coke has been one of the largest brands in non-alcoholic beverages for a long time, Dinkins pointed out. "But over the last few years we took a close look at the brand and evaluated how to reinvent it for today's consumers. As a result, we changed the positioning, the packaging, added new flavours and personalised the marketing programme," he said. "Using those tools and adapting in the marketplace was worth the investment."
Diet Coke is seeing a slight sales resurgence since Coca-Cola carried out this brand refresh last year. Coke has also adapted to the marketplace by becoming one of the the top sellers of bottled water, new-age beverages and fresh juice products in the world. Adapt or die.
Partner with retailers
Brick-and-mortar grocery retail still rules the roost globally. It's where 90% or more of consumers still get their groceries in every country in the world.
When B&G Foods was, in the words of CEO Robert Cantwell, "floundering," he says the marketing team's initial strategy was to drive brand sales via advertising and marketing. However, Cantwell reflects that when the company shared this plan with retailers, they thought it sounded okay but not good enough – they said, "but what are you going to do to sell something different?"
This was a positive shock to the company's system, Cantwell said. As a result it led B&G Foods to come up with some fresh innovations, which centred around focusing on riced cauliflower and positioning this as a main part of the meal experience.
"We came to the retailers with the innovation and they said: 'Bring it on,'" Cantwell said. "The shift not only generated higher growth for B&G Foods but for the entire frozen vegetable category in the US and in other countries, Now we go to retailers and they're saying: 'What's next? We want it.'"
CPG companies which don't partner closely with their retail customers, including when it comes to deciding what to do with stagnant legacy brands, are missing one of the most valuable assets they have.
Unilever gets it
If you're looking for a quick case study of a big legacy brand-dominated incumbent company that gets it – it being an understanding that disruption is here and that growth is dependent both on reinventing legacy brands while simultaneously acquiring insurgent smaller brands and developing your own new brands that have a contemporary lifestyle-oriented focus – get to know what global CPG giant Unilever is doing.
Case in point: For the last five years Unilever's "sustainable living" brand portfolio, which includes 26 brands, including legacy global food and drink brands such as Hellman's, Knorr, Lipton and PG Tips, grew 46% faster than the rest of its business and delivered 70% of its turnover in fiscal 2017-18.
What this achievement demonstrates is that small brand thinking, which sustainable brands are generally associated with, isn't limited only to actual small brands with sales under $1bn. In fact, Unilever is the proud owner of iconic 'small brand' Ben & Jerry's as well as a number of lifestyle brands favoured by Millennials, GenZ and 'millennial-minded' consumers.
It also demonstrates that leadership at the top, in Unilever's case by former CEO Paul Polman, matters when it comes to investing in a long-term strategy to grow legacy brands.
Unilever's initiatives to revive legacy brands fits into the frequent and articulate calls in the press and on social media by Ryan Caldwell, CEO of CircleUp, for big CPG companies to invest more in research and development.
Caldwell argues big CPG companies need to have R&D teams that focus on the category and consumer, not the product.
"Instead of Pepsi thinking about a lower fat potato chip, they need to be rethinking the snack category as a whole," he argues, "as an example of elevating innovation at legacy brand CPG companies."
Big global CPG companies have the opportunity to revive legacy brands as the examples noted in the piece demonstrate.
Disruption is real but as Kurt Jetta, founder and CEO of Florida-based Tabs Analytics pointed out this week, big food companies and their legacy brands still hold the number one and, in most cases, number two ranking in nearly every CPG category.
This is an important fact to consider in this age of legacy brand disruption. But so is the fact big CPG companies and their legacy brands continue to lose share to smaller insurgent brands.
It's way too premature to give up on legacy brands but most CPG companies with legacy brands are way late in adapting to the changes in the marketplace and among consumers.
Today's imperative for big CPG companies therefore is to take a page from the initiatives detailed here and invest in initiatives that will grow legacy brands, focusing not on the product but rather on categories and, most importantly, on consumers and their contemporary lifestyles.
just-food columnist Victor Martino is a California-based strategic marketing and business development consultant, analyst, entrepreneur and writer, specialising in the food and grocery industry. He is available for consultation at: victormartino415@gmail.com and www.twitter.com/nsfoodsmemo.