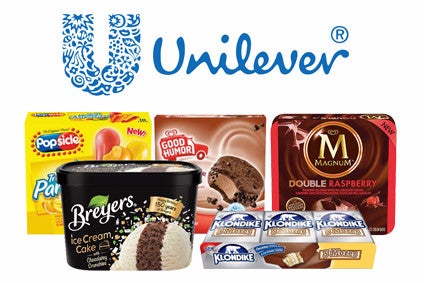 Unilever CEO Paul Polman left investors with no illusions today (21 July) when he reported the company's second-quarter results: trading is tough and the company expects it to get tougher. As a result, Unilever is "working harder" to drive gains and expand its share. Here is how.
Unilever delivered comparable sales growth of 4.7% today on volume expansion of 2.2%. At the same time, the company reported an expansion in core margins of 50 basis points, ahead of consensus expectations of a 30 basis point gain.
MainFirst analyst Alain Oberhuber said the company was able to report "strong margin improvement due to gross margins and cost programmes".
He observed: "Unilever could increase its core operating margin mainly due to a strong increase in gross margin… which was derived by positive product mix, margin-accretive innovations, acquisitions and more efficient procurement."
This, at a time when executives flagged the global macroeconomic challenges Unilever is facing in both developed and emerging markets. Unilever CEO Paul Polman said that the company is facing "slowing" consumer demand with global growth "downgraded again" by the IMF. "Consumer demand is contracting in the major markets and consumers are down trading in the major markets," he said. And, he warned analysts during a conference call, things are likely to get worse before they get better.
Addressing macroeconomic challenges in global makers from Europe to Latin America, Polman struck a decidedly gloomy note. "It will be tougher over the second half than the first half. I always think 2017 is difficult to predict… I always think we hit the bottom and then [it] manages to go a little deeper."
The company is having to "work harder" to "do the same" in terms of performance and sales improvements than in prior years, Polman noted.
Cutting costs
Unilever has embarked on a deep-dive cost cutting programme, including the implementation of zero based budgeting whereby all expenses must be justified for each new period starting from a zero base.
On top of this, Unilever said it is progressing its "transformation" to deliver "consistent, competitive, profitable and responsible growth" through a fresh efficiency programme, dubbed "Connected 4 Growth".
Graeme Pitkethly, CFO, said that he expects these initiatives to deliver savings in the longer term, although there will be some associated restructuring costs in the second half. "We are looking at all facets of the P&L. We have full confidence that ZBB and Connected 4 Growth will deliver the EUR1bn (US$1.1bn) in savings we indicated."
Innovating to grow
Unilever is also strengthening its innovation capabilities, management suggested. "We will continue to increase the differentiation of our innovations with proprietary technologies," Polman noted citing dairy protein technologies that ensure the consistency of ice cream and the "double dip" process that is used to make Magnum.
The group is "speeding up the roll out of our innovations", Polman continued. In its global portfolio – which accounts for about 70% of sales – Unilever plans to cut roll out times for innovations "across all markets" by one-third. On a more local level, where the company utilises "local adaptations driven out of local insights", Polman said the changes being made as part of Connected 4 Growth will halve lead times for local brands.
Unilever is focusing its innovation muscle on areas that it believes are in-tune with evolving consumer demand, such as "natural" products and free-from, Polman said flagging the group's non-dairy Ben & Jerry's ice cream.
Refreshments
The innovation agenda is set by Unilever's category focus. In ice cream, the company is developing premium products. By developing its "affordable premium" brands such as Magnum and Ben & Jerry's, Unilever is expanding the margin profile of its refreshments unit.
Improvements in refreshments allow Unilever to lessen its "reliance" on personal care and foods for cash flow generation, Polman said.
According to Euromonitor International analyst Pinar Hosafci, Unilever should concentrate its efforts on the higher margin impulse channel which generates significantly higher returns that supermarket multi-buys. Hosafci also believes that the company should develop Cornetto's "value" proposition.
She commented: "Ice cream is by far the most important packaged food category for Unilever, and is one that the company actively invests in. The company should specifically focus on expanding Magnum and Ben & Jerry's in the impulse channel, and promote Cornetto as a value-for-money product."
Foods
In its food business unit, Unilever is working at "getting into more attractive segments", the chief executive reveals.
Polman continued: "Our foods portfolio is now much more focused on attractive segments, the largest is cooking ingredients [via the Knorr brand]… Of course there is still a drag from spreads but even with this foods is accelerating."
Unilever announced plans to separate its struggling spreads business in 2014 in a move that the company said was designed to "accelerate its transformation and return it to growth". Growth is yet to materialise.
Nevertheless, Polman said the company has seen some improvement from its spreads brands, such as Flora and I Can't Believe It's Not Butter. "The rate of decline in spreads has slowed down. We think we are on the right track," he insisted. "We are managing this business very vigorously for cash flow. By running it separately we are not only making decisions faster we are running it as a much leaner business."
Once again downplaying the suggestion that Unilever could look to sell spreads, Polman said "We continue to stay the course. We think that the actions we are now taking are the best we can in the interests of our shareholders."