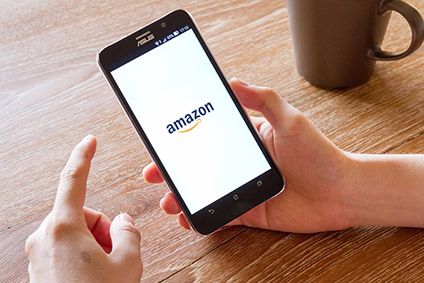 What do brand owners – large and small – need to do to work successfully with Amazon in the UK? Simon Creasey takes a deep dive.
In 2010, Amazon quietly launched a beta version of its online grocery site in the UK. The site stocked a range of more than 20,000 different items, including major household brands such as PepsiCo 's Walkers crisps.
Retail analysts suggested the launch was a warning shot across the bow of the UK grocery multiples, which needed to prepare to be ruthlessly undercut by Amazon, the online behemoth that had previously destroyed margins in categories like music and books. However, rather than push its grocery offer aggressively, Amazon seemed happy to allow the beta to just quietly tick along and slowly gather momentum.
Approaching a decade since that launch, Amazon appears to be ramping up activity in the grocery sector. In addition to adding fresh grocery deliveries and "ultra-fast" home delivery of selected food products to its offer over the last few years, rumours are growing the online retailer will open its first Amazon Go cashless store – it has nine of the standalone bricks-and-mortar grocery stores in the US – in the UK.
When it eventually takes the plunge, Amazon – which according to figures published by Verdict in February 2018 is now the fifth-largest retailer in the UK – will become an even more important customer for food brands large and small. So what strategy do brands need to follow to win on Amazon in the UK?
In the UK, Amazon offers groceries through its Amazon Pantry , AmazonFresh and Amazon Prime Now platforms. Pantry offers everyday essentials such as ambient food and beverage products to Prime members. Fresh is Amazon's online grocery offer, which only ships fresh goods to a limited number of UK postcodes. Prime Now is its "ultra-fast" delivery service, which ships selected grocery items to customers in some of the UK's major cities.
In addition to expanding and evolving its grocery service offer, Amazon's approach to the sector has also changed significantly since that beta launch site, which predominantly focused on bulk sales. A source from a large FMCG group says, in the early days, Amazon – which failed to respond to an interview request for this article – was willing to list a food manufacturer's entire product range. However, the online retailer has since become much more selective, according to Andrew Pearl, director of strategy and insight EMEA at e-commerce analytics firm Profitero.
"It used to be just 'give us your entire range', but nowadays Amazon is very much focused on driving profit, so some brands are having to choose [what products they list] because some very low-value items potentially may not be very profitable for Amazon to sell – and in some categories they [Amazon] can set a minimum price," Pearl says.
Although Amazon may have become much more selective about ranging, the retailer is open to stocking products from retailers of all shapes and sizes. For small brands, the site offers a great way of gaining a foothold in the market, building up a customer base and potentially going on to secure a listing with a bricks-and-mortar retailer.
There are also some practical advantages to using the platform, says Pippa Murray, founder of UK nut-butter and nut milks supplier Pip & Nut, which launched in early 2015 and started selling on Amazon in February 2017.
"The launch on Amazon coincided with the launch of our kilo tubs range," says Murray. "Our kilo tubs meant we then had an offering for people to buy our products in larger quantities, which often people prefer to be delivered to their door as they are heavier, but also command a higher price point making it an appealing product to sell through online retailers where people are more likely to buy in bulk, and Amazon seemed like the perfect place to do so."
But Amazon doesn't just appeal to fast-growing young food brands like Pip & Nut. Some of the established large food groups also see the benefits.
"Amazon's targeting capability based on purchase history and behaviour is an opportunity for brands – the Prime loyalty programme is expanding in size rapidly and this presents suppliers with fantastic opportunities to reach consumers," says Steve Millard, head of digital at the UK arm of dairy giant Arla Foods. "Amazon [has] strength and growing appeal amongst younger consumers, shopping trends are changing particularly with younger demographics and Amazon is key to this."
If further evidence were needed about how important the big food groups view Amazon when it comes to their future plans just ask General Mills . It recently launched Larabar – a 100% vegan 'real food' snack bar in the UK on Amazon after it had been a roaring success on Amazon's US site.
"We have found that consumers are increasingly looking to Amazon as the 'go-to' place for searching and finding new and unique brands – particularly in the natural and organic 'real food' space – due to its emphasis on the 'long tail'," Arjoon Bose, Europe marketing head for new ventures at General Mills, says. "For the Larabar launch, we wanted to capitalise on this, as well as Amazon's national reach and agility in listing products quickly [Amazon was Larabar's first-to-market retailer in the UK and Europe], to build a brand experience for shoppers."
Regardless of whether or not a brand is large or small and regardless of the category it operates in, Simon Mayhew, head of online retail insight at IGD , believes it offers an opportunity for all comers.
"Any brand that gets the basics right and wins in search can fare well on Amazon," argues Mayhew. "In the past, online shopping used to suit a big trolley shop, and bulky, ambient products over-performed. However, as fulfilment gets quicker, the online order will start to change and we will see shoppers using online to order a meal for the night ahead, or to top-up on fresh items."
So what are the basic ingredients that brand's need to get right to succeed on Amazon? The first thing they need to consider is why they want to be on the platform in the first place, says John Maltman, CEO of e-commerce analytics firm E Fundamentals.
"Are you considering working with Amazon because you feel you have to or because you want to?"
"Are you considering working with Amazon because you feel you have to or because you want to and you think it's a great place to showcase and market your products?" says Maltman. "Whichever decision you make will affect how you approach working with Amazon. If you're really committed you might want to become a vendor partner. If you're less committed you may want to sell through third parties through the marketplace. I think both approaches are valid – it all depends on your businesses bandwidth and your sales strategy."
Depending on the outcome of this decision-making process. brands need to ensure they're offering the right product range for the platform they choose to operate on, the IGD's Mayhew adds.
"For example, a product being sold on Prime Now, which is generally used for urgent or top-up shops, is likely to be different to one being sold on Amazon Pantry, which tends to be more suitable for a monthly stock-up," Mayhew says. "They [brands] also need to make sure their products are consistently available because any shortage in supply will mean that they drop down the search rankings. This is because Amazon's search algorithm prioritises top sellers, good value and high availability."
Because Amazon is a search-driven marketplace, "winning" in this space is critical, according to General Mills' Bose. "Our teams have doubled down on ensuring Larabar is visible wherever shoppers are searching or browsing relevant categories or products, and we have deployed dynamic ad words to ensure display communication is relevant for shoppers," he says. "For example, we have added 'vegan' or 'gluten free' for all ads reaching customers searching for those types of products."
Search is important for all brands, but more so for new products like Larabar and also for category-creating products like Doctor Seaweed's Weed & Wonderful range of organic seaweed infused rapeseed oils and supplements, which launched on Amazon in June 2018.
Founder of the business Dr Craig Rose says it helps to be "moderately web savvy" when considering "natural" search terms for your brand.
"In the case of Doctor Seaweed's Weed & Wonderful oils, we were a completely new product to the category, so no-one was searching for seaweed oil. This meant that we had to look at the product's attributes and decide what was relevant and applicable to ensure people found us," says Rose.
Brands can propel themselves up the search rankings by making sure they score positive customer ratings. Bespoke content around each product plays an important role as well, says Mayhew.
"Reviews, videos and a wealth of images help shoppers to engage with the product being sold, and a bullet point summary of the product's benefits is helpful for decision making," he explains. "With so much choice available, it is essential that items are made as attractive as possible."
Sam Dennigan, CEO and founder of Ireland-based frozen vegetable products business Strong Roots , which began trading on Amazon in September 2017, agrees.
"With Amazon, you get out what you put in," says Dennigan. "Investing time in your product imagery, branded content and overall look and feel pays dividends. And because of this, it allows the challenger brands to compete with legacy brands."
The stats bear out the importance of including strong imagery and video. "Adding a video to a product page can increase sales lift on average by about 55% – that's our own data looking across multiple categories," says Pearl. "In food, you suspect [that percentage] would be a little bit lower because generally if you're buying a box of cornflakes you don't need to watch a video about it, but for new products and for product ranges where it's a new concept we do see a lot of global companies using video as a way of getting the education piece out there very quickly."
Once these basic elements are in place sellers can then turn to Amazon's own marketing tools to attract new customers.
For instance, Pip & Nut's Murray says Amazon Advertising is a good way to support a listing and make products "more discoverable".
And although online retail clearly requires a different approach to traditional in-store marketing, some of the same skills and attributes used in bricks-and-mortar stores are also applicable on Amazon, according to Andrew Thomas, VP of brand marketing at ready to drink brand Soylent , which choose Amazon as its sole retailer when it launched in the UK in September.
Thomas, who claims the brand is one of the top 20 grocery products on Amazon in the US, says promoting your product on the website is vitally important to encourage trial.
"When you're new you need to drive trial to gather retained customers and Amazon promotions can help skew customers which wouldn't necessarily consider you," explains Thomas. "For example, we have a current deal running today on Amazon where all products are 20% off."
In addition to promotions, General Mills' Bose says his company has "leveraged Amazon's sampling platform to get samples out into market and to generate awareness".
Amazon offers a wide range of different support tools like its sampling platform to help brands maximise the sales opportunity and grow their brand.
"There are also various events throughout the year that pull different categories together and help cross-category shopping," says Dennigan. "Like many other online grocery retailers the ability to place your product in a shoppers 'favourites' on Amazon really assists with brand penetration."
"Brands that are willing to actively engage with Amazon will reap the benefits"
Brands that are willing to "actively engage with them [Amazon] will reap the benefits," adds Rose, whose company uses the FBA 'Fulfilment By Amazon' service which oversees shipping and returns.
"It's worth the investment for the high level of quality assurance that you receive. It also makes your brand eligible for Amazon Prime," he says.
While it's clear Amazon offers brands of all shapes and sizes numerous benefits, just like its bricks-and-mortar grocery rivals, the sales platform is far from perfect. E Fundamental's Maltman says there are obvious areas where there is scope for Amazon to improve the online experience.
"Where they still need to do quite a bit of work is in how shoppers see the categories," he says. "For example, I went into [the] AmazonFresh [site] this morning. I went to 'food' and 'breakfast', and then 'on-the-go breakfast' and the first product that came up was 750 gram box of Kellogg's. That's never an on-the-go pack – on-the-go is to-eat-now, single portions."
Maltman reckons Amazon will eventually iron out these kinks – especially when it makes the move towards physical retail with Amazon Go.
"They will learn quickly, but there is a lot to learn," says Maltman. "The UK grocery market is one of the most advanced and competitive in the world and you are working in a market that is serviced by some expert retailers who have got the 'bricks and clicks' piece already in play. That doesn't mean Amazon can't be successful, but it means they will have to work hard to be successful and create a brand that is meaningful to grocery shopper."
Ultimately, Amazon is a marketplace of goods not unlike you find at a bricks-and-mortar retailer and although it makes some of the go-to-market strategies more seamless, the ease of setting up shop on the sales platform can actually make life more difficult for brands in many ways.
"Since Amazon is virtual and anyone can sell on the platform, there is inherently more competition – and not just within a category," says Soylent's Thomas. "Brands compete for attention in a variety of ways, which by necessity go beyond beautiful, breakthrough packaging. And since the product is being sold online, consumers have access to a wealth of information to make comparisons, find reviews and do more leg work before making their ultimate decision."
That's why Thomas says success on Amazon is not guaranteed. However, he adds if brands partner closely with Amazon's team "they can help you find ways to get in front of potential consumers, make your case" and potentially "win" on the platform.