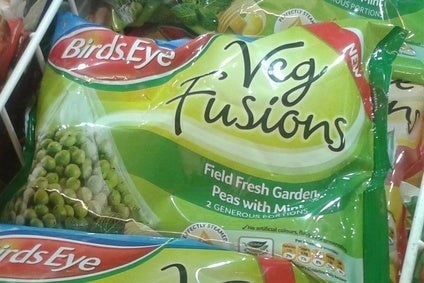 A new Europe-wide initiative launched by leading frozen foods company Iglo Group seeks to promote how home freezing and ready-frozen food can help address the worrying issue of food waste. Ben Cooper reports.
Since it first became a viable means of delivering food to consumers around sixty years ago, the convenience of frozen food has been its primary selling point. However, a new Europe-wide initiative launched by leading frozen foods company Iglo Group seeks to promote the sector's sustainability credentials.
Through its Forever Food Together initiative, which will see the return of the Captain Birds Eye icon to packs now fittingly in green, Iglo is seeking to promote how home freezing and ready-frozen food can help address the worrying issue of food waste.
The Forever Food Together programme has three primary goals. By 2020, Iglo pledges that 100% of its innovation will "help consumers make healthier meal choices" and 100% of its food products will be, in the company's own terminology, "responsibly sourced and prepared". So, like other companies, Iglo aims to play its part in terms of making sourcing more sustainable and improving nutrition.
However, the commitment the company puts top of the list speaks to a particular and notable contribution Iglo seeks to make regarding food waste, committing to "help educate consumers across Europe about the unique advantages of freezing and frozen food, and how it helps to tackle the food waste issue".
That home freezing should be seen as critical in tackling domestic food waste would appear self-evident, but the case for ready-frozen food may not be so immediately obvious.
However, Peter Hajipieris, Iglo's director for corporate social responsibility, stresses that home freezing and buying more frozen food are both "crucial" in tackling food waste. In particular, he stresses the way frozen food can aid portion control, allowing consumers to prepare the right amount of food from a pack for each consumption occasion.
The company helped fund research by Dr Wayne Martindale of Sheffield Hallam University, published in the British Food Journal in July, which found that frozen food generates 47% less domestic food waste compared to ambient and chilled food consumed in the home. The paper also suggested households which include more frozen foods in their weekly meal planning could save around GBP250 a year.
According to UN data, around one third of all food produced and manufactured globally is lost or wasted every year. In November 2013, WRAP published a study showing a typical UK household throws away the equivalent of six meals each week, while WRAP has estimated that in the UK around 850,000 tonnes of food that could have been frozen goes to waste with a value of around GBP3.4 billion.
Consumer advice and the promotion of home freezing does feature in public campaigns such as WRAP's Love Food Hate Waste initiative in the UK, but Martindale believes that home freezing has so far been under-utilised as a tool in tackling food waste.
Martindale also says there is "absolutely no doubt" that the contribution the frozen food channel can make in the overall move towards a more sustainable food supply has been under-emphasised, possibly because of concerns over the energy required in frozen food production and distribution.
"There is an energy cost associated with freezing but that's more than got back through reducing food waste in the home by 47%, in this study, and also reducing waste within the supply chain," Martindale tells just-food.
When asked by just-food if it welcomed Iglo's campaign, Emma Marsh, who heads up WRAP's Love Food Hate Waste, campaign said: "Helping Love Food Hate Waste to champion the freezer is always welcome."
However, interestingly Marsh would not go as far as to say that consuming more ready-frozen foods in particular would help reduce food waste. Asked whether WRAP believes higher consumption of ready-frozen food would also be positive for reducing food waste, as the Hallam study appears to suggest, Marsh only said: "We recommend using a mix of fresh, frozen and tinned foods. This way we have greater flexibility when our plans change and we don't get round to eating everything in the fridge."
Not surprisingly perhaps, Hajipieris is less equivocal. He believes the debate around food waste has resulted in a "re-awakening" around the benefits of frozen food. While he concedes that more research is needed, he believes the Hallam study has proved how frozen food can help reduce food waste in the home. "I am utterly convinced that the method of preservation is one of the most critical factors in helping reduce food wastage," Hajipieris tells just-food. "There is no question about that and that's what the Forever Food Together Goal 1 is all about."
Hajipieris also stresses that Iglo, which can trace its lineage back to Clarence Birdseye, the undisputed founding father of frozen food, knows more about freezing than most and is in a good position to educate consumers.
Clearly, as part of the Forever Food Together, Iglo is pledging to do just that, and Emma Marsh believes there is more food companies in general can do to help educate consumers about freezing.
"WRAP and Love Food Hate waste have been working with the industry through our Courtauld Commitment to improve labelling on pack to make it as easy as possible not to waste food," Marsh says, citing as a success the majority of retailers moving away from 'freeze on day of purchase' to 'freeze by date shown'.
The materials WRAP has produced on freezing also seek to address many of the misconceptions consumers have about home freezing, such as not being able to freeze cheese or eggs. Food companies are in a very good position to help correct such misconceptions, and perhaps none more so than the world's best known exponent of freezing food, the Captain himself.