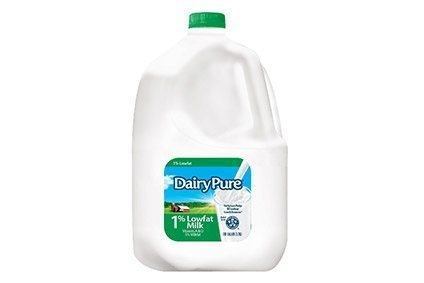 Dean Foods this week announced it was bringing its 31 fluid milk brands under one label – DairyPure – and appears to be pushing the latest "hormone-free" trend in its marketing. But, after two quarters of falling profits, and fluid milk still unfavourable with US consumers, is the move enough to put it back on the road to recovery? Hannah Abdulla reports.
Milk is quickly falling out of fashion with consumers. During the last year, the US market has been flooded with an oversupply of the white stuff, but as alternatives, including dairy-free options continue to take the market by storm, the popularity of conventional milk is declining.
For the quarter to date ending November 2014, the USDA said industry fluid milk volumes declined approximately 4.5% year-over-year, on an unadjusted basis.
It has come as a bit of a shock to dairy manufacturers and farmers, who last year enjoyed record milk high prices and low feed prices. This year, they've seen lower exports, increased production and a fall in sales for various reasons from changing eating habits to a greater portfolio of alternative dairy options hitting the scene.
This week, Dean Foods announced a move that industry watchers believe is an attempt to reclaim some of its lost audience.
Over the past two quarters, the firm has seen a fall in profits hit by the challenges the milk sector faces. For the full year, it reported an operating loss of $13.1m compared with a profit of $81.9m the previous year. And, it expects those challenges to continue. CEO Greg Tanner said at the time: "While we are currently experiencing cost declines across the entire US dairy commodity complex, we believe the dairy commodity environment continues to be volatile and unpredictable over the mid-term. Further, as we come out of this extended period of record high dairy commodity costs, it's uncertain what product pricing strategies the retailers will pursue for private-label white milk and how the related consumer purchasing dynamics will be impacted, both of which could have a material impact on our full-year 2015 results."
On Monday (5 May), the dairy giant said it was bringing all 31 of its milk brands under a single nationwide label: DairyPure.
"A national brand of milk is something that could be marketed in a way that all their smaller brands could not," believes Alexia Howard, an analyst at Sanford Bernstein. "If a brand reputation and consumer loyalty can be built in a commoditised category like milk, then they may be able to gain some pricing power. Clearly, improving the company's negotiating position with retailers would help out quite a lot if that could be achieved."
It also goes some way toward cutting costs – one brand simplifies advertising and marketing and could possibly allow for "some streamlining of packaging and marketing costs", believes Joanne Bills, director at Australian consultancy firm FreshAgenda.
But it might not all be plain sailing. In recent years, consumers have become bigger fans of "local" offerings. So how would customers react now that this local element has been taken away?
Bills says a move in Australia by local dairy group Lion Pty Ltd – as Australia National Foods – to be a national brand and supermarket supplier with Pura "wasn't entirely successful".
"Consumers here appear to like their regional brands, which are actually becoming more prevalent. Even the supermarket own/private label sourcing is leaning towards greater provenance and regionality."
Then there is the concern it is too little too late for Dean Foods. Preben Mikkelsen, analyst at PM Food & Dairy Consulting, worries the move might not be enough to "save" Dean Foods after what he says is a ten-year period of poor performance.
The company, Mikkelsen, says, had "expanded significantly" between the 90s and early 2000s acquiring fluid milk dairy companies all over the US; consumers have not come to realise it as a dairy firm with national coverage, so while this is a "logical strategic move" he believes it is "far too late".
"This new strategy seems to be the last attempt to save the company," he adds.
But Dean Foods appears to know it needs to do more to boost the popularity of its fluid milk. It's announcement touts the "fresh" and "pure" aspects of its milk. It has assured its milk is free from artificial growth hormones and is tested for antibiotics.
Added benefits as a marketing technique are no longer anything unusual in the dairy sector. In the UK and Ireland in recent years, we have seen Arla Foods' launch of a "nutrient-enriched milk" and Glanbia's "protein-enhanced milk". Closer to home for Dean Foods, beverage giant Coca-Cola rolled out its first dairy product – Fairlife milk – that promises 30% less sugar and zero lactose. It also pushes the message of 50% more protein and calcium.
So competition is no doubt getting stiffer in the fluid milk category and Dean Foods has had to reposition its offering to what consumers today are really looking for their milk to deliver.
"Consumers do seem to be becoming increasingly aware of and concerned about antibiotics and hormone use in dairy products and meats," asserts Howard. "As such, it seems that building a reputation for authenticity is likely to be timely."
Bills believes the messaging Dean Foods is using for DairyPure is a positive move. Fairlife, for example, has "quite a technical message about protein enhancement", Bills says, while DairyPure's move to "purity and naturalness" is becoming a common trend in the US food industry.
But will it drive sales? The term "hormone-free" could be enough of a driver itself, says Bills, but its impact may be limited. In the US, there seems to be a "difficulty meeting demand for organic and so claims like hormone-free seem to be back in favour as a proxy, or next best option for the whole organic nine yards", she adds.
"It is my understanding there is no possible way to test for rbST in milk, as it is actually no different from milk from unsupplemented cows, there are no artificial hormones added to the milk in either case. It is a bit like the permeate-free issue here [Australia], marketers will seek to differentiate by creating a fear in consumers' minds about something harmless and then deliver a free-from offering. It gives a short-term benefit but can undermine confidence in the category and ultimately everyone makes the same claim and any advantage is short-lived."
Again it comes back to whether the move to a single, hormone-free branded milk range is a worthy move but one that has surfaced too late in the day.
Mikkelsen believes so. He argues the launch of DairyPure is a "necessary one" but in his opinion "far from sufficient to reposition the company".
Dean Foods spun off its natural and organic business into the now WhiteWave Foods in 2013 in what is thought to have been a move to deliver a more-focused offering. But after with liquid milk a challenging business, what does the future hold for Dean Foods?
In Mikkelsen's opinion, Dean Foods could be ripe for the taking very soon. The fluid milk segment in the US is "very competitive" and for the national brand strategy to work it well mean "huge investments in modern large scale milk processing plants".
"That's where the profit is, but Dean Foods seems not to have the necessary capital. It can easily be acquired by some of the competitors in the near future," he says. "It could be Grupo Lala from Mexico, Dairy Farms of America, Saputo or several others which could be interested in a company with national coverage in fluid milk."