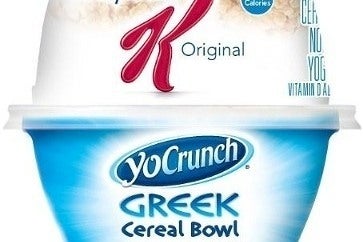 Danone has faced myriad issues at its fresh dairies business. The group has been squeezed by weak consumer sentiment in its largest markets, on the one hand, and rising input prices, on the other. Management believes that a focus on improving its mix in developed markets will boost its profit profile. All the while it has been positioning itself to drive the top line in emerging markets. But these efforts are yet to show themselves in the unit's results. Could Danone's fresh dairy business be preparing to turn a corner? Katy Askew reports.
Danone is grappling with some significant issues at its fresh dairy business.
In developed markets, which contribute the bulk of Danone's sales and profits, the company's revenues have been pressured. Sales in western European markets were hit by the financial crisis and the company is yet to regain momentum in this important region. Meanwhile, weak category trends and intense competitive activity in the US have also taken their toll.
Rising global milk prices have hit margins, forcing Danone to push through price increases at a time of already constrained consumer spending.
Geopolitical tensions between Russia and Ukraine, alongside currency volatility in emerging markets, have all added to the group's woes.
As a consequence, the fresh dairies unit has represented a drag on the group's performance for successive quarters – and Danone's third-quarter sales update released this week was no exception.
The company revealed that the fresh dairies showing trailed that of the group-wide performance, which saw an expectation-beating 6.9% rise in organic sales. In dairy, the group revealed like-for-like sales grew by just 0.7% as higher pricing offset a 7.1% fall in volume.
In Europe, sales were down 5% in the quarter – on a par with the 5% drop reported in the second quarter. However, speaking during a conference call with analysts CFO and CEO-designate Pierre-Andre Terisse stressed that the company has slowed the pace of decline in the major markets of Germany and Italy. "These two markets are progressively converging towards stability and positive territory," he told analysts.
So, Danone believes that it is starting to stem the tide of its top-line decline in Europe.
In order to bolster its profit profile in the region, Danone is restructuring operations to drive costs out of the business while also streamlining less profitable SKUs to move customers up the value chain.
In the US, Terisse said that the category has stabilised – with slight negative volume growth offset by slight positive value growth. Danone has performed "in line" with the market, treading water and maintaining its market share.
Danone hopes to return the US dairy category to growth by developing partnership's that expand the sector's reach – such as recent tie-ups with Yo Crunch and Kellogg – while also using innovation to drive consumer excitement.
"There are good first signs of what we have launched. Dannon Creamery in particular is showing interesting signals. It's far too early to comment about whether or not these are going to be the future tools for strong growth of the category, but there are interesting positive signals from these innovations. We'll continue to launch some of them as we move forward into 2015," the finance chief commented.
The company also struck a cautiously optimistic note on the outlook for milk pricing. High milk costs have eased somewhat in the second half – with a positive milk price evolution in the EU and US, the dairy giant observed. However, milk prices remain up on last year and the overall picture is mixed. In Latin America and CIS, for instance, milk prices remain on the rise, Danone cautioned.
In Russia and the Ukraine, Danone put in a "solid" performance in the face of some extremely tough challenges – not least of which can be counted ensuring safe delivery and getting product onto shelf.
So, does this mean Danone's fresh dairies business is, if not where the company would like, then at least moving in the right direction?
Bernstein analyst Andrew Wood would suggest not.
"Growth in fresh dairy remained lacklustre in Q3," Wood notes, with sales "even worse than expected" missing consensus estimates of 1.1%.
"We would not see these results, especially the poor fresh dairy growth, as evidence that Danone has turned a corner," Wood concludes.
However, MainFirst analyst Alain Oberhuber has a slightly more upbeat assessment. He stresses that action on product mix will "gradually" improve the unit's profitability – a key focus for management.
Indeed, Oberhuber is also positive on the group's prospects for turning the growth trajectory of fresh dairy around.
"Danone could again become the fastest-growing large-cap food stock, as mgmt has gradually built a better foundation for growth in fresh dairy in emerging markets, is consolidating the European dairy business, and will launch several new products in the US in the coming quarters," he suggests.
In terms of the group's long term prospects, its efforts in securing its emerging market dairy footprint remain key.
The company has moved to ramp up its presence in key emerging markets, from China to Africa, through the formation of strategic partnerships.
Earlier this summer, Danone purchased a stake in the holding company of Kenyan dairy group Brookside in a move it said would "significantly enhance" its reach in east Africa.
Elsewhere in Africa, Danone teamed up with The Abraaj Group, a private-equity firm focusing on emerging markets, to buy Fan Milk International, a dairy group operating in Africa.
In China, Danone formed a joint venture with local dairy giant Mengniu in a bid to tap into booming demand for fresh dairy in the market.
In emerging markets from India to Asia and Africa, Danone operates long-standing operations that continue to show growth.
If the company can get its house in order in the developed markets of Europe and regain growth momentum in the US, its strong presence in emerging markets bode well for the long-term health of Danone's revenue trends.