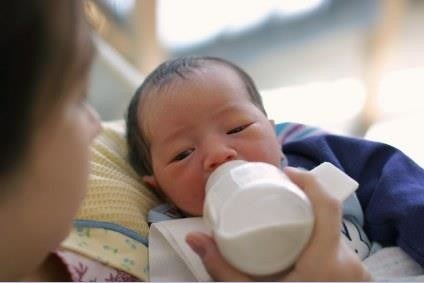 A fresh scandal has brought the sale of fraudulent infant formula in China to the fore once again in recent weeks. Mark Godfrey examines what action is being taken to tackle the sale of fake products in the country's booming e-commerce market. Infant formula has been back in the news for the wrong reasons in China.
Nine arrests were made last month over cans of powder bearing fake labels and marketed under brands owned by Chinese group Beingmate and US-based Abbott Laboratories.
Police have claimed 17,000 cans of infant formula were involved, being sold in the provinces of Henan, Jiangsu, Anhui and Hubei. Cheaper domestic milk powder was repackaged and sold in Abbott brand cans according to China's Food Safety Commission. Thus the case is being investigated as a "violation of intellectual property rights," Teng Jiacai, deputy head of the commission, told China Food Safety News, a Chinese language journal.
While it is not clear if the cans involved were sold on e-commerce sites, the incident has been blamed by some Chinese business specialists on the growing popularity of online commerce, including the growing cross-border commerce channel, which Beijing has promoted as a new engine of growth for China.
The recent massive growth in online commerce allows domestic and international trade in Chinese counterfeit goods to go relatively unchecked, critics argue.
The sector is dominated by e-commerce giant Alibaba, which owns a range of platforms including the business-to-consumer site Tmall and the consumer-to-consumer market leader Taobao, as well as B2B market leader Alibaba.com. The latest scandal has angered consumers who pay premium rates for imported milk powder brands, an executive at the headquarters of Alibaba in Hangzhou concedes.
There is, however, an important difference between the latest incident and previous scares, the executive notes. While these counterfeiters have been using the cans or labels of famous foreign brands, they are meeting the minimum safety standards for milk powder. "In 2008 children died and some of the guilty were executed so it's clear that while counterfeiters are doing something greedy and illegal they are also careful not to fatally damage public health because government would be very tough on that," he tells just-food.
But there has been a response. The Chinese finance ministry's customs department has responded by demanding all infant powder imported through online portals such as Tmall Global must register with Chinese authorities. Firms have been given a deadline to get registered by January 2018. Just as China previously whittled down the number of foreign firms selling infant formula through bricks-and-mortar retail channels by requesting them all to register, so it appears there will be a clean-up of brands sold on China's cross-border e-commerce channels.
The China Food & Drug Administration (CFDA) last month filed a notification with the World Trade Organization that both domestic and imported infant formula will be subject to registration with the regulator.
Yet it is not clear how the measures will cut out counterfeiters operating domestically. While China's food safety regulations stipulate a CNY50,000 (USD8,000) fine for selling food that flouts national standards, there is less urgency about prosecuting counterfeits of international brands, a long-time phenomenon in China.
However, action on the problem may be accelerated in other ways. According to reports in the US, opposition from luxury brands including Gucci and Tiffany to Alibaba joining the International AntiCounterfeiting Coalition (IACC) led to the organisation withdrawing its invitation of membership to the Chinese retailer – which responded by criticising the association. However, the episode has raised fresh questions about how effective the retail giant has been in fighting fakes as it pushes to take its e-commerce business global through Tmall Global.
Alibaba, which counts Yahoo among its key investors, last December avoided inclusion on the US Trade Representative (USTR) office's updated "notorious markets list" only through extensive lobbying in Washington D.C., according to a Beijing-based American PR executive whose firm previously advised Alibaba.
"The counterfeit issue is not nearly as important to Chinese regulators as political issues are… Alibaba spends a lot of effort on censoring their sites and obeying Communist Party directives but it's not clear they put the same energy into fighting counterfeits," he tells just-food.
Regulating e-commerce traders and platform providers is, however, a daunting task. Chinese law requires due diligence of third-party Internet platforms to ensure all online food traders are duly registered and licenced. Platform providers like Tmall are required to report food safety violations to the CFDA, the main enforcement body for the food safety law.
However, the scale of the challenge is obvious: Alibaba claims its various marketplaces had an incredible 423m "active buyers" in the first quarter of 2016, an increase of 16m over the prior quarter.
One method Tmall has tried in the past may be feasible again. In October 2011, Tmall.com said it was seeking to weed out low-grade and fake products on its site when it increased fees on online vendors tenfold to CNY60,000, while also upping the amount of the deposit traders had to keep with the company to CNY150,000. The move caused outrage among many Tmall shop holders but the company has also seen large numbers of multinational brands open official stores on its platform. The company does not charge such fees for Taobao, the Ebay-style site which dominates China's consumer-to-consumer segment.
But action may be required given a confluence of events. Alibaba's 2014 IPO in the US and exposure to international investors has placed the company in the spotlight and inclusion on the US blacklist would hurt the company's revenues, angering international shareholders.
Cindy He, a mother of one in Changzhou, Jiangsu province, thinks counterfeiters are tempted to take risks because of the "unreasonable" prices charged for infant formula in China.
A big problem is the Chinese government wants milk to be a premium product. However, shoppers may be finding better value in international products. "Chinese dairy companies don't want to produce quality mid-priced products, they want to keep prices high," He argues.
One factor keeping the prices of Chinese formula high is the cost of production. Such is the scarcity of feed and land in China that imported milk from New Zealand in 2015 was 34% cheaper than China's domestic product, even when factoring in taxes and transport costs, according to a note from bank HSBC.
Consumers such as He are drawn to online purchases due to more competitive pricing. She cites a recent purchase on FrieslandCampina's official shop on Tmall of two 900g cans of Friso brand powder for CNY365. She says she would have paid CNY280 for a single tin of the formula in her local supermarket.
The infant formula segment has shifted more markedly to e-commerce "than any other F&B products" as online platforms improved price transparency as well as an entry mode to international brands, notes analyst Alice Hui at DBS.
There is a lot to play for given Chinese consumption of dairy products continues to outperform other fast moving consumer goods. Sales of milk and yoghurt products grew 7.5% in 2015, well ahead of an average 2% for fast moving consumer goods in general, according to consumer study specialists Kantar Worldpanel.
And there is still room to grow. Kantar's research shows the average consumption of dairy products for China's urban households in 2015 was 59.7 litres, less than one-fifth of European Union countries. China's recent liberalisation of its one-child policy is also expected to drive up dairy sales.