Kellogg eyes long-term benefits of Africa investment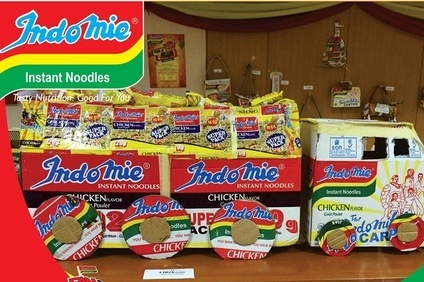 Tolaram produces Indomie noodles and other products in west Africa
US cereal giant Kellogg announced earlier this week it has entered into a joint venture agreement to step up its presence in Africa. Kellogg has partnered with Tolaram Africa, the local arm of Singapore-based conglomerate Tolaram Group. While the deal will not provide an immediate lift for Kellogg's struggling sales, it positions the company for long-term growth in a region of increasing importance for consumer goods companies. Katy Askew reports.
In a move the company billed as a "significant milestone" in its expansion into emerging markets, Kellogg has entered into a 50-50 joint venture with Tolaram Africa to deliver cereal and snack products to consumers in west Africa.
Kellogg will pay US$450m for a 50% stake in Multipro, a sales and distribution company in Nigeria and Ghana. The agreement also provides Kellogg with the option to purchase a stake in Tolaram Africa Foods "in the future". Total sales of the JV are expected to be approximately $750m in 2015 and the purchase price represents a multiple of 15 times "the average" of 2014's and 2015's expected EBITDA.
The deal will not have an immediate impact on Kellogg's sales and profit trajectory, which has been hit by slowing cereal consumption in its largest markets such as the US and western Europe. Kellogg said it does not expect the acquisition to affect comparable earnings per share in either 2015 or 2016, with "slight" earnings accretion in 2017. Transaction costs will hit EPS by around $0.01 per share in the group's third quarter, Kellogg added.
So, Kellogg is not eyeing short-term gains through this investment. The cereal-to-snacks firm is in it for the long haul.
The deal will see Kellogg gain access to markets in west Africa, an attractive region because of the demographic and economic growth that is expected over the medium term. "As a region that is experiencing explosive growth, with a population of almost one billion people and an economy that is expected to more than double over the next 10 years, sub-Saharan Africa provides tremendous opportunity for our company," chairman and CEO John Bryant explained.
The west African region – which consists of 16 countries – has a total population of 290m people. The population in the region is expanding rapidly. United Nations statistics reveal an average annual growth rate in the region of 2.46% between 2010 and 2015, compared to average growth of 1.15% in what the agency describes as "more developed regions" and, significantly, of 1.33% in what the UN terms "less developed regions", including Africa. The population in Africa is expanding ahead of the population elsewhere in the world. According to a 2014 study from the UN's children's agency, Unicef, if current trends continue almost half the world's population under the age of 18 will be African, up from the one-quarter share the continent accounts for today.
Athlos Research analyst Jonathan Feeney therefore believes this deal opens up an area of "real growth" for Kellogg. "Of all the emerging markets, India and Africa – especially Nigeria – are the only ones that are actually showing rapid population growth, as opposed to economic growth. Theres an important difference – rapid GDP growth in a market like China will not expand the number of breakfasts over time. By 2050, a quarter of the breakfasts eaten worldwide will be in Africa," he tells just-food.
While the demographic argument is compelling, an important consideration is whether west African consumers will be able to afford Kellogg's products. With 60% of people in west Africa employed in agriculture and half of west Africans living on less than $1.25 per day this could prove a challenge for Kellogg.
The expertise of local player Tolaram should stand the US firm in good stead when it comes to offering products that are appropriate for the needs of the local population, be it smaller pack sizes at lower price points or, indeed, bulk offerings that are purchased collectively and shared between communities. And people in the region are getting wealthier - GDP growth stands at an average of 5.8% across west Africa. This growth is likely to result in a boom in consumer spending power. According to McKinsey Global, consumer spending in Africa is set to rise from $860bn in 2008 to $1.4trn by 2020.
Kellogg's plans include feeding its brands into Tolaram's sales and distribution network – providing it with much greater market access than if the US firm had decided to try and build up its presence without an established partner. With a significant proportion of the region's retail trade conducted through unorganised, traditional channels, the US firm would be unable to simply deliver its brands into the modern trade.
"Kellogg's well-known and iconic brands and our research and development expertise, combined with Tolaram's strong local sales, marketing, supply chain and distribution capabilities, positions us to become a breakfast and snacks leader in a thriving market," Kellogg's Asia Pacific chief Amit Banati explained.
Feeney is upbeat on the prospects for Kellogg's brands in the market – and the opportunity to build a loyal new customer base. "There's still real hope of differentiating. Exposing African consumers now to quality Kellogg products means there could be a lot of kids who are ten or 11 years old who buy them for their kids in ten to 15 years. Everyone wants to be the umpteenth western product in Shanghai – well guess what? – the Chinese consumer has ten western countries' take on a food to choose from and they don't differentiate much among them. There's an opportunity to do what Kellogg wisely did in Mexico – associate its products with affluence and taking good care of one's family – and young African people are very optimistic about their children's future, this has important implications for the kind of product decisions they might make."
Another advantage of expanding in Africa over more saturated Asian markets is that Kellogg's cereal products align more closely with existing consumption patterns, Sanford Bernstein analyst Alexia Howard suggests. "While Kellogg has struggled over the years to get cereal consumption going in Asia, I suspect that it will be an easier sell in many parts of Africa, where cereals may more easily be assimilated into diet patterns," she says.
The Kellogg-Tolaram tie-up clearly offers the US food group the opportunity to lay some strong foundations in an area of the world that will become increasingly important to packaged food companies. However, the success of the joint venture will largely hinge on how well the two companies can integrate and cooperate.
Tolaram Group CEO Sajen Aswani is upbeat on this subject, insisting the two partners share "similar values" and "an aligned vision for Africa". Aswani continued: "This is another significant step towards providing affordable and wholesome nutrition for our expanding consumer base."
Oops! This article is copy protected.
Why can't I copy the text on this page?
The ability to copy articles is specially reserved for people who are part of a group membership.
How do I become a group member?
To find out how you and your team can copy and share articles and save money as part of a group membership call Sean Clinton on
+44 (0)1527 573 736 or complete this form..